20 Oct

5 Must Do Adventure Activities in Iceland

Iceland is a beautiful country with otherworldly landscapes, exciting activities, amazing people, and a fantastic culture. It is one of our favorite places in the world, and it is filled with adventure from mild all the way to extreme. We have yet to scratch the surface on all the intriguing adventure activities in Iceland, but we wanted to share a few of our favorites with you. Hopefully, we will have more amazing Iceland adventures to share with you soon, as there might just be another trip to the land of fire and ice on our schedule for next year!
1. Glacier Hiking and Ice Climbing
Strap on a pair of crampons and join a tour on one of the many glaciers in the country. There are plenty of tour options to pick from, and they range from mild to very adventurous. On the mild end of the spectrum, you will simply get a feel for walking on the glacial ice with fantastic scenery in every direction. The more adventurous tours lead you on a several hour hike up into the icefall where you can then try your hand at ice climbing. Glaciers are constantly changing and moving, and the ice is absolutely gorgeous. We couldn't resist the urge to scale up the ice, so we had a blast exploring the Falljökull glacier on the Glacier Xtreme tour with Glacier Guides. It was our favorite experience in Iceland and quite possibly our favorite experience ever!
2. Snorkeling
Most people don't think of snorkeling when they hear Iceland, but a dip in the frigid waters of Silfra is definitely worth your time. The water may be freezing at around 34°F, but thanks to drysuits and many layers underneath, you will stay fairly warm throughout the experience. After donning drysuits, you hobble into the water and descend into a fascinating world of color below the surface. You won't find any fish to observe, but surprisingly, the colors are so vivid and beautiful that they are mesmerizing!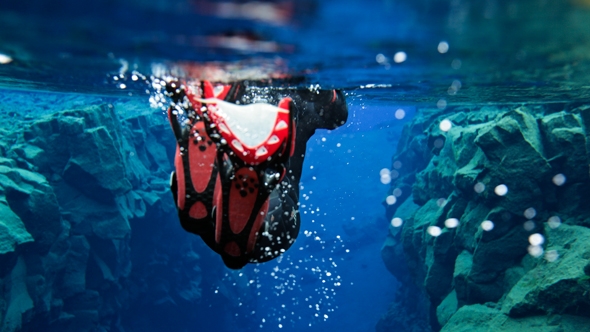 3. White Water Rafting/Canoeing
There are several rivers in Iceland where you can try you hand at white water rafting, and if you really want to get adventurous, you can go white water canoeing. While the rafts hold anywhere from 4-8 people plus a guide, the canoes hold only two and are more like a small raft than a traditional canoe. Despite never having been in white water, we decided to pile on the adventure and book the white water canoeing trip. We joined a few other large group rafts and hopped into our small canoe with our guide by our side in a kayak. Everyone probably thought we had a death wish, but it was amazingly fun and we only tipped once! Thankfully, our spill was in calm water and not when we were going through the rapids. Whichever option you choose, you are sure to have an epic adventure!
4. Road Trip to Waterfalls
Iceland is a great spot for road trips, and there are waterfalls around every corner, each one more spectacular than the next. Plan on checking out a few of the popular favorites such as Gullfoss, Dettifoss, Skógafoss, and Seljalandsfoss, but be sure to allow time for stopping at the random falls you will surely find along the way. There are so many waterfalls to see that you will have to plan a return trip to check them all out. Another idea for an Iceland road trip is the ever popular Golden Circle–it is a fantastic route that takes you past waterfalls, geysers, national parks and more!

5. Hiking
Hiking is the perfect way to explore a country's nature, and Iceland is no exception. Take a stroll through Þingvellir National Park or Gunnuhver, a very active geothermal area for a more relaxing and low key adventure. Hike to hot springs or along the coast for stunning landscapes. If you really want adventure, head to the highlands or one of the mountains for very strenuous hikes or even multi-day hiking trips. No matter what your abilities and time allow, you will be sure to find a spectacular hike just waiting to be explored.
Do you have any favorite adventure activities in Iceland? Which one would you want to try most?
We were asked to share our Iceland experience by Guide to Iceland, but all opinions and views are our own.