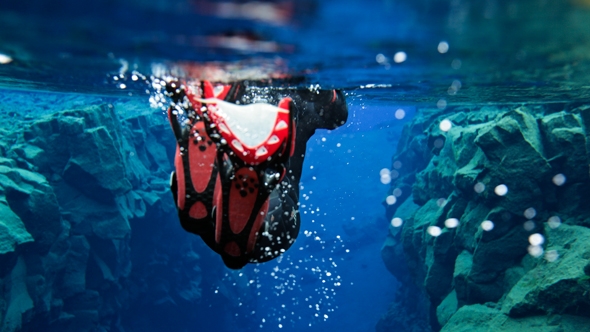 17 Jul

Snorkeling in Iceland Through the Icy Waters of Silfra

Snorkeling in Iceland at night in ice cold water between the continental plates of North America and Europe was stunning. You may be questioning our sanity or think that we have made up some strange story. But, it really is a real tour and not as crazy as it seems, I promise! Yes, the water is barely warm enough to be liquid, at a balmy 2° C (36° F), but you wear a dry suit so the only parts of your body that get cold are around your mouth and hands.

Like I mentioned when sharing about the Golden Circle, Silfra is located in Thingvillir National Park between the continental plates of North America and Europe that are slowly pulling apart. You can go on a dive or snorkel tour, and if you are diving, you can actually touch both continents at the same time. The water that fills the rift is fresh water from the nearby Langjökull glacier that seeps through volcanic lava. This is a decade-long process where the water is filtered to absolute purity; because the water is so pure, it allows for visibility of up to 350 ft. and you can even drink it!

We went on the Snorkeling Under the Midnight Sun tour with Dive.is which starts around dinnertime and because Iceland has almost 24 hours of daylight in the summer, it feels like you are snorkeling during the day. Since we drove the Golden Circle that morning, we met our guide at the park instead of driving around an hour back into town for pickup at our hotel. I would definitely recommend this option if you have a car and like to use your time wisely. When our guide arrived, we were shocked to find out that we were the only two people on the tour that evening. Because Dive.is happens to be the only tour company that offers midnight snorkeling, we literally had the entire place to ourselves. It was surreal. Inga from Tiny Iceland joined us on our Golden Circle drive so she kindly took pictures of us while we were snorkeling.

So now that you know what Silfra is all about, you might be wondering what you will see, but first you have to go through the daunting task of putting on your gear. We stripped down into our long johns and donned what looked like a snowsuit. Next came the dry suit, and let me tell you, it was a challenge to put on!

Once I finally got the suit on, it was time for the neck and head pieces–the suit is so tight around your head that it feels like you are going to suffocate yourself! And, beware: if you have long hair, make sure you tie it back. Even though mine was tied back, it was a mess under there and got pulled hard quite a few times.

Next up is the neoprene gloves and then you are ready to make your way to the water where you put on your mask, snorkel and fins just before climbing in, and by this time you can hardly move, so the guide will kindly help you get your flippers on.

The suit is so tight and restricting;, but don't worry because once you get in the water, the suit adjusts itself and starts to feel more comfortable. They are pretty attractive suits too, don't you think?  We felt like "Scuba Steve"!

After you submerge your face and the initial icy shock wears off, you look around and see the brilliant, entrancing world below the water.  While there aren't any fish or coral reefs to look at, your mind will be reeling trying to process the incredible shades of blue and green that dance before your eyes against the stark, rocky landscape and golden sands. It is a feast for your eyes as you float along and take in the vast shades of blue, turquoise, aqua, cerulean, and sapphire along with splashes of neon green algae; it won't be long before you try to remember if you have ever witnessed such vivid colors anywhere else in your life. Some areas are so shallow it feels like you can barely float through and others are over 65 feet deep.  Now, have a look at the brilliant colors for yourself: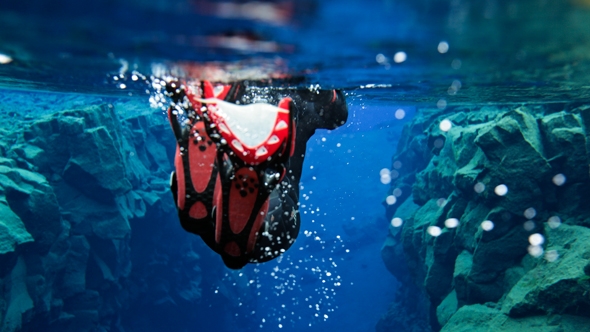 You float through the rift before turning back and swimming to the nearby staircase to exit. Swimming is barely required because the dry suits keep you very buoyant and the current carries you along quite nicely. You are in the water for around 30-45 minutes; if we were in the water any longer I think I may have lost a finger. OK, not really, but my hands were numb by the time we got out–thankfully the rest of me was still warm, which says a lot coming from a girl who brings a jacket in temperatures over 90° F.
After you get out of the water, you have a short walk back to the van where you can change, and enjoy the treats they provide: hot chocolate and cookies.  Snorkeling in such a unique atmosphere was amazing and we really enjoyed it. I would highly recommend giving it a try, especially during the evening tour. While you may not get as lucky as us and have the place completely to yourself, you will have a much better chance of not waiting in lines for your turn to get in the water and through the rift. Since it is not the warmest atmosphere to float around in, the lack of people during the evening is a definite plus.
Where is your favorite place to snorkel?  Do you prefer it to be a bit warmer?