24 Jul

Glacier Hiking and Ice Climbing in Iceland

Glacier hiking and ice climbing was by far our favorite activity in Iceland. Don't get me wrong, the other adventures were a blast as well, but there was just something so unique and awe-inspiring about climbing around on the stunning blue ice of a glacial icefall.
We booked the 6.5 hour Glacier Xtreme tour with the tour company, Glacier Guides. This tour departs from Vatnajökull National Park in the Skaftafell area, which is around a 4.5 hour drive from Reykjavik, without stopping to check out the sights along the way. As we were trying to pack in as much as possible, we booked the tour for the same day as our drive from Reykjavik to the south coast–that means with a tour start time of 11 a.m., we decided to leave town bright and early, at 5 in the morning, just to give ourselves ample time. Thankfully, we made it just fine and had some time before our hike to explore the museum in the Visitor Center and walk around the park area. Micah also recorded some time lapse footage while we were waiting, which can be seen in our Iceland video. There are many hiking trails and fun activities in this area; I really wish we would have had more time to explore.
Once it was time for our tour, we got fitted for a harness and shoes and received our helmets and ice picks before boarding the bus that took us to the hiking area. Side note, if you are ice climbing, you will most likely need to wear the rentable boots from the office–we had sturdy waterproof shoes with us, but they weren't sturdy enough for ice climbing. Believe me, you will want to wear them as well–my feet were killing me after the hike even with the good shoes!
Our guide, Magnus, was awesome and there were 5 other people on our tour as well, and two of them actually happened to be from Minneapolis, our hometown! I think we lucked out with our group–everyone was a lot of fun and we all wanted to get out there and really experience everything to the fullest. The Glacier Xtreme tour is definitely extreme…you have been warned! I don't know what I was expecting, but it was way more intense than I imagined, although totally worth every aching muscle the next day. The tour starts out at the base of the Falljökull outlet glacier and you work your way up into the icefall that comes from the Vatnajökull ice cap.
To get to the actual glacier you have to first cross an area of sandlike dirt paths which were carved out by the glacier many years ago. Our guide told us that the glacier used to span all the way out to the parking lot where we were dropped off, but in just the past 40 years it has retreated to where it is now. It was crazy to see the effects of global warming on the glaciers retreating first hand, especially after watching the documentary, Chasing Ice. If you haven't seen it yet, I would recommend checking it out. Anyways, it took us around 15 minutes of walking to even get to the ice, and once we were there we geared up in our crampons and helmets.
After a quick briefing on how to walk with the crampons, we were off and heading towards the icefall. On the way up, we stopped for photos, to look down crevices and even to get a drink from a glacial stream. To get a proper drink of water, you had to lay your ice pick across the stream and hold onto it in a push-up like position, and then actually do a push-up to lower yourself to the water for a drink. I had a little trouble with my wimpy arms, but the water was absolutely delicious. I was a little apprehensive about drinking directly from the stream, but I was assured the glacial water is pure to drink, and the blackish looking ice you see in some of the photos is actually only ash from past volcano eruptions.
As we started to encounter more difficult terrain, we learned different walking techniques. When walking down a hill, you need to keep your feet straight ahead and walk straight down with slightly squatting back–it was such an unnatural feeling to go practically head first down an icy slope, but you got used to it with some practice. Magnus took us through some more challenging paths to give us practice walking on the ice. We crossed over deep crevices and steams, and walked up, down and sideways across the icefall.
Pretty soon it was time for a lunch break while our guides got the ropes set up for some ice climbing. We were provided with sandwiches and juice and we filled up our water bottles with fresh glacial water directly from the stream–beat that Evian!
After a quick lesson in ice climbing, we were ready to try out the first ice wall. Basically, what you need to do is slam the ice picks into the ice above your head and then kick the front part of your foot into the ice by making tiny upward steps and repeat. Before you know it, you had climbed around 40 or so feet all the way to the top and were now ready to rappel back down. It was an absolutely amazing experience being able to scale right up an ice wall–we felt pretty hard-core, not gonna lie (*silently patting ourselves on the back).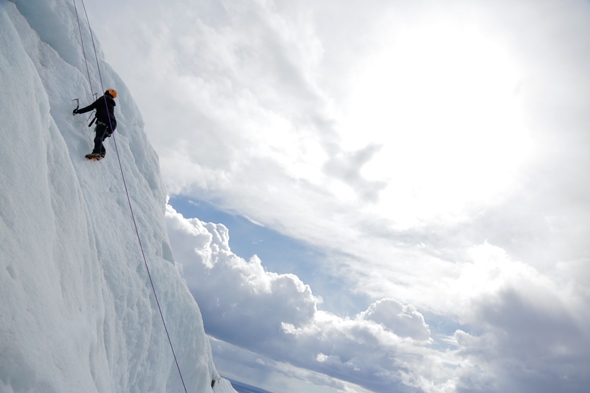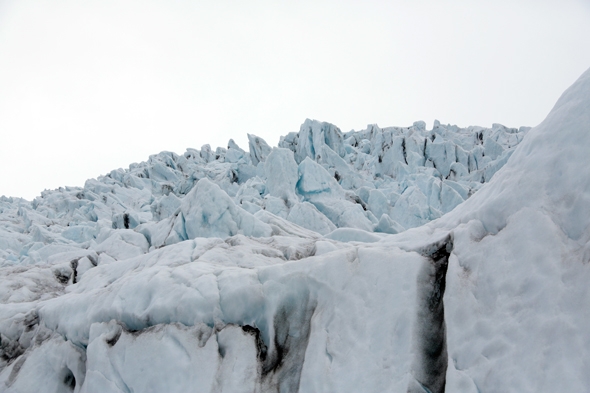 The second wall was even harder than the first and there was even a nice little glacier pool at the bottom. Micah did great climbing both walls, and even climbed the overhang by the first wall–he was a rock star. Me, not so much! I had a little trouble on the second climb because I was so exhausted from the first one, but after a little struggling about halfway up, I didn't give up and managed to make it to the top. On this rappel, we got to do it by jumping back and dropping, which was really fun.
And, I guess I have to mention my little mishap as well.  After climbing the second wall, I was walking back down a little slope towards the rest of the group when my crampon got stuck in my pants leg and caused me to slide flat on my face into a puddle of water. Graceful, I know. It was pretty hilarious though, and while everyone was asking if I was ok, Micah was kind enough to snap a picture of me. Such a sweetheart, isn't he? Haha! More than anything, I was just bummed I ripped a hole in my pants!
Our Minneapolis Friends
After everyone had a chance to climb a few times, we had to start hiking back towards the bus. We voted to take the medium-hard path back down the glacier which led us back over crevices and up, down and sideways again. At one point we even climbed up a super steep crevice with no ropes. Micah and I contemplated taking the easy path this time, but I'm so glad we didn't as it was such a great feeling of accomplishment to start climbing around and actually feeling comfortable while doing it.
Photo by Mark, our Minneapolis friend — he was trying to get my attention to look up, but apparently I was focusing too hard to notice!
We powered down the rest of the glacier in about 45 minutes and were exhausted when reaching the bus, but like I said before it was worth the pain and bruised toes in the end. We would highly recommend this tour if you are looking for an adventurous glacier hike.  If you want something more relaxed, you can go on the Glacier Wonders or Glacier Explorer tours instead, but do note that if you go on the Wonders tour, you won't be walking far up into the ever changing icefall and the terrain will be more flat, so keep that in mind. Either way, whatever tour you choose, I don't think you could be disappointed when you are exploring the beautiful yet rugged glacial landscape!
Have you ever been glacier hiking or ice climbing?