22 Jul

White Water Canoeing in Iceland

The minute we got off the bus and saw that we were the only ones doing the rafting trip in a two person canoe, we immediately started to question what we had gotten ourselves into. The other 16 or so people on our tour were going down the river together in two large rafts. It didn't help when one of the guides approached us and asked, "You are the two that are canoeing?" in a rather perplexed tone, and when we asked if we were likely to tip, he replied, "well, let me just say that it is a lot of fun!" The guides also suggested that Micah leave his Cannon camera on the bus as it might be hard to canoe with it since it was our first time in white water. One more thing to note, Micah and I don't have the best history of working together when it comes to kayaking; for this adventure, that's kind of a red flag in and of itself as the cabling requires loads of cooperation. White water canoeing in Iceland it was; we pressed on anyways and assured ourselves that we were up for the challenge, while quietly hoping we would make it out alive.
We booked the morning White Water Canoeing tour with Arctic Adventures. The trip starts at the cute little cabin at Drumbo base camp located about an hour from Reykjavik. You have the option to either meet at Drumbo or be picked up from your hotel in town. We opted for the pick up, but if you were already near the Golden Circle it might make sense to just meet everyone there.
Once the entire group arrives, you suit up in a wetsuit, splash jacket, helmet, and life jacket. Remember when I said I stayed warm snorkeling in Silfra? Well that's because we had drysuits on. The canoeing trip is usually warmer all around as you can be floating down the river in the nice warm sun, but we happened to go on a freezing day, so the wetsuits had a tough job of keeping us warm, and as the name entails, they are wetsuits, so you will get wet. Micah had his GoPro camera with, but forgot the helmet attachment, so thankfully, our awesome guide Ivan let him borrow his helmet and actual GoPro camera since it was all ready to go.
Once everyone is geared up you jump on a bus for a 20 minute drive to the launching area. Here, you are given lessons in paddling and what to do if you fall out of the raft. Since Micah and I were the only ones canoeing, Ivan was our guide and he gave us more specific tips as we would be paddling by ourselves, following him down the river.
After the safety briefing and discussions, we were expecting to flip going through some of the rapids, but we loaded ourselves into the canoe anyways and decided it would be an adventure no matter what happened. We practiced some basic skills once we got in the water, and before we knew it we were heading down the river straight towards white rapids. Remembering our tip to hit the white water straight on we barreled through our first set of rapids and to our surprise we made it through the rapids in tact and upright and heading towards our cheering guide.
After getting the first rapids out of the way it was game on from there on out. We powered through one rapids after another gaining more and more adrenaline along the way. Surprisingly to us, we were actually working well together–maybe it was the fact that we thought we had to or we could die which was in the back of both of our minds, but it goes to show that we can make a good team in a kayak/canoe if we really put our minds to it. Due to our newfound cooperation we actually made it through all the rapids without flipping and soon enough we were in calm waters and at the stopping point for cliff jumping.
Micah and I both love cliff jumping and wanted to make the jump, but because we were so cold and actually somewhat dry and the thought of jumping into the freezing water sounded like torture, we opted out and watched others make the jump instead. The guide that was driving the bus was kind enough to drop off Micah's camera so he could take it the rest of the way down the river. They figured the remaining portion of the river was calm enough where having the camera with wouldn't be too much of an issue.
After everyone had their fill of jumping, we hopped back into our rafts and started back down the river.  All of a sudden, it started to hail–because the hail was pelting our faces so hard, we followed our guides lead and started paddling backwards for a bit. Eventually the hail stopped, but we were about to get the biggest shock of the trip.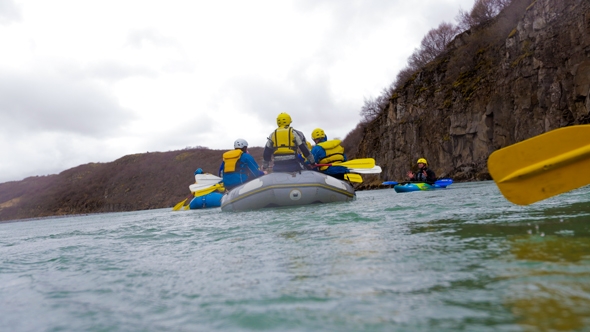 The larger rafts had stopped paddling and were enjoying the calm water and beautiful atmosphere when we started slowly drifting in their direction. Since Micah was supposed to be steering, but was taking photos instead, we ran into one of the larger rafts. And, then in what seemed like slow motion, we began to flip (which thanks to the GoPro can be seen in the very last seconds of our Iceland video). The water was so brutally cold that it literally took my breath away for a second. I started to get carried away by the current but was able to catch our guides kayak, and Micah was able to hold onto the upside down raft. We climbed back into the raft with a little help, but from this point on, we were freezing. Thankfully we didn't have a long distance left to finish the trip because our hands and feet were completely numb.
Back at Drumbo base camp, there are showers and a sauna for you to warm up in and also a warm lunch waiting in the lounge area. You can purchase lunch when you book your tour or wait until you arrive.  We were starving by this point, so lunch was a welcome treat consisting of a delicious cauliflower soup and meats, cheese and bread. It was a perfect simple meal to warm you up from the inside out.
We had an absolutely fascinating time and would love to go again one day, in warmer weather that is. If you want to go on the trip but aren't up for the challenge of a two person canoe, go on the rafts. They go down the river at the same time and look exciting as well, just a little more tame than the canoeing. Either way, you will have a great time!
Have you been white water rafting? If not, is it on your bucket list?