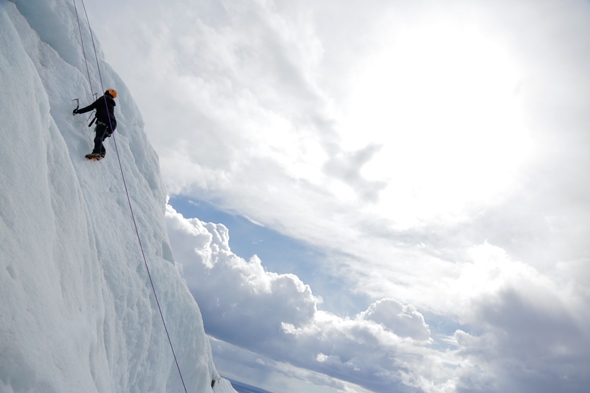 31 Dec

Best Travel Moments of 2013

As the year is quickly coming to a close, we wanted to take some time to reflect on what a wonderful year 2013 has been.  Visiting Iceland was one of our all time favorites, which if you've been following along with us, you probably already know as we can't shut up about it! But, there were many other great travel memories from the year as well, some we have already shared with you, some we haven't quite gotten around to writing about yet.  Either way, we are excited to think back on 2013 as we ring in the new year, so here is our roundup of our best travel moments from the past 12 months!
Glacier Hiking and Ice Climbing in Iceland
By far, our favorite adventure this year was our glacier hike and ice climb experience with Glacier Guides! There is something mystical about standing at the rugged ice-fall of a glacier; it is unlike anything we have ever experienced before.  Add in adrenaline pumping climbs up ice walls and crevices, and it's an adventure you aren't going to forget anytime soon.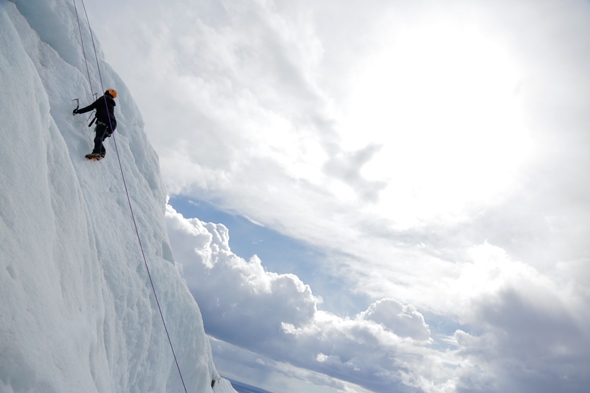 White Water Canoeing in Iceland
White water canoeing the Hvita River with Arctic Adventures was a close second in terms of amazing adventure of the year.  While it didn't push the glacier hike out of first place–it definitely got our adrenaline pumping A LOT more.  We decided to forgo the large 8 person raft for a two person canoe, and there may have been some instances where we didn't think we would make it to see life on the other side of the rapids.  Thankfully, we with the help our guide Ian, we made it through the rapids safe, sound and right side up…that is until we reached calm waters and flipped by bumping into one of the other rafts (ironic, huh?).  After our dip in the extremely chilly water, we were surprised with a nice bout of hail to cool us down even more.  Even though this might sound like torture, it was extremely exciting and we loved most every minute of  it!
Snorkeling Silfra Under the Midnight Sun in Iceland
OK, so evening snorkeling between two continents in 34°F water isn't something that exactly labels you as sane, but in Iceland with the almost 24 hours of sunlight, it is a surreal experience.  The water in Silfra is some of the purest on earth and runs between the North American and Eurasian tectonic plates.  Even though the water is quite chilly, dry suits from head to toe keep you warm most everywhere but your lips.  We opted for the midnight sun tour with Dive.IS, as they are the only company that can run evening tours, and we ended up with a private tour by chance! The only people in the entire river were us and our guide, so it was eerily peaceful and a great end to our day.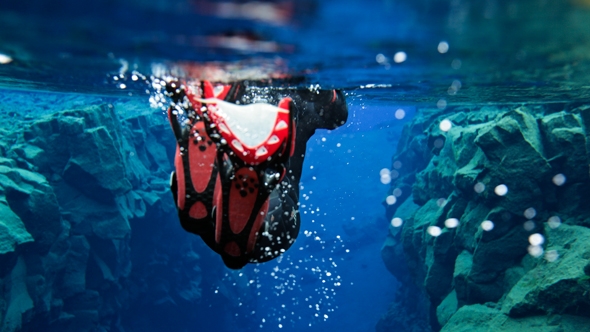 Snorkeling with the Manatees in Florida
Our other snorkel tour took place in sunny Florida, but it still wasn't exactly warm.  At 72°F, the water temperature was nearly 40° warmer than our snorkeling adventure in Iceland, but it still required a wetsuit to swim comfortably in the winter waters.  In the winter, manatees flock to the warm water of the Silver Springs in the Crystal River, so it makes for prime-time viewing of the cuddly giants.  They are just so adorable–we loved getting close and swimming with these amazing animals.

Turtle Hospital and Turtle Hatchling Release
Every year, thousands of sea turtles make their nests along the Florida beaches, and since sea turtles are protected wildlife, there are many programs in place to ensure their safety and wellbeing.  The first ever Turtle Hospital was started in Marathon, Florida, and we recently had the chance to tour the facility.  We learned all about how they care for injured turtles and were able to see some of the famous residents, including the one and only turtle named Bubble Butt!
The other turtle experience we were able to participate in was the Hatchling Release Program at the Gumbo Limbo Nature Center in Boca Raton.  After an informational presentation about the adorable turtles, we walked to the beach to watch over 30 baby turtles be released into the ocean.  These turtles didn't quite make it to the ocean on their first try, so they are rescued and given a second chance to make it to safe waters.  Good luck little guys–we're rooting for you!


Key West Sunset Sail
Sunsets are a big deal in Key West, and watching the sun dip below the horizon while sailing the seas is one of the best ways to view it.  Taking a ride on an old-time sailboat was so much fun–we got to help steer the ship, fire cannons at passing boats and watch dolphins playing in the water beside us.  It was the perfect way to relax after a busy day exploring Key West.

Searching for Family History in Norway
Micah and I both have family roots in Norway, and we had the chance to seek out the homestead where his family lived before moving to America.  We were able to pinpoint the Kvitt homes in the tiny fjord town of Flam.  While on a boat ride through the fjords, we were able to get a glimpse of the homes, and with a little help from the kind gentleman at our hotel, we were able to take a few pictures up close as well. It was pretty amazing to succeed in tracing one link of our family history, and we hope to search out more of it again soon.

Exploring the Giant's Causeway in Northern Ireland
I had very low expectations for the Giant's Causeway, but it surprised me in so many ways.  The stunning beauty stretched for miles, and I didn't want to stop exploring the unique basalt columns that were created from lava so many years ago.  Even with the cloudy, rainy weather, we snapped copious amounts of photographs before reluctantly moving on to our next stop.

Icy Weekend Back Home in Minneapolis
Apparently, since moving away from frigid Minnesota, I have developed a newfound love for ice.  Even though I still hate being cold, exploring ice at any chance we get has become sort of a mission this past year.  We went back to Minneapolis to catch up with friends and went ice skating, toured the Ice Castle at the Mall of America and explored frozen waterfalls.  It was a fun weekend full of ice!
Little Havana Culinary Tour
I had been wanting to explore Miami's Little Havana area for quite some time, so when we received an invitation to join Miami Culinary Tours on their food tour through the area, we jumped at the chance.  We walked down Calle Ocho and sampled so many delicious foods that we were about to burst; from the savory empanadas, chicken stuffed plantains and midnight sandwiches, to the sweet ice cream and guava pastry and more, we definitely left with full and satisfied stomachs.

Meeting So Many New Friends Along the Way
Over the past year, we have had the opportunity to meet so many amazing people, and it has become one of our favorite aspects of traveling.  In Iceland, we met up with Inga form Tiny Iceland, and her hospitality was outstanding–we had so many fun adventures including driving the Golden Circle, having a run in with an elf, exploring the famous Reykjavik nightlife and so much more.  We can't wait to return to Iceland one day soon!
Spending an evening with our friends from Felix Fables in London, was the perfect way to end our one day in the city–we were invited over for a delicious Sunday roast and wasted away the evening with great conversation, impromptu music sessions and scrumptious apple crumble dessert.
We also attended the travel blogging conference, TBEX, in Dublin, Ireland, and we made some great friends while we were there.  The highlights of our three days in Dublin all revolved around the wonderful people we met.  And, last but definitely not least, we met up with other blogging friends in Norway and right here in Florida as well!
Whew, that was quite a list.  Thank you all for joining us in our first full year of Wander The Map–we are so happy to share and interact with each and every one of you!  We hope 2014 brings us all many exciting adventures!
Share with us: What were your favorite moments in 2013?