20 Oct

Paddleboarding in Slovenia: Old Town Ljubljana and Lake Bohinj

Paddling is always one of our favorite adventures, and we were excited to get out on the water several times while we were in Slovenia. A couple of our paddling experiences were on paddleboards (and one was a kayak, but more on that later)! Our first time paddleboarding in Slovenia was down the Ljubljanica River which runs through the heart of Ljubljana's Old Town.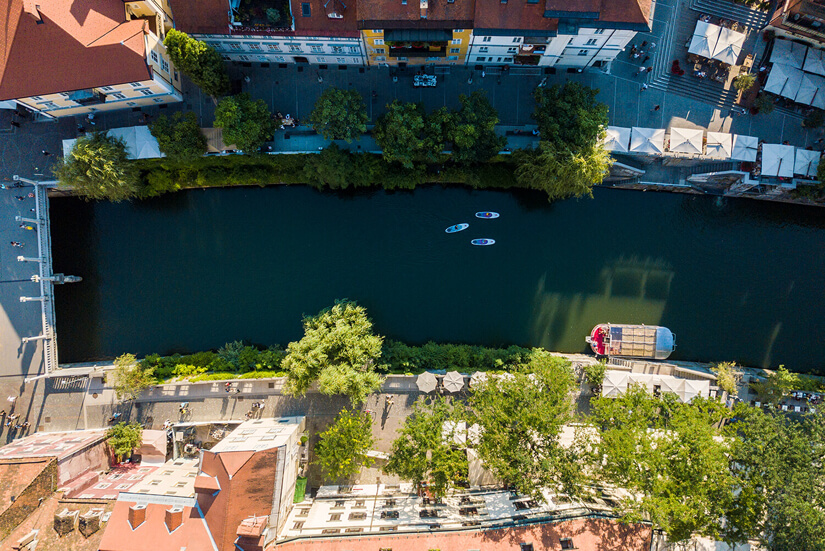 The second time we went stand up paddleboarding in Slovenia was on the clear, aqua waters of Lake Bohinj. Both paddle boarding experiences were so different—one was in a bustling city and the other was in serene nature. But one thing's for sure, they were both so much fun and a wonderful way to see Slovenia.
River Paddling Through the Heart of Ljubljana
Any time we are in a city, we look for a way to explore that's a bit unexpected. Taking a SUP tour on the Ljubljanica River through the heart of Ljubljana's Old Town definitely fit that bill. We signed up for a 10 a.m. tour with Bananaway, and when we arrived, we were greeted warmly by our guide Amand. First up was an introductory lesson to paddle boarding for those that had never been on a SUP before. Micah and I had both been paddle boarding prior to this excursion, but I still learned some fantastic tips and tricks from our lesson. It made my paddling much more efficient and that was definitely a nice surprise!
After our lesson, it was time to get on the water. Some of the sights we spotted along the way were the famous Three Bridges, Dragon Bridge, adorable cafes lining the riverbanks, historic buildings, parks, and even the Ljubljana Castle in the distance. As we made our way down the river, we learned about the culture of Slovenia, the sights we were passing, recommendations on restaurants, and tips on what to do in Slovenia. We also had a great time chatting about everyone's travels and learning a bit about our other tour mates.
Once we made it to our turn around point, we stopped to do a bit of relaxing and also to play some balance games on our boards. Amand led us in jumps, yoga moves, and more, and most of us actually stayed on our boards and out of the water!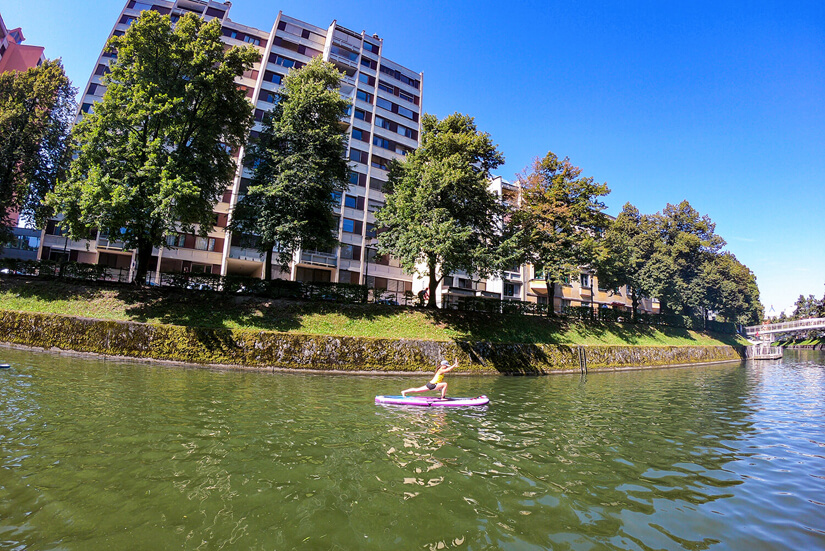 Eventually, it was time to head back to the starting point. In total, the tour was around two hours long. Also, all of the necessary gear is included, and you even get a link to download photos that your guide takes during the tour. It was a wonderful workout at a relaxed and comfortable pace, and we loved seeing Ljubljana from such a unique perspective.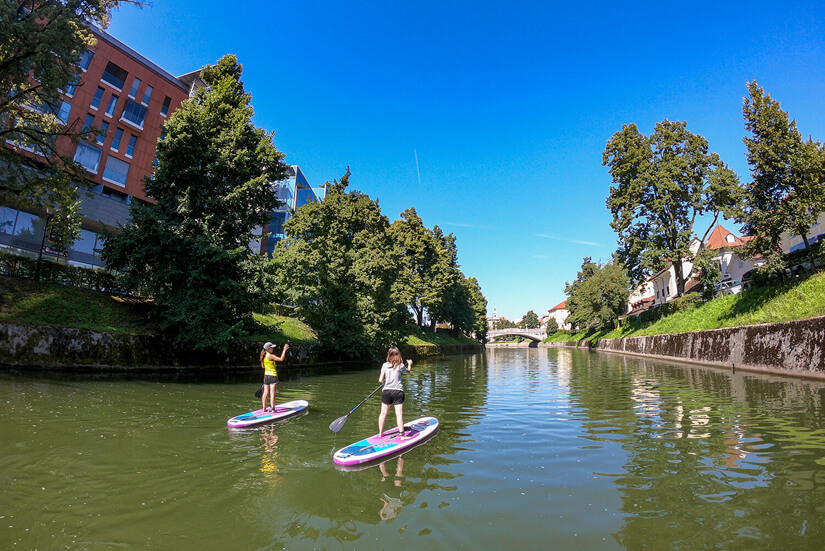 After our tour, we grabbed coffee at the Spica Cafe along the riverfront with Amand to chat a little bit more. It was such a great way to end our morning on the water. We also talked about the other tours Amand and other Bananaway guides offer. There are day tours in places like Lake Bled, the Soca Valley, Piran, and Cerknica Lake, and they also offer multi-day trips in Slovenia and destinations like Thailand and Croatia. Bananaway also offer SUP rentals if you want to get out and explore on your own.
Exploring Lake Bohinj on a SUP
After leaving the city, we spent the next nine days road tripping around Slovenia. We based ourselves in Lake Bled for four of those nights, and we spent our days exploring the entire region, which included a SUP session on Lake Bohinj about an hour away.
Lake Bohinj is a glacial lake located in the Bohinj Valley of the Julian Alps, and it is part of Triglav National Park. It is the largest lake in Slovenia, and its deepest point is 148 ft (45 m). It's hard to pick a favorite place from our trip, but we'd both have to say, Lake Bohinj was certainly near the top!
This time around, we decided to rent boards instead of paddling on a guided tour. We rented boards from a small shop on the edge of Lake Bohinj. The shop is located just out of town off of Ribcev Laz, but somehow, we didn't catch the name of it. It's hard to miss though, as there is a parking lot across the street and boats in the water. They offer a wide range of rentals, such as kayaks, paddleboards, and canoes, so you can explore any way that you'd like. We rented two paddleboards for a two-hour window, and it ended up being the perfect amount of time on the water.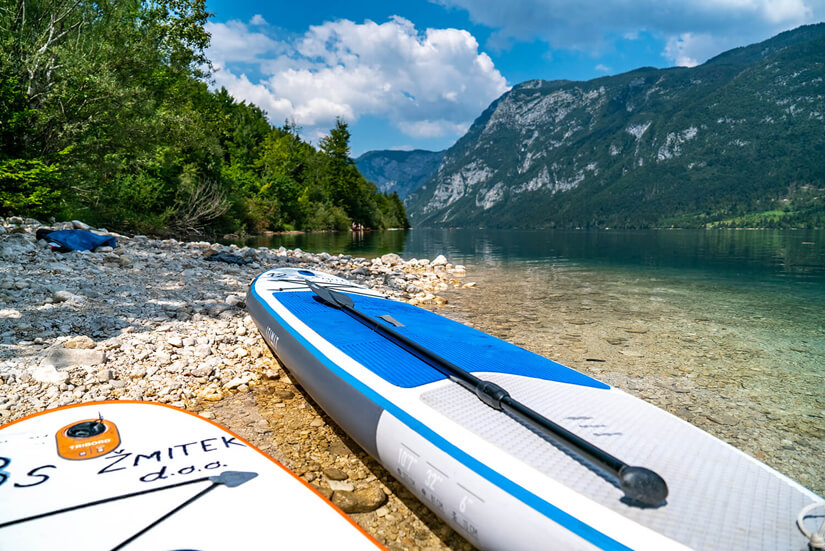 It was a warm, sunny afternoon unlike the few days prior. We were excited to feel the sun on our faces and the warm water below our boards. We certainly lucked out with gorgeous weather, and the water was so clear we couldn't believe it.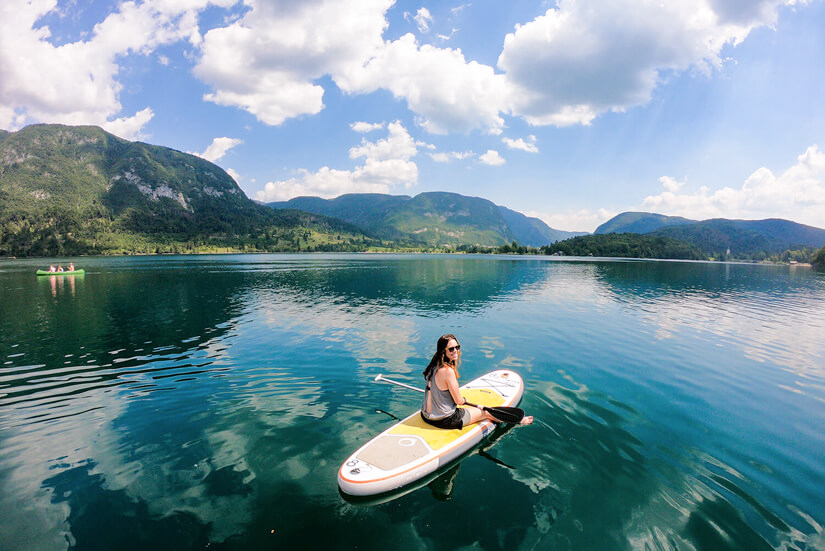 Plus, the scenery surrounding the lake was top notch—the Julian Alps definitely did not disappoint! During our paddle, we explored the lake, took some photos, and even had some time to just relax on our boards. We thoroughly enjoyed our simple afternoon out on the water!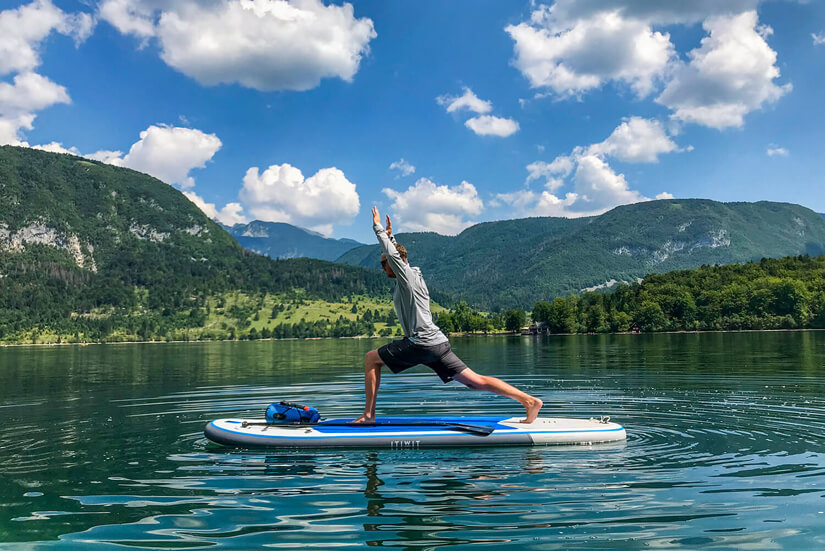 On our way back to Bled, we were driving along the tiny mountain roads and stopped at a cozy looking restaurant with outdoor tables. We both ordered our own meals—pizza for Micah and chicken schnitzel for me—and when our food arrived, we laughed so hard we almost cried. Both meals were HUGE! The schnitzel was bigger than my head and the pizza would barely fit on the table. Thankfully, the size didn't deter from the taste and we enjoyed a tasty meal at an adorable restaurant. It was a wonderful end to our afternoon on the waters of Lake Bohinj.
No matter which body of water you decide to explore, paddleboarding in Slovenia is a wonderful adventure. You can head out on lakes, rivers, or even the Gulf of Trieste. And one thing is for sure, the scenery in each and every spot is going to be spectacular!
Have you ever been stand up paddleboarding in Slovenia?
Pin this post to save it for later!