08 Oct

16 Awesome Adventures in Slovenia

Slovenia is a country full of outdoor adventures, historic cities, and adorable villages. At only 7,827 square miles in size (roughly the same size as Massachusetts), Slovenia is a small country. But just because its small, it doesn't mean that there is nothing to do. Slovenia is home to a diverse range of landscapes and the perfect place for a road trip. You can find craggy mountains in the Julian Alps, turquoise rivers and lakes, towering waterfalls, forests, rolling hills, farmland, vineyards, deep caves, and even a bit of coastline along the Adriatic Sea. There are so many adventures in Slovenia to pick from that we had a hard time narrowing down our options!
During our summer visit, we spent two weeks road tripping around Slovenia. Because we found cheap mistake airfare to Budapest, our trip started in Hungary. On our first day in Budapest, we met up with local friends who cooked us an amazing dinner. Then, it was time to head to Slovenia. We started our trip by spending the first few nights in Ljubljana. We then continued on through Bled, Kranjska Gora, Soca Valley, Piran, Zalec, Lasko, and Maribor before heading back home through Hungary.
Throughout our trip, we lined up a list of exciting adventures. We spent our time SUPing, hiking, paragliding, canyoning, driving on wild mountain roads, white water kayaking, sleeping at a farm and in an apiary cabin (also known as a house with a bee hive in the walls), drinking from beer fountains, learning about wine, touring the salt pans, relaxing at thermal spas, and exploring the coast. And the craziest thing of all? We didn't even make a dent in all the adventure activities available in Slovenia.  We could have added so many more adventures to this list if only we had more time.
Slovenia really is the adventure lover's paradise. Read on to see more about all of our adventures in Slovenia!
SUPing in Ljubljana
Our first stop on our two week road trip through Slovenia was Ljubljana. We absolutely loved Ljubljana with all of the history, delicious food, and art around every corner. The river that runs right through the heart of the city, called Ljubljanica, was just begging to be explored. Boat tours along the river are common, but we opted for a different type of adventure. We went for a SUP session with Bananaway and spent a beautiful morning out on the water. As we paddled down the river, we floated next to parks, past historic buildings, and under grandiose bridges. Our guide, Amanda, told us stories about Ljubljana and Slovenia, and we played some balance games on our paddle boards. The 2-hour tour gave us a different perspective of the city and was a blast from start to finish.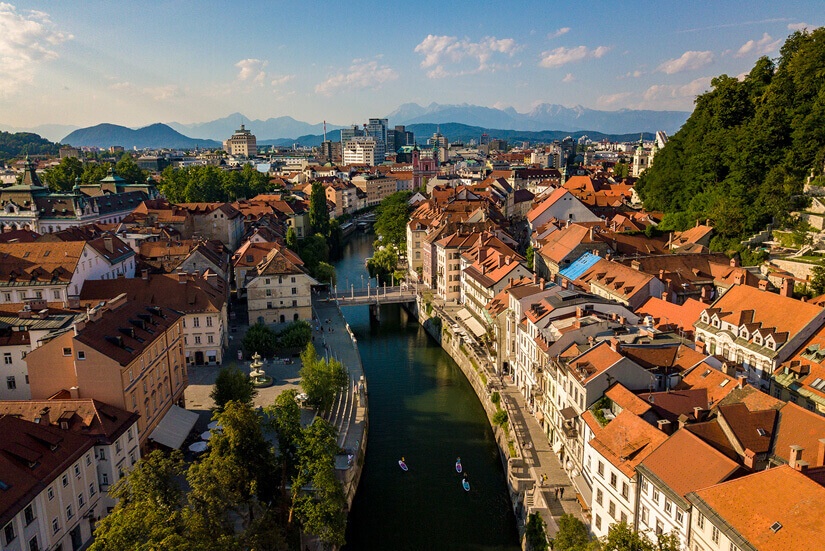 Canyoning
We had so much fun canyoning in Slovenia…aka rappelling, climbing, swimming, and cliff jumping our way through a canyon! When we were staying in Bled, we went on the Grmečica Canyon tour with LIFE Adventures. The canyon was located around 30 minutes from Bled, and we spent around two hours exploring the canyon. We were the first to arrive at the canyon that morning, and we had the place entirely to ourselves, as we were the only ones on our tour!
When we arrived, we suited up in dry suits to shield ourselves from the freezing water. Then it was time for a 30-minute hike up to the starting point. Once we started our first rappel into the canyon there was no turning back. The only way out was to continue on through, which included cliff jumps from 3-10 meters high (around 10-32 feet high). The adrenaline rush was definitely a great way to wake ourselves up that morning, and we loved every minute of our canyoning adventure.
Paragliding
Running off the edge of a mountain in the Julian Alps was a bit intimidating, but after the initial jump, we were mesmerized by the scenery surrounding us. We were planning on paragliding from the higher mountain, Mt. Vogel, but the weather wasn't cooperating, so we had to start from the lower point on nearby Mt. Vogar instead. The elevation of our starting point on Mt. Vogar was 990 meters (3,248 feet) and it sat right on the edge of Lake Bohinj.
To reach our starting point, we had to drive up the mountain and then take a 20-minute hike along a trail that led us through the woods and past tiny, adorable cabins. Then, our guides got the gear set up as we waited for the wind to cooperate. Once we received the cue from our pilot, we were to run off the edge of the mountain and not stop until we were given the all clear. This led to some awkward "air-running" before a peaceful ride through the sky. We literally flew through the clouds as we explored the area from above. The views of Triglav National Park and Lake Bohinj were fantastic. I could have stayed up in the sky all day!
SUPing on Lake Bojinj
Lake Bohinj is the largest permanent lake in Slovenia, and it is located about 30 minutes from Lake Bled. The lake is surrounded by mountains and forests, and it is absolutely stunning. One morning we rented paddle boards from one of the shops located on the shore of the lake. We spent a couple of hours paddling around, relaxing on our boards, and dipping our feet in the chilly water. It was a perfect day for a SUP adventure. The water was so clear and turquoise, and even though it was busy, we found a quiet little corner for ourselves!
Exploring Lake Bled
There are so many different ways to enjoy Lake Bled. You can rent a rowboat, SUP, or kayak to go for a paddle. You can hop on a Plenta boat and visit Bled Island. You can walk or bike around the lake on a 6 km (3.7 mile) trail. You can relax at a café with sweeping views of the lake. You can hop in the lake and go for a swim at one of the beaches. You can visit the castle for a dose of history with a view. Or you can hike up to one of the several viewpoints (Straža, Ojstrica, Castle, Osojnica, or Kuhovnica) around the lake for a different vantage point.
We didn't have time for all of these adventures, but we dipped our toes in the water at the beach, soaked up the sun at cafes with lake views, walked around the 6 km lake path, and hiked up to the Castle viewpoint. No matter which way you look at it, Lake Bled is a beauty, indeed!
Driving the Mountain Roads through Triglav National Park
The mountain roads through Triglav National Park are quite crazy. We decided to drive the mountain roads to get from Bled to Bohinj, and we had so much fun driving the tiny mountain roads through various villages along the way. At times the pavement was barely wide enough for one car even though it was a two-way road. We would cringe when we had to drive close to the edge as there were barely any protective barriers and it was a long way down! What a rush!
The other mountain road that we drove was the Vrsic Mountain Pass through Triglav National Park. After spending the night in Kranjska Gora, we woke up early to head through the pass and over to the Soča Valley. This pass reaches an elevation of 5,285 ft (1,611 m), and there are 50 hairpin turns to get up to the summit and back down again. Some of the switchbacks are so tight that you practically make 180º turns. We couldn't stop marveling at the twists in the map and before our eyes as we made our way up and down the pass—they were intense! Along the way we stopped at the Russian Chapel and several viewpoints before reaching the Vrsic peak. We wanted to pull over at every turn…the views of the mountains were some of the prettiest we've ever seen. If we didn't have to get to our white water kayaking tour that afternoon, we could have spent all day slowly making our way through the pass!
White Water Kayaking
The Soča River runs through the Soča Valley in Slovenia. The water is so clear that the river looks bright turquoise at times, and it is a prime spot for white water adventures. We've been white water rafting and white water canoeing, but not white water kayaking, so we just couldn't resist signing up for a new adventure. Kayaking it was!
We booked a tour with Kata Adventures and off we went. Our trip started with hauling our kayaks over ½ mile down a path to the river. Then we had a quick lesson on how to paddle through rapids and navigate a river before setting off for some practice. We paddled upriver through a gorge and practiced our turns along the way. Next, it was time to head downriver.
We ended up going through rapids and dodging rocks for almost 2 hours straight. There was a lot of banging into rocks and a couple of flips out of the kayak (ehem…Micah!), but it was an absolute blast!
Sleeping with Bees
One of our favorite accommodations during our road trip was an adventure in and of itself. We ended up sleeping in an apiary cabin, which was essentially a beehive. One of the walls in our Airbnb was filled with millions of bees and while none of them could get inside our living quarters we could hear a quiet buzz all night long. It was so relaxing to hear the hum of the bees and smell the faint scent of honey throughout our visit.
The little house was decorated in such an adorable way with little beehive and honey themed decor. There was a kitchenette, bathroom, and a couch downstairs, and the bedroom was upstairs. You could open a panel on the wall to see part of the hive behind glass. There was also fresh honey to taste. We even had masks for intensive inhalation of aerosol directly from the beehive, which gives you all sorts of health benefits. It was definitely one of the most unique places we've ever slept!
Staying at a Farmhouse
Anytime we can stay in a different style of accommodations, we jump at the chance. While we were in Koper near the coast of Slovenia, we stayed in an adorable farmhouse. There are so many different farm stays to pick from. We booked last minute when there were limited options remaining, but we lucked out with a wonderful place to stay for a couple of nights: Farm Stay Domačija Butul. Our room was basic but cozy, and we had amazing views over the vineyard, olive trees, and garden just steps from our room.
Upon arrival, our hosts presented us with samples of wine, flavor essences, cheese, and bread that they produce right at the farm. The hosts also offer a variety of delicious meals that are cooked with ingredients grown on the property. We didn't have time in our schedule to eat dinner onsite, but we did have a fantastic breakfast spread there in the morning.
The second evening of our visit coincided with a total lunar eclipse and we happened to have the perfect view on our back patio overlooking the vineyard. We ended up spending the night playing cards with our neighbors as we watched the magic in the sky. And, the Butul family were great hosts—they kept checking in to see if we needed anything. They even brought us complementary wine to accompany the eclipse! It was a wonderful stay and such a fun experience. We would definitely recommend spending a few nights at a farm stay and eating fresh, local food if you have the chance.
Touring the Sečovlje Salt Pans
To learn about age old traditions at one of the last salt production facilities in the Mediterranean, make a stop at the Sečovlje Salt Pans in Piran, Slovenia. These salt pans have been active since the 13th century. Visitors can visit the Museum of Salt-Making and walk around the grounds to learn about and observe how salt is harvested. As a couple of salt lovers, it was interesting to learn one of the ways salt is produced. There is also an onsite spa—we didn't have time to visit the spa, but it looked pretty amazing!
Exploring the Coast
Even though the coast of Slovenia isn't very long, the 46 km of coastline sandwiched between Italy and Croatia definitely pack a punch. There are several beaches to visit and plenty of adorable towns to wander through. We spent time exploring the maze-like streets of Piran, Koper, and Izola, and dipping our toes in the Adriatic Sea.
We loved the colorful shutters, bikes, cobblestone streets, and plant lined windows that filled the alleys of the towns, and the beach at Moon Bay was stunning. This area is so different from the rest of the country and it was a fun change of pace for a couple of days.
Drinking at the Beer Fountains in Žalec
The Lower Savinja Valley, which is the region surrounding Žalec, is known for its hops production. There is a hops museum in town (which unfortunately was closed during our visit) and beer fountains located in a lush, green park. The Green Gold Fountain is located in the center of town and there are six fountains that dispense beer. To drink, you pay €8 for a special glass with a microchip in the bottom. When you place the glass under the fountain it fills up with a local Slovenian beer. Your glass will work once at each fountain and you can relax at the park between pours. This region is definitely a fun area to check out if you are into beer!
Soaking up Wellness at the Thermal Pools
Slovenia is filled with thermal waters that are said to have healing properties, and wellness is taken seriously in Slovenia. We intended to visit multiple thermal pools during our road trip. Unfortunately, time and schedules had other plans for us, so we only made it to two facilities—one for a dip in the pools, and the other for massages. When we were in Laško, we managed to stop by the thermal pools for a relaxing evening. The Laško thermal water is said to revitalize, refresh, and detoxify your body, and we definitely felt renewed by the time we left Thermana Laško. There was plenty of room to spread out, and we couldn't resist trying out every hot tub, water slide, and pool during our visit. Our favorite one? The "fast river" that was essentially a pool with a strong current looping in a large circle. We must have floated around the loop 50+ times—it was just so relaxing with the sun shining down through the roof!
We were also planning on visiting the Živa Wellness Centre at the Sava Hotel in Bled, but the thermal pools were closed during our visit due to a maintenance issue. Because of the pool closure, we decided to opt for a massage instead. There are numerous treatments on the spa menu that we had not seen before, so we both decided to go for something a bit different. Micah went with the "Massage using Spruce Tip Sheaves", and I went with the "Honey massage with Warm Honey." It was definitely fun to try some unique treatments!
Hiking Vintgar Gorge
The hike through Vintgar Gorge is a relatively easy trail that is roughly 1.6 km (1 mile) long. Vintgar Gorge is located a short drive from the town of Bled, and it's definitely worth a visit. The gorge was carved by Radovna River, and the hiking trail follows the river through the gorge. The trail consists of wooden walkways that are suspended over the river, natural pathways, and bridges. It reminded us of a similar hike we did called Johnston Canyon in Canada!
Once you reach the end of the trail, you will find a little shop selling snacks and souvenirs, as well as views of the waterfall, Slap Šum. You can continue along a path to get better views of the waterfall from below if you'd wish. We spent some time exploring the waterfall from different vantage points, and then made our way back through the gorge to the starting point.
This trail is a popular one, so it can get quite busy especially when the tour busses arrive. We decided to drive ourselves and timed our visit for a few hours before the canyon closed for the evening. We lucked out and managed to dodge most of the heavy crowds, and the trail ended up being one of the most beautiful that we experienced in Slovenia!
Hiking to Waterfalls
Our hike through Vintgar Gorge definitely gave us some great waterfall views, but we also hiked to a few other waterfalls during our time in Sloveina. Slap Kozjak is a waterfall located at the end of a beautiful trail that starts in Kobarid, Slovenia. The hike is pretty easy and it takes around 30 minutes to reach the falls from the nearest parking lot. It's definitely a waterfall worth exploring!
Slap Savica is located near Lake Bohinj and you will find several restaurants near the trailhead to the falls. Reaching the waterfall requires a short hike which should take around 20-25 minutes. The waterfall is around 78 meters high, and midway down the falls, it splits in two making it look almost like an "A". ⠀
Slap Pericnik is a waterfall located near Mojstrana, Slovenia. We hiked a short distance to reach the lower falls and were amazed with its size and beauty! The lower falls drop 171 feet (52 meters) and you can even walk behind the falls. The path behind the waterfall was small and a bit slippery, so be careful and wear good shoes as the mist is strong. At times it felt like we were actually getting rained on!
Visiting the Oldest Wine Producing Vine in the World
We made a quick stop in Maribor, Slovenia, when we were road tripping our way back to Hungary. We only had a couple of hours to explore, so after eating a traditional Slovenian lunch and exploring the town's beautiful architecture, we checked out the world's oldest vine that still bears grapes. The vine has been verified to be over 400 years old (!) and it holds a title in the Guinness Book of World Records. The vine still produces enough grapes to make around 100 bottles of wine each year, and there is a museum, called the Old Vine House, in the building behind the vine. Inside the museum, you can learn about wine traditions in both Maribor and Slovenia. Also, if you are interested in sampling local wines, a tasting room is available.
Seeing the giant vine (that looked more like a tree!) was a fun way to end our adventures in Slovenia. We loved the mix of both culture and adventures in Slovenia, and the country has quickly become one of our favorites. Until next time!
Have you ever been to Slovenia? What would be your favorite adventures in Slovenia?
Pin it!