25 Jan

TreeTop Walk in Singapore: Monkeys, Heights, and Humidity

One of my favorite adventures from our trip to Singapore was the TreeTop Walk at MacRitchie Nature Trail & Reservoir Park. Any time we can explore nature within a city, you know we are on it. Lucky for us, Singapore is filled with green spaces. On our last day in Singapore, we requested a late checkout from our hotel (which they graciously granted us until 6 p.m.!) and then made our way out to the park. Our morning was filled with beautiful nature, lots of monkeys, and thick humid air—what a sendoff, am I right?!
The MacRitchie Nature Trail & Reservoir Park is home to an 11 km nature trail loop. Even though all of the trails and landscape at the park are beautiful, the star of the show is the TreeTop Walk. The walk is a suspension bridge that spans 250 meters to connect the highest points inside the park. This bridge gives visitors a unique vantage point of the forest canopy as well as views of the reservoir below.
We woke up early in a futile attempt to beat the heat of the day, arriving at the park around 8:30 a.m. While we did luck out with cloud coverage throughout the morning, we were still dripping in sweat almost the entire hike. Singapore heat is no joke!
To reach the park, we jumped on the 167 bus near our hotel and rode straight to the Opp Flame Tree Pk bus stop. This stop situated us close to the MacRitchie TreeTop Carpark at Venus Drive, which is where we planned to start our hike. The public transportation system is pretty great in Singapore, so we were happy to have an easy 45-minute ride there.
Once we made it to MacRitchie, we followed the directions on the map from Singapore's National Parks. In addition to directions, this map has great information on the plants and wildlife you might see along the hike. There are also directions and signs at the park, and we found that Google Maps was surprisingly helpful, too. Depending on where you enter the park and how far you want to walk, there are many routes to pick from.
We started the hike at the Venus Loop and were happy to have fairly empty trails on a Sunday morning. The paths we took were a mix of boardwalks and packed dirt, which were easy to traverse. We decided to take one route there and then on the way back we veered off on a slightly different path to vary up the scenery a bit.
We stopped several times throughout the hike to marvel how amazing it was that we were on a very developed and very small island. Somehow, it felt like we were in the middle of a jungle far from any civilization (minus the other hikers, of course). The lush greenery, fresh air and wildlife in the park are quite magical.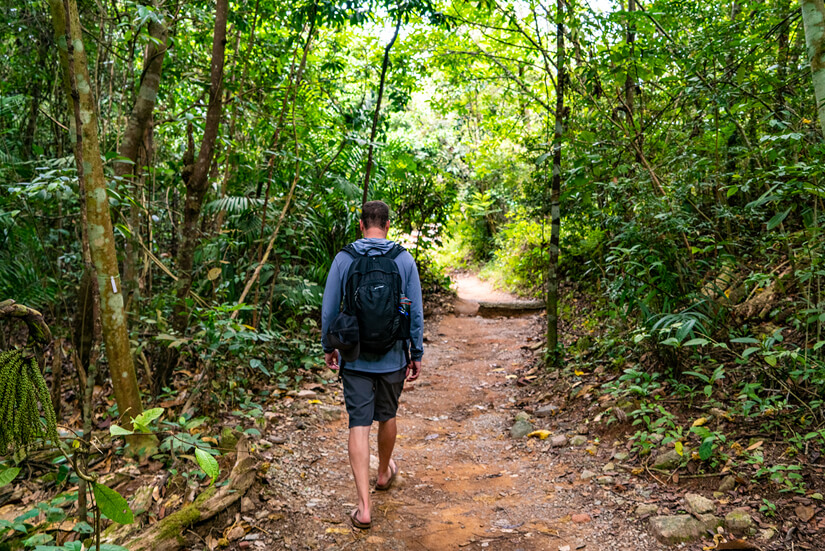 After around an hour of hiking at a leisurely pace, we arrived at the suspension bridge. The bridge is one-way and is only open certain times throughout the day, so be sure to double check opening hours and maintenance schedules before you head out on your hike. It can also get quite busy, so be prepared to wait. We lucked out and only had a short line ahead of us before we had access to the bridge.
While we waited for our turn to cross the TreeTop Walk, we were captivated by the monkeys playing in the forest. We spotted well over 50 monkeys during our visit, and it was hard to pull ourselves away from their silly antics! As we waited, we watched them swing from the trees, chill on tree trunks, egg each other on, and hang out on the bridge. But, be warned…monkeys are smart, so don't snack while you wait for your turn on the bridge. They WILL steal your food and will likely snatch any grocery bags that you happen to be carrying, too.
I don't know if we will ever have our fill of watching monkeys, but eventually it was time to keep moving on and cross the bridge. From the bridge, you can see the tops of the forest canopy, the clear waters of the reservoir, and maybe even some wildlife if you get lucky. We enjoyed seeing the forest from this perspective and being immersed in the trees. It was definitely a sight to see and hard to leave.
After crossing the bridge and soaking up the views as long as possible, we began the hike back to the starting point. On the rest of the walk, we took more time to enjoy the landscape and scenery in front of us.
Once we finished the hike, it was time to hop on the bus again and ride all the way back to our hotel. In total we walked roughly 7-8 kilometers (4-5 miles), and we spent around 3.5-4 hours at the park. We walked at a leisurely pace and took frequent stops for photos.
When it was all said and done, we were glad we were able to fit the hike in on our last morning in town. Plus, we were so grateful that we still had our hotel room—a shower was definitely needed before our long journey home later that evening. We even had time to sneak another museum visit in that afternoon before heading to the airport. A hike and museum visit were such a fun way to cap off the trip. We couldn't have asked for a better day to end our time in Singapore!
Have you ever been to the TreeTop Walk in Singapore?
Pin this post to save it for later!