01 May

16+ Amazing Adventures in Singapore

I've wanted to visit Singapore ever since elementary school when I heard that chewing gum was banned there. The more I learned about the city-state, the more intrigued I became. I'm so glad we finally had a chance to visit and explore all the wonderful adventures in Singapore.
I always hear that Singapore is only worth a few days of your time since it is such a small country. Well, after spending a week in Singapore and not having enough time for all the items on our to-do list, we couldn't disagree more. That being said, if you only have time to visit for a few days, still do it. But, if you can give it more time, you definitely won't be bored!
Some of our favorite adventures in Singapore were visiting the Super Trees and Cloud Forest, eating all the food, exploring museums, wandering around beautiful neighborhoods, relaxing at the beach, hiking, and more. Here's a breakdown of 16 adventures in Singapore, plus several activities we want to do on a return visit.
Gardens By the Bay Super Trees and OCBC Skywalk
The Super Tree Grove at Gardens by the Bay might just be the most iconic sight in Singapore. With good reason, too, as the site is absolutely fascinating! The 18 tree-like structures are actually vertical gardens that stand between 25 to 50 meters (82-160 feet) high.
Wandering around the base of the trees is a wonderful experience by itself, but you can also get views of the area from above, too. The newly opened Super Tree Observation Deck gives you sprawling views from the top of the tallest Super Tree. And, the OCBC Skyway is a 22-meter-high walkway that connects two of the Super Trees. While you can check out both in the same visit, we decided to only visit the OCBC Skyway and save the observation deck for a later visit.
Bohemian Rhapsody Night Show at the Super Tree Grove
The Bohemian Rhapsody show at the Super Tree Grove is a sight you have to see to believe. As the sun starts to set, the trees begin to glow with lights. Grab a seat on the grass with a view of the trees and get ready for a mesmerizing experience. The show starts with a bang as the lights on the giant trees dance and flash along with the music. It's a scene that makes you wonder if you have been transported to another world, and it is definitely worth your time. There really is nothing quite like it.
Eat All the Food, Especially at the Hawker Centers
Most people tell you to eat everything in Singapore, and they aren't wrong! Singapore is known the world over for its food and hawker centers. Hawker centers offer high quality food for a small price. Several of the stalls are on the Michelin's Bib Gourmand list and some have even been awarded Michelin Stars! Plus, the open-air centers are just so fun to visit—eating at a hawker center is definitely an adventure in and of itself. While we loved exploring the hawker centers on our own, taking a food tour of one is definitely on our list for a future trip to Singapore.
While we didn't get too adventurous with crazy dishes, we did manage to eat some pretty fantastic meals and snacks throughout the trip. Some of our favorite must try dishes are the chicken rice (Ah Tai was our favorite!), kaya toast, dim sum from everywhere but especially our Taiwan favorite Din Tai Fung, ramen from A Noodle Story, curry and more at an Indian Restaurant called Mustard, satay from Satay Street and ice cream sandwiches with actual bread from an Ice Cream Uncle's stand.
Check out the Sculptures at Haw Par Villa
Haw Par Villa is a park in Singapore and is home to over 1,000 statues and dioramas that tell stories of Chinese mythology, folklore, and legends. The park was once called Tiger Balm Gardens and it has been revamped several times over the years. As it currently stands, Haw Par Villa is free to visit and wander, but you can take a tour of the park for a small fee. We missed the tour on the day of our visit, so we just walked around the grounds and wondered what in the world we were seeing.
Some of the more interesting sculptures we spotted were the crab with the head of a lady, humans with the heads of chickens, giant monkeys, a turtle riding on the back of an ostrich, and the disturbing depictions of the 10 Courts of Hell. Our visit to Haw Par Villa was a relaxing way to spend the morning, and it's definitely not something you can see anywhere else!
Enjoy Nature and Monkeys on the TreeTop Hike at MacRitchie Reservoir Park
One of our favorite adventures in Singapore was the TreeTop Walk at MacRitchie Reservoir Park. MacRitchie Reservoir Park has an abundance of trails, and it's a great spot to escape the city for a breath of fresh air. We couldn't resist checking out the suspension bridge, so we set our sights on the TreeTop Walk. While the suspension bridge is only 250 meters long and there are many paths to get there, the trail we took to get to the bridge and back was around 7 km. We started from the Venus Drive carpark and enjoyed our walk along the well shaded path. Thankfully, it was a cloudy morning and much of the trail was tree covered because it was hot! Once we got to the bridge, we were excited to see a bunch of monkeys hanging around. They were adorable, and we loved taking a break from the hike to watch them play.
The suspension bridge is short, but it gives you great views over the treetops of the reservoir. We spent a bit of time enjoying the views and taking photos before making our way across to the other side. In total, we spent roughly two hours on the trail with a few short breaks. The TreeTop Walk was a wonderful way to soak up the abundance of nature that Singapore has to offer, and we are so glad we managed to fit it in the last morning of our trip!
Soak Up the Refreshing Mist at the Cloud Forest
One of the best things to do to escape Singapore's afternoon heat is to pay a visit to the Cloud Forest Nature Park at Gardens of the Bay. When you walk in the door, you are greeted with a towering waterfall amongst a wall of misty greenery. The glass domed ceiling frames the entire scene and it almost feels like you are about to walk onto the set of Jurassic Park.
The walking path through the conservatory leads you to the top of the mountain. Along the way, you will learn about a cloud forest's biodiversity and geology, and you will be able to see a variety of plants from all elevations of the forest. The walk takes you through caves, secret gardens, and elevated walkways. We loved all the different views and scenes we encountered during our visit. The cool mist and fresh air in the conservatory gave us a renewed energy and calm sense of mind that lasted throughout the day.
Play and Dream at the Art Science Museum
The Art Science Museum is one of the most interactive museums we've ever been to. The museum offers several exhibits, and each requires a different admission ticket. Some of the exhibits at the museum are temporary, but we had our eye on the permanent exhibit, Future World: Where Art Meets Science.
City in a Garden was the first gallery we walked into. First up was a room full of interactive, moving projections. The designs on the walls would change with every move you made—every flower, butterfly, and waterfall would interact with guests and move around them.
Some of the other galleries we enjoyed were the sketch aquarium and sketch town. At both of these creations, you would color a picture on paper and then scan the design into the art on the wall. Your picture will become animated and part of the moveable display in front of your eyes.
And perhaps our favorite exhibit was Crystal Universe, where it appears that the twinkly lights go on forever. The 4D technology and more than 170,000 LED lights also change and respond to motion of the people walking by.
We spent around 1.5 hours exploring the museum at a slow pace. The museum can feel slightly geared towards kids at times, but we had a blast and spotted plenty of other adults doing the same!
Overlook the City from the Sands SkyPark Observation Deck at the Marina Bay Sands
One of the most iconic buildings in Singapore is no doubt the Marina Bay Sands. This hotel is comprised of three towers with an oblong rooftop connecting them. The Marina Bay Sands rooftop is home to an infinity pool that has achieved a fame of its own, but this pool is only accessible to hotel guests. Since we weren't staying at the hotel, we had a different objective for our visit: the observation deck. We always love views of a city from above, and the view from the Sands SkyPark Observation Deck was fantastic. I loved getting the lay of the land and seeing a different angle of Singapore.
The observation deck is located on the 57th floor and once you are at the top of the building, there isn't much to do besides check out the views. There are a couple of restaurants that require a separate admission charge to visit, and the observation deck consists of a wide-open space with almost no shade. After soaking up the views in all directions and trying to duck into the shade whenever possible, we decided to head out. In total, we spent around an hour at the observation deck. Although the deck was pretty bare bones, it was a fun stop while we were waiting to meet up with our friends for dinner.
Explore the Green Space in the City: Fort Canning Park
Singapore is known for its abundance of green spaces. It felt like every direction we turned, we spotted greenery on buildings, along the sidewalks, or in a park. We walked through several parks during our Singapore explorations, but Fort Canning Park ended up being our favorite. The park is over 44 acres in size and it holds numerous different attractions within its borders. Fort Canning Park is home to monuments, fort walls and gates, a lighthouse, sculptures, a reservoir, gardens, and more. We spent a very toasty morning walking around the grounds and were happy to find lots of shade for wandering and relaxing.
One of the most iconic sights in the park is the spiral staircase with lush greens hanging down into it—it has turned into an Instagram hotspot. There were around 10 people in line for a photo when we stopped at the staircase, and from what I've heard, the line is often much longer. We snapped a quick photo of the empty staircase when people in line were rotating in and out. The staircase is definitely pretty and I'm glad we stopped to check it out, but I'm also glad we didn't wait in a long line for a photo either!
No matter which parks you decide to explore in Singapore, you are sure to find a wonderful breath of fresh air. We hope to make it to many more parks on our next visit to Singapore!
Hit up the Beach and Explore Sentosa Island
Sentosa Island is located on the southern coast of Singapore. The island is home to beaches, theme parks, and a variety of other activities such as go carting, a cable car, and a zipline over the beach. Visitors heading to the island have to pay a fee to enter (unless you are staying overnight at a hotel), but once you arrive, the tram and buses around the island are free. We spent two nights on Sentosa Island as we lucked out and used hotel points to stay at the gorgeous Le Meridien Hotel.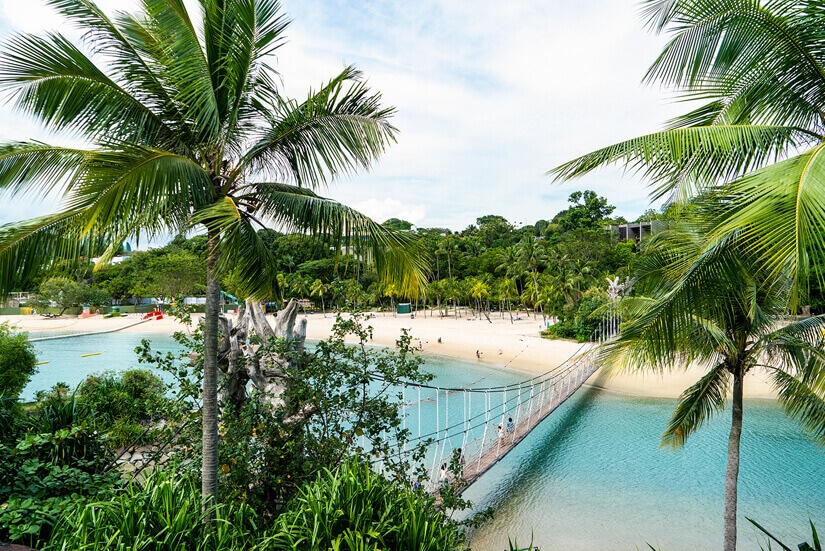 After a busy few months, all we wanted to do upon arrival was relax, so relax we did. We opted out of all the island activities and instead, spent time lounging on the beach, relaxing by the pool, and going for walks near our hotel. We also managed to cross the suspension bridge on Palawan Beach to step on what is said to be the "southernmost point of continental Asia". A slow start was just what we needed, but next time we visit the island we would love to go for a ride in the cable car, explore Universal Studios, and visit the Fort Siloso Skywalk.
Find Some Color through Singapore's Street Art, Architecture, and Temples
The architecture in Singapore is second to none—there is greenery every which way you turn, even on the sky-high buildings. With innovative structures like Marina Bay Sands, the SuperTrees at Gardens by the Bay, the durian-like Esplanade Theater, or the ArtScience Museum that resembles a lotus flower, your eyes are in for a treat.
We also loved searching for street art throughout the city, especially around Little India, Chinatown, and Haji Lane in Kampong Glam. Some of the art we found was funky and colorful, and other murals depicted Singapore's past, such as the pieces by Yip Yew Chong.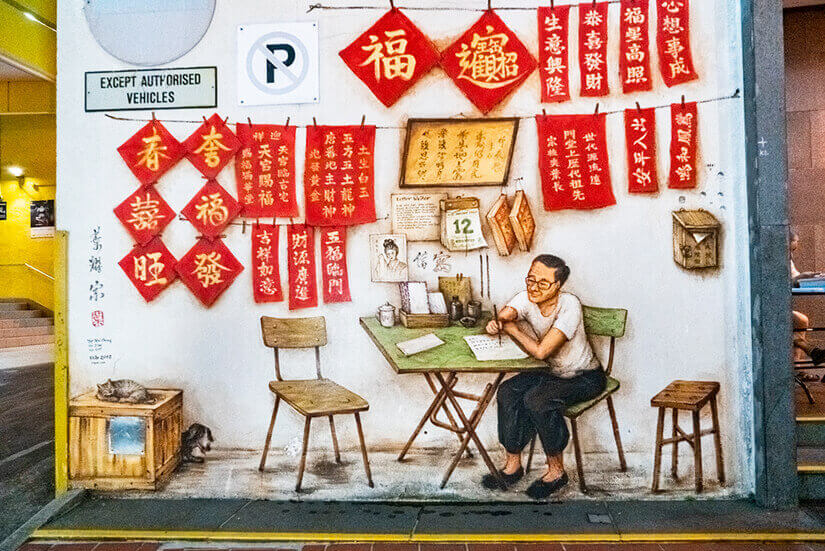 The variety of temples and mosques we walked past were incredible, too. We stopped for a look at Sri Mariamman Temple, Buddha Tooth Relic Temple & Museum, and Sultan Mosque, all of which were beautiful in their own way.
And, the colorful buildings throughout the city add cheer to the streets. Some of our favorite colorful buildings and areas were the Old Hill Police Station, Tan Teng Niah, Haji Lane, and Emerald Hill.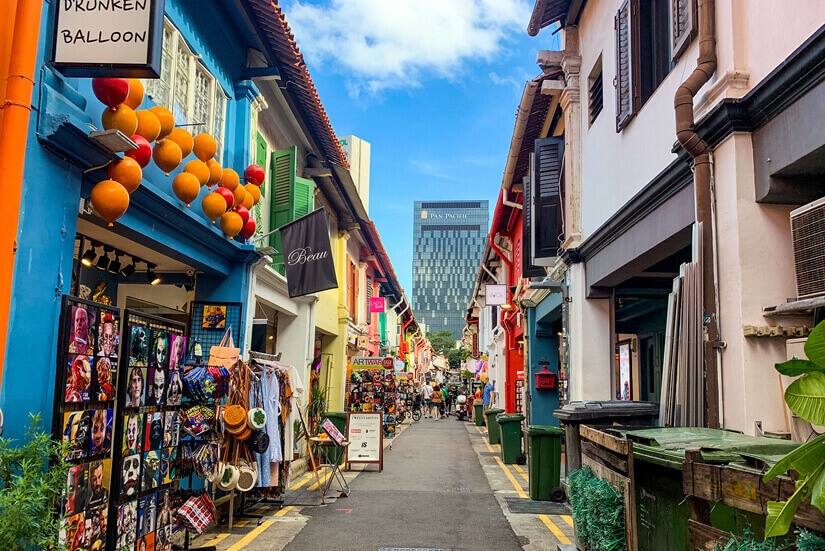 Relax with a Foot Massage
After non-stop running around a city and exploring, some rest and relaxation is always required. And one of the best ways to unwind is to get a massage. We love getting foot massages in Asia, so we couldn't think of a better activity to do when the rain just wouldn't stop falling. We were soaked to the bone and hiding from the rain under an awning, so we popped into one of the nearest spas that we could find, which happened to be Natureland.
Luckily for us, we were able to get in without an appointment, so we booked the 60 minute "5 in 1 Therapy" massages, which gave us 40 minutes of foot reflexology and 20 minutes of head, neck, shoulder, and back massage. We sat in cushy recliners and enjoyed the dimly lit, calming atmosphere. Our massage therapists were wonderful, and we left feeling so relaxed.
Pick a Neighborhood and Wander
Singapore may be small in size, but it feels like it could be 10+ countries all rolled into one. As we wandered around the city-state, we were amazed at the different feel of each distinct neighborhood. Just as we thought we were getting a feel for Singapore, we wandered into a new neighborhood and everything changed. Every step we took felt like a fascinating discovery.
Most of our time exploring different neighborhoods was spent trying out different restaurants and marveling at the change in atmosphere and architecture. We spent time finding funky street art and unique cafes in Kampong Glam, wandering around the endless malls on Orchard Road, and checking out temples and eating delicious food in Chinatown. Marina Bay offered a futuristic and fancy vibe, while the Civic District was historic and cultural, and Little India felt vibrant, colorful, and somewhat chaotic. We enjoyed the energy and rush of people during lunch while walking through the Central Business District, and the live music at Clarke Quay was literally everywhere. No matter where you decide to wander, you are in for a massive treat, that's for sure.
Drink and Dine at a Rooftop Bar
The skyline views around Singapore are fantastic, so visiting a rooftop bar or restaurant is always a good idea. There are plenty of options, such as Ce La Vi, 1-Altitude, LeVel 33, Loof, and more. Some of these spots are swanky, but we opted for a place that is a little more laid back: Potato Head. Located in the Keong Saik neighborhood, Potato Head has a tiki style rooftop bar, with a speakeasy and burger joint on the floors below.
The views from the rooftop overlook colorful buildings on the streets below with the Central Business District skyscrapers in the distance. With funky art, twinkly lights, and a disco ball swaying in the breeze, we spent a relaxing evening that happened to be one of my favorites from the trip. If you want more than the highly regarded tiki drinks on the menu, you can order burgers and food from Potato Head's downstairs restaurant called Three Buns.
Learn About History at the National Singapore Museum
The last activity we snuck in before heading to the airport was a visit to the National Singapore Museum. I'm so glad we were able to spend a couple of hours exploring this museum. The National Singapore Museum is one of the best museums I've been to in a long time, especially for a history museum. The exhibits are vivid, visual, and full of life. Written panels, interactive displays, and moving visuals with sound tell stories of the past, present, and future.
Some of our favorite exhibits were the Story of the Forest, Gallery 10, Growing Up, and the Voices of Singapore. We didn't buy tickets to the special exhibits because we had to get to the airport, but I really wish we could have stayed longer. The National Museum of Singapore was an entertaining and informative way to end our trip.
Explore the Jewel Changi Airport
I've never actually wanted to spend time at an airport until I learned about the Changi airport in Singapore. The airport is a destination in and of itself, especially the Jewel, which is located pre-check in and is open to the public. Several airlines that fly out of Singapore offer early check-in at the Jewel terminal, so if you get there early, you won't necessarily have to wait to check-in. If your airline doesn't offer early check-in, there are luggage storage options, so you don't have to carry your bags with you. We were departing on Singapore Airlines, so Micah and I were able to check in up to 6 hours early. When we arrived at the airport, we got our boarding passes and dropped off our luggage before setting out to explore.
The Jewel is essentially a mall with a ton of shops, restaurants, and a wide range of activities to keep you entertained. You can go to the cinema, sit amongst the trees and gaze at a giant waterfall, catch the waterfall's light show in the evening, walk along a glass skywalk, jump on a bounce net, walk through gardens, try to find your way out of mazes, find art sculptures, and believe it or not, much more.
Then, once you go past security to your terminal, there are many activities to do there, as well. We were departing from Terminal 3, and within our terminal we walked through a butterfly garden, peeked inside a free movie theater, watched fish swim in a koi pond, browsed shops, and looked at lots of art. In total we spent around 5 hours at the airport prior to our 11:30 p.m. flight, and the time actually flew by. Dare I say, I actually wanted to spend even more time exploring!
Where we Stayed
We spent 7 nights in Singapore and split our time between two hotels: Le Meridien Singapore, Sentosa and Holiday Inn Express Singapore Orchard Road. We lucked out and were able to use hotel points for all 7 nights, so we didn't spend a dime on accommodations. There are so many beautiful hotels throughout Singapore that we'd love to visit someday, but we really enjoyed both of the hotels we stayed at this time around.
Le Meridien Singapore, Sentosa
Our first hotel of the trip was the Le Meridien Singapore, Sentosa, where we stayed for two nights. The Le Meridien is located right in the middle of Sentosa Island in the perfect location. It is right across the street from the island tram and Resorts World (with lots of restaurants and Universal Studios), and it is a short walk or tram ride away from the beach.
In addition to being in a great location, the hotel was gorgeous! The common areas and the pool were beautiful, and we loved our room which had a giant bathroom, a living room, and a bedroom with a king size bed. The only complaint was that the hotel could use a little bit of freshening up. When you looked closely, you could see the wear and tear around our room, but the hotel is currently undergoing renovations so hopefully everything will be spruced up soon. Regardless, it was a wonderful place to stay, and we'd definitely visit again someday given the chance.
Holiday Inn Express Orchard Road
Next, for our remaining 5 nights, we moved over to the Holiday Inn Express Orchard Road, located just steps from…you guessed it, Orchard Road. The hotel is right in the middle of all the giant shopping malls and restaurants, and the abundance of nearby bus stops allow you to easily access almost any part of the city.
While our room was on the smaller side, it was very clean, comfortable, and quiet. Continental breakfast is served daily and fresh water is available at any time in the lobby. Because we are members of the hotel's loyalty program, we also received early check-in at noon and late check-out at 6 p.m., which we really appreciated since our flight home didn't depart until 11:30 p.m. Holiday Inn isn't known for its unique character and local charm, but it was still a great place to stay and a wonderful use of our rewards points.
What We Still Want to Do
I still can't believe just how much there is to do in such a small country. We filled our time with a wide range of activities during our week in town, and we still left with a long list of adventures for our next trip. Some spots we want to explore during our next visit are the Singapore Botanic Garden, the island Pulau Ubin via ferry, the Henderson Bridge, the Flower Dome, the SuperTrees Observation Deck, the cable car on Sentosa Island, the Marina Bay Sands Light Show, Universal Studios, and some of the other beaches. We'd also like to take a cooking class or food tour and try more delicious food like chili crab, curry puffs, laska, and more. Grabbing a drink at the famous Atlas Bar would be a nice treat, too.
I'm sure there are plenty of other amazing adventures in Singapore that didn't make our list, as well. As much as I would have loved to fit everything in one trip, it's always fun to dream about a return visit, especially to a place as wonderful as Singapore.
Have you ever been to Singapore? What other adventures in Singapore do we need to add tour our list?
Pin It!