17 Aug

A Photo Essay: Adventures in Spokane, Washington

Spokane, Washington, is a city that is filled with everything we love: delicious restaurants, public art, plenty of breweries, nature, and an abundance of outdoor adventures right at your fingertips. During our visit to Spokane this summer, we managed to fit in hiking, zip lining, and white-water rafting, in addition to dining at some fantastic restaurants and breweries. We enjoyed how easy it was to access nature both within and outside of the city limits. After our three days of exploring, we were left wishing we had just a few more days in the city to tick more adventures off our list.
The last time we were in Spokane, we were just passing through on a video project—sadly, the skies were gloomy from a dust storm and nearby forest fires. This visit, however, we were blessed with bright blue skies and warm 80ºF days.
When we first arrived in town, we beelined it to our hotel, Hotel RL Sponake at the Park. The property has since changed names, and it is now called the Centennial Hotel Spokane. The hotel is located right downtown, and our room had a balcony that overlooked both the pool and the river that runs through town. We loved the fun design of the lobby, and the hotel was a great place to call home during our time in Spokane.
After settling into our room, we ventured out for a walk through Riverfront Park. As we watched the powerful, rushing waters flow beneath the bridge, we couldn't help but get excited for our rafting adventure the next morning.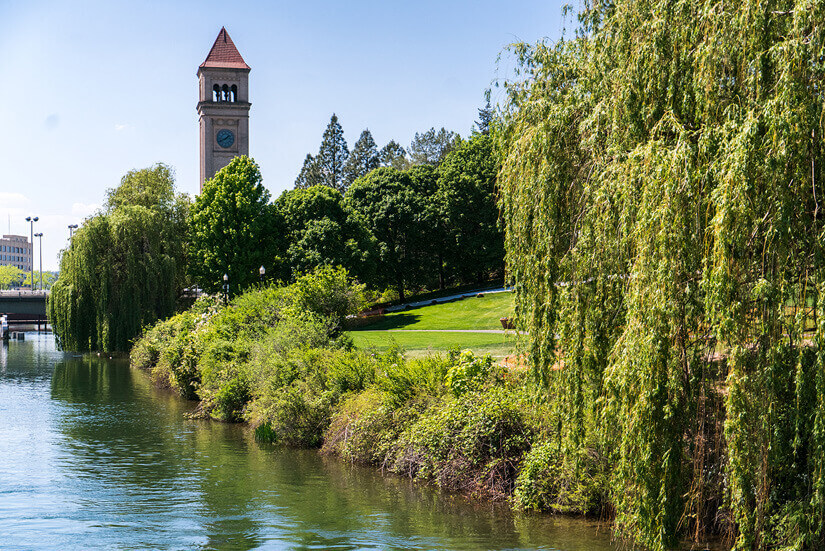 We made our way to both the upper and lower falls on the Spokane River. The viewing platforms get you very up close and personal to the rapids. I was absolutely stunned at the power and size of the falls, and the views were fantastic.
That evening we took a short 20-minute drive out of the city. It was time for a zip lining adventure with Mica Moon Zip Tours. Our tour started out with a wild UTV ride up the mountain, and soon we were zipping through the trees. We had so much fun flying down the 9 zip lines and crossing the suspension bridge. We've been on several zip lines in the past, and this was definitely one of our favorites. The scenery was absolutely fantastic with forests, mountains, and rivers all around us. And, one of the zip lines actually takes around 1.5 minutes to cross! It's one of the longest zip lines in the world, and it was incredibly thrilling!
When we got back to town, we freshened up and went to dinner at Wandering Table. The Wandering Table is a family style restaurant that serves seasonal dishes made from local ingredients. We tried the pepper spiced chips with local honey cream cheese dip, the spaghetti stuffed meatballs, and the smokey chicken wings. Everything was so delicious and there were so many items on the menu we wanted to try—if only we had unlimited stomach space…
We couldn't resist stopping at Brain Freeze Creamery next door after dinner. Micah's peanut butter and jelly ice cream and my molasses ice cream was the perfect end to the evening.
The next morning, we fueled up with coffee and croissants from the Common Crumb Artisan Baker at Saranac Commons. We loved the design of the building—it's always fun when you have several shops and restaurants under one roof!
Our first adventure of the day was white water rafting with Wiley E. Waters. It was so neat that the departure point for our trip was right downtown Spokane. There aren't too many cities where you can do that! We spent the morning riding the rapids of the Spokane River, and there was a bit of relaxing in the mix, as well. The trip took around 2-3 hours and we rode through Class III rapids. The scenery was fantastic, and it was definitely a great way to wake up in the morning!
After all that paddling, we were more than ready for lunch, and just a short drive away, we found the tasty restaurant, Incrediburger and Eggs. With its brick walled interior, moody lighting and funky decorations, it didn't feel like the type of place with a walk-up counter. But, it was and we loved it—service was quick, the ingredients were fresh, and it was all at an affordable price. The mix of burgers and breakfast on the menu left us craving both, so we couldn't resist trying out the brunch burger that came topped with a fried egg. It was delicious.
We were ready for more activity after lunch, so next, we made the short drive to Riverside State Park. Our rafting trip that morning actually took us through this park, so it was fun to see the rapids from a different angle this time around. We crossed over the swinging bridge, hiked 2.5 miles along the river, and found endless stopping points with beautiful views of the park. Riverside State Park has over 55 miles of hiking and biking trails, 25 miles of horseback riding trails, campgrounds and more. And, one of the best parts about the park? It was only 10 miles from our hotel! We were able to escape into a peaceful, natural, and beautiful environment, and it barely took any time to get there. Talk about the best of both worlds.
To end the evening, we made our way to one of Spokane's breweries for drinks and dinner. Iron Goat Brewing offers pub fare and a rotating selection of their own beers. We ordered the 2nd Ave Combo pizza (with pepperoni, house made calabrese sausage, prosciutto, and red sauce) and tried the Bleating Red Ale and Paul's Pale Ale, and I have to say, we were extremely satisfied with our choices!
Our visit was short but sweet, and to cap off our adventures in Spokane, we closed out the trip with brunch at none other than the appropriately named, Bruncheonette.  Pancakes and biscuits and gravy graced our plates, and it was one more delicious meal to add to the list from our time in Spokane.
Once we were finished with brunch, we begrudgingly made our way back to the airport. We weren't ready to leave just yet, but it was time to say goodbye to a city that had nestled its way into our hearts. And, after just a few days, I'd say that's a success!
We visited Spokane, Washington, as part of a paid content creation project. Special thanks to Visit Spokane for hosting us on this adventure. As always, all opinions are our own.
Pin it!