11 May

A Photo Essay: Chicago, Illinois 

Chicago, Illinois, is a city we have visited many times over the years, but most of our visits have been prior to our travel blogging days. Because of this, we have only written a couple of posts on the Windy City, so it was about time for a return visit. Chicago is located an easy 6 hour drive from our home in Minneapolis, Minnesota, and even though we only had a couple of days open in our schedule and the weather was cloudy and overcast, we still packed in quite a bit of fun!

The whole trip started with my childhood obsession with the TV show, Saved By The Bell. There is a pop-up restaurant called Saved By The Max (based on the restaurant in the show) that opened in Chicago last summer, and I was dying to visit. Since it is a temporary restaurant that is only open until the end of May 2017, I just couldn't resist making reservations. We will share lots more about our super fan experience at "The Max" in an upcoming post, so stay tuned!

In addition to our cheeky dinner plans, we indulged in plenty of delicious meals, coffees and treats around the city. We also had Chicago CityPASS booklets courtesy of Choose Chicago which enabled us to visit the Skydeck Chicago at the Willis Tower, 360 Chicago at the John Hancock Center, and the Art Institute of Chicago. Unfortunately, we couldn't visit all five stops offered by the City Pass on this visit, but we certainly made a good dent in one day!

Here's a look into our two days of adventures in Chicago:

Our first stop was lunch–we wanted something quick, cheap and Chicago style, so we stopped at the much discussed Superdawg Drive-In. I tried the traditional Chicago Dog and Micah ordered a double cheeseburger. Stuffed in a small box with fries, the Chicago Dog came on a poppy-seed bun and was topped with golden mustard, onions, piccalilli, a dill pickle and a hot pepper. We both enjoyed our picks and it was a good, cheap lunch served in a fun style.
We had two nights in Chicago, and we ended up basing ourselves at the Urban Holiday Lofts in the Wicker Park neighborhood. Urban Holiday Lofts is a funky hostel with a fun design, and we booked a private room with a shared bathroom. The location was perfect for exploring the Wicker Park neighborhood, which was an area I had been wanting to check out on several of our past visits.
After settling into our room, we set out on a walk to get ourselves a treat at Katherine Anne Confections. I had my eye on their drinking chocolate flight, and wow…it was amazing! We couldn't decide on which flavors to get so Micah ordered a small glass of the semi-sweet drinking chocolate with a homemade cinnamon sugar marshmallow. I wanted to sample a few varieties so I picked the flight with Salted Caramel, Mexican Hot Chocolate and the Grapefruit Maple Coconut drinking chocolate. Each cup came with special toppings and marshmallows, and the chocolate was so creamy, rich and smooth; it was divine. Although it was a close call, I think the Mexican Hot Chocolate was my favorite—I loved the subtle but spicy kick! Next time we visit, I have my eye on their creative line of truffles!
On our walk back to the hostel, we stopped at The 606, which is a multi-use trail and park that spans 2.7 miles. The path was built along an abandoned rail line, and now it's a great spot in the city to go for a walk or bike ride.
All too soon, it was time for dinner at Saved By The Max. I was so excited I could barely contain myself, but after all the food we had already consumed that afternoon, I wasn't exactly hungry. We had a three course meal and ended up boxing up more than half of it—we were just too full! Thankfully the food was good, especially for a restaurant where the atmosphere is the main draw, and we had a blast pretending we had time traveled to the 90's with the crew of my favorite childhood TV show. The restaurant looked just like it did in the show and the attention to detail was absolutely fantastic—I couldn't stop laughing and singing along to the songs blaring over the loudspeakers.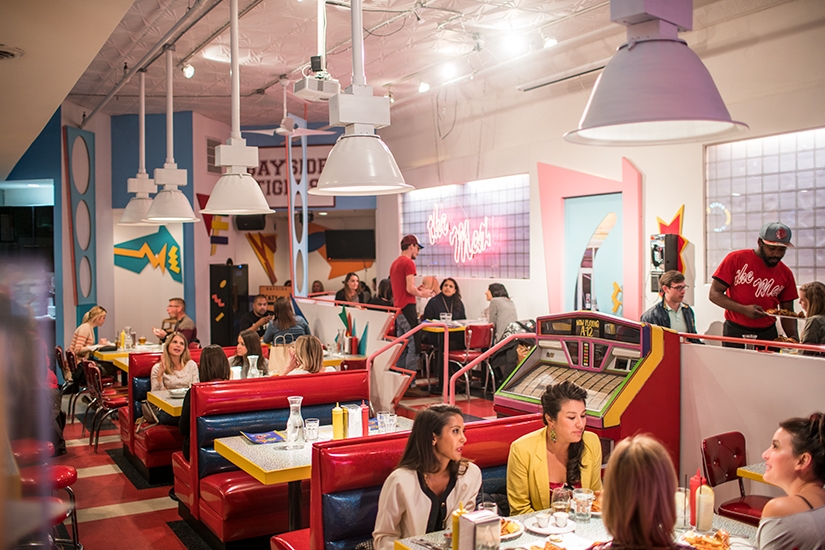 The next morning we wandered around the neighborhood and did some window shopping before making our way to the Fairgrounds Coffee and Tea for breakfast. I can never resist ordering a flight when there's one on the menu—I love sampling a variety of options—so I ordered the coffee flight and we tried a few different blends of coffee. To eat, I had the breakfast tacos and Micah ordered the oatmeal—both great choices!
After breakfast we made our way to downtown Chicago and picked up our Chicago CityPASS booklets. Since the weather was still overcast and slightly rainy, we made our way to the Art Institute of Chicago to check out some art. I have been wanting to visit this museum for years, so it was fun to finally make it inside! I loved gazing at the fantastic collection of Impressionist paintings, as well as all of the other galleries we had a chance to walk through.
From there, we walked over to the Willis Tower for Skydeck Chicago. We had visited in the past, but it was fun to revisit and test our nerves on the glass boxes that are suspended 103 floors over Chicago. Micah kept his distance from the edge until I practically forced him to take a few photos. He's always hesitant about heights, but he was a good sport for a few minutes at least!
I'm obsessed with ramen, so our next stop sent us to the Revival Food Hall so I could try out the deliciously spicy Furious Ramen from Furious Spoon. Micah went a different route and decided on a sandwich from Smoque BBQ. I loved the atmosphere and food options at the Revival Food Hall—it's the perfect spot to stop for lunch, especially if you are craving different types of food.
No visit to Chicago is complete without a trip to Cloud Gate, aka "The Bean". We couldn't resist taking a few photos and checking out the city views in the sculpture's reflective surface.
We also walked over to Maggie Daley park to see the new outdoor climbing wall. If the weather was a bit better, we would have loved to go for a climb, so I guess we will have to go back another day when the sun is shining!
Next up on the itinerary was the new observation deck at the John Hancock Center. We had been to the top of the building before but not to the new observation deck, so we couldn't resist a visit. In addition to gorgeous city views through floor to ceiling windows, there is another fear inducing installation called Tilt. Basically, Tilt is a glass window that tilts out over the city giving you a downward facing view of the city 1,030 feet below. Micah opted out in a hurry, but I bought myself a ticket just as quick—I mean it was only $7, so why not! It was pretty quiet when we visited, so I had the ride to myself and it wasn't nearly as scary as it seems, but the views were certainly worth it.
By this point in the day, we were starting to fade a bit, so we made our way to Stan's Donuts for a coffee and a treat of a Boston Cream Donut and a Peanut Butter Pocket Donut. It was the perfect pick me up before more walking around the city.
I had hoped to visit the other two stops offered with our CityPASS (Shed Aquarium and The Field Museum), but there just wasn't quite enough time to visit them all in one day. Instead, we made our way over to the river for a nice stroll—thankfully the rain had continued to hold off for the remainder of the day!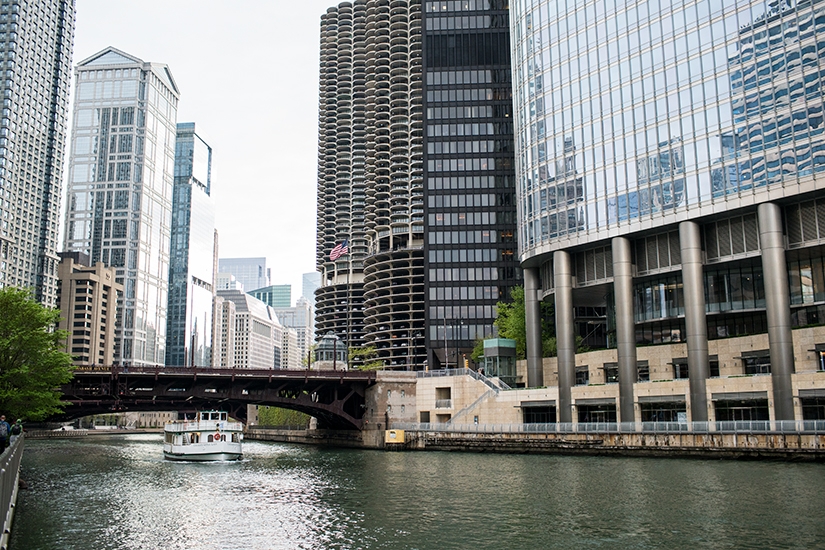 As if we didn't have enough food in the past couple of days already, we had dinner plans with a friend that evening. The three of us went to Velvet Taco, and we absolutely loved it! We were too busy catching up to take any photos, but I tried the spicy tikka chicken taco and Micah ordered the Cuban pig taco. Both were delicious and if we weren't going out for dessert afterwards, we would have been tempted to order a couple other tacos, as well. They had so many great options to pick from! After dinner, we made our way to one last treat for the day: cupcakes at the famous Sprinkles Cupcakes. This is the spot that has a cupcake ATM, but we ended up going inside to order a carrot cake cupcake and a black and white cupcake. We really just needed a break from the cold so it was a nice spot to warm up before making our way back to the hostel.
We had to head out early the next morning, but I still had a couple of items on my list to see before we made our way home. We first walked over to the Flat Iron Arts Building which is a three story building filled with artist studios. None of them were open when we visited, but we were able to admire all the art in the hallways. If you visit at a normal hour of the day, you can find events, performances, shops and open studios to peruse.
And, last but not least, we had one more coffee shop to visit: The Wormhole Coffee. This coffee shop is super cute and it was decorated with an 80's flare, complete with the DeLorean from Back to the Future! It was a wonderful way to end our visit to Chicago!
Special thanks to Choose Chicago for providing us with complimentary Chicago CityPASS booklets. As always, all opinions are our own.