03 Feb

Cliff Jumping at Playa Forti in Curacao

When we were in Curacao, we were excited that we had an open day booked on our schedule to explore with a rental car. One of our favorite adventures from our first trip to Curacao was cliff jumping, so we knew where the day would eventually lead. We first made our way out to the west side of the island for a hike up Mt. Christoffel.
After successfully completing our hike, we met up with a couple of friends who just happened to be on the island the same time as us. It was time for cliff jumping once again and I couldn't have been more excited.
When we arrived at Playa Forti Beach, we made our way past the restaurant along the narrow path that led towards the cliff. As we prepared to jump off of the 40 ft. cliff, we started talking to a few people nearby.
"You're all crazy. I know people who are paralyzed from jumping off a cliff into the water!", one of the ladies mentioned. I don't know if she was thinking about stories she heard or if they were people she knew personally, but it was enough to make me think twice about what we were about to do, even though I had already jumped twice before.
Our friend, Brad, didn't think twice and leapt off the cliff into the water. We watched with baited breath until he surfaced from the turquoise waters below. He swam to shore, climbed the long staircase and then decided to jump again almost immediately. This time, he dove off the cliff and proceeded to do a flip before splashing safely into the water below.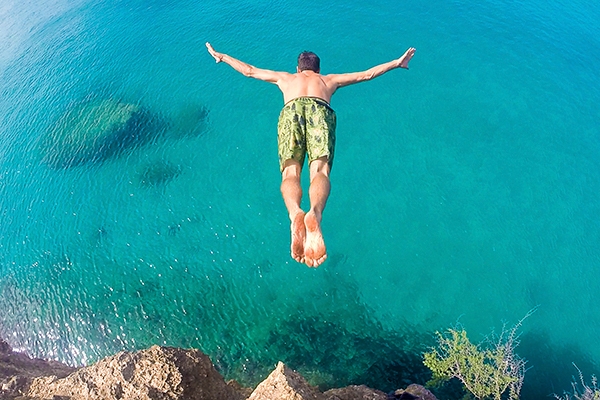 Micah decided he was up next, and he jumped with little hesitation. The first time we did the jump on our last trip, he was much more afraid of heights, but this time it didn't phase him nearly as much!
After Micah made his way back to the top of the cliff, I decided that it was about time I take the leap. For some reason, I couldn't get that lady's words out of my head. What if it was a sign? I got ready to jump, but I couldn't bring myself to do it.
Eventually, I reminded myself how excited I was to jump on the way there and how I've witnessed multiple people, including myself, jump off this very cliff. I finally got the courage and threw myself over the edge.
As I came to the surface, I couldn't help but laugh at the joy I felt after the agony I put myself through when hesitating to jump. I'm so glad I got out of my head and did it because once again, it was one of my favorite adventures from the entire trip.
As the sun gleamed above us, we spent the next hour or so splashing and snorkeling in the crystal clear waters below.
After we had our share of beach time, the four of us made our way to dinner at one of our favorite spots nearby, Sol Food. It was the perfect end to a wonderful day exploring the western side of Curacao!
Have you ever been cliff jumping? If not, would you do it?!