25 Oct

Road Trip Through the Florida Keys: Essential Stops

The Florida Keys are a special place. Rough on the outside, as many Caribbean destinations are, but underneath there is a welcoming charm, the type you can only get from an unhurried seaside town. Although the Keys are not technically in the Caribbean, you are swept away by an island paradise that is still close enough to mainland Florida for a road trip. Half the fun of getting to the Keys, is the drive through the islands–bridges, beaches, and bright blue ocean waters line the drive with small islands in between. Whether you make the drive in one day or a few, make sure to stop at a couple of these spots along the way for a nice introduction to the Keys. And don't forget to keep an eye out for manatee and dolphin mailboxes and see how many you can spot; some are even dressed up to the nines!
Don't think of the drive as a means to an end; there are many fun stops along the way, from restaurants, bars and shopping to beaches and water sports, and it seems every venture to the Keys leads to another hidden discovery.
Starting in Key Largo, grab some old fashioned breakfast at Mrs. Mac's Kitchen. Inside you will find walls filled to the brim with license plates and a retro feel throughout. They serve diner style food such as omelets, waffles, eggs benedict and even a champaign breakfast.
If you happen to be in Key Largo for more than just a morning–make sure to stop by Sundowners for a piece of key lime pie. Their key lime pie with real meringue is the best I have ever tasted–it is amazing! I can hardly drive by the place without drooling and stopping to grab a piece either to go or as desert while dining in. From the patio, the sunsets are beautiful, so if you have the time, definitely enjoy a slice in house.
Once you have your morning energy boost, it's time to get rolling along. There are so many shops along the road on you way through the Keys–pick a few for a stop to get out and stretch. One store you will run into a few times along the road is Shell World. I only recently stopped in this store for the first time, and surprisingly, it was massive and way nicer than I would have ever imagined. I pictured a small cheesy store filled with bins of shells and alligator heads. Granted, they do stock both of these items, but there is also clothes, adorable home decor, children's toys and so much more. I was pleasantly surprised and will definitely be making a second stop on our next visit.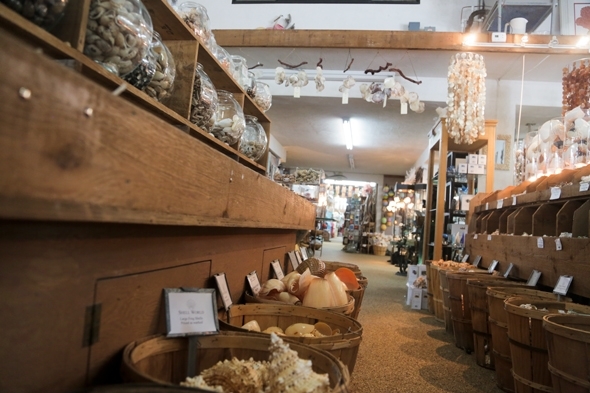 On the bay side of Islamorada, there is a large store called World Wide Sportsman. This store has something for almost everyone; there are clothes, shoes, outdoor supplies, fish to observe and even a ship in the middle of the store for the curious to explore. Outside, you will find a restaurant and bar on the dock and a place where boats can pull up to dock as well.
Also in Islamorada, is a place called Holiday Isle. Sadly, this area's glory days are long gone, but there is still the famous tiki bar, a few stores and restaurants and the Theater of the Sea Mermaid show (which we have yet to see).
Moving along a little farther, you will eventually run into Robbie's Marina which has open air stores, restaurants, a marina and water activities such as kayaking.
Another great restaurant is the Keys Fisheries Market and Marina all the way down in Marathon. Set right on the water, the Keys Fisheries is an easygoing, walk up to the counter type restaurant. When ordering, don't try to give them your name; instead, there is a different question every day and they will ask you for the name of a cartoon character, a western movie, etc., and that's what is used for your order pickup. It's quite entertaining to hear everyone's answer to the day's question when their order is called! The fish here is fresh and delicious, and you can even buy some from the market to cook at home as well.
Also in Marathon, is the Turtle Hospital. This spot is very interesting; it was the first turtle hospital in the world that rescues and rehabilitates turtles so they can be released into the wild again. Most of the turtles that pay a visit to the hospital were sick from eating garbage that doesn't digest or from getting hit by a boat. The tour of the facility is very interesting and it gives you an insight as to how much we as humans can impact wildlife without even realizing it most–you can also pay a visit to the famous turtle residents and guests that are living at the hospital.
Right before crossing the Seven Mile Bridge, there is an area you can park in if you want to walk the Old Seven Mile Bridge or pay a visit to Pigeon Key, which is better known in my mind as the mysterious island that is situated in the middle of an abandoned bridge. One way to get to the island is to walk the two plus miles along the Old Seven Mile Bridge, and the other way is to take the ferry that runs to Pigeon Key. Tours of the island are offered daily and make for a fun afternoon.
Before getting into Key West, you will pass through Stock Island–there is a waterfront restaurant called Hogfish Bar & Grill and it is another laid back spot that locals frequent. The hogfish sandwich is their specialty and I can see why–it was delicious!
With only a few miles left to go, you will soon be in Key West and ready to enjoy the last island in the chain of the Florida Keys!