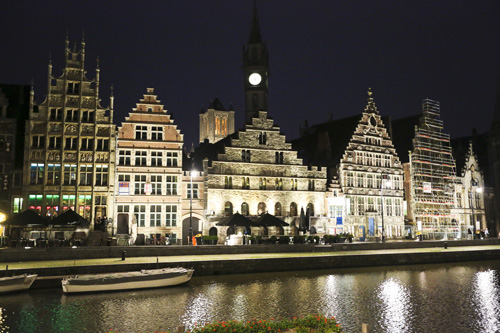 26 Mar

A Walk Through Ghent

Ghent is the capital city of the province of East Flanders, and is about a half hour train ride from both Bruges and Brussels. I know I've said it before, but I love the city of Ghent. We spent a few days hopping around Belgium, just to get a taste of it, and I am already dying to go back and explore more of this underrated country. While I enjoyed most of the areas we visited, I felt like Ghent was the city we connected with most. Bruges is beautiful, but too small for me to want to stay for too long, and, for a number of reasons, we didn't get along with Brussels very well. Ghent just seemed to be a perfect mix of the two. It is an upbeat, busy city, as well as very beautiful and historic, but it has an almost edgy feel to it as well, perhaps because it is a thriving university town. From castles, street art along Graffiti Street, illuminated buildings, vineyards, green parks, canals, cathedrals, belfry towers, museums, music and much, much more, there are so many things that are drawing me back in for another visit. Another aspect of the city that I found interesting is that Ghent is a haven for vegetarians and organic foods–they have "Thursday Veggie Day" and organic food shops, as well as veggie fries, which are the Belgium specialty, but fried in vegetable oil instead of lard.
Ghent Illuminated
One aspect of the city that I love is the illumination of the buildings at night. Once darkness falls, lights go on and buildings throughout the city are lit up by lamps and spotlights. In 1998, the city undertook a project to create a comprehensive lighting plan for the entire city. The Ghent lighting plan was developed for a number of reasons: it integrates urban planning along with functionality, it accents the unique details of the buildings that are missed in daylight, and it also raises the bar on safety. Ghent's illuminated buildings include monuments, parks, squares, rivers, and gateways, to name a few, and the city has developed a walking tour that leads you along the highlights. The path takes around 2 hours to walk, and you can pick up maps at the tourist office or online here.
You may wonder how all these lights make the buildings look in the daylight. The answer? They really don't look different! A lighting artist, Atelier Roland Jéol, worked with the cities urban planing department to develop an award winning system; the light plan has won numerous international awards, and I can see why. By day, the lights are unnoticeable as they are strategically placed to not interfere with the look of the buildings, and by night, from dusk until midnight the buildings are lit up in all their splendor. It was fun to wander the streets in the evening and discover a beautifully lit up building around almost every corner.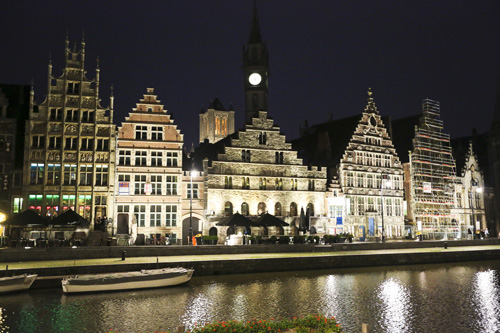 The People
The people we came across in Ghent were so nice, friendly and helpful. We had a long conversation with the owner of a cute little chocolate shop and everyone we had an interaction with was very helpful and seemed genuinely interested in talking with us.
We happened to be in Ghent over the US presidential election, and woke up right as the President was giving his acceptance speech. It was neat to see the election coverage from another country–all the newspapers were covering the election, and everyone we talked to kept mentioning it as well. Quite a few people were concerned that we weren't back home to cast our vote, but we assured them we had taken care of it before we left. Even though I'm not as interested in politics as I should be, it is always interesting to hear views that come from a different perspective, no matter if you agree or not.
The Food
And, last but definitely not least, the french fries and waffles. We had to try the most famous Belgian foods, right? We ordered liege waffles from Koffie 3,14 Thee Cuisines. Liege waffles are different from traditional Belgian waffles that many are accustomed to. While Belgian waffles are lighter and are made from a pancake type batter, liege waffles are made from a yeast based dough and include Belgian pearled sugar. This sugar caramelizes throughout the waffle and gives it a delicious and almost chewy, crunch–they were amazing, and my favorite treat from our time in Belgium, but surprisingly, I liked the plain much more than the one topped in chocolate.
And finally the french fries, or frites as they are called in Belgium. Belgian frites are made from Bintje potatoes and are cooked twice; they are then served in a cone or tray with a dipping sauce. We ordered our fries as a late night snack from a little shop not far from the river, and this time we did it right and ordered the mayonnaise to dip them in. Although not the healthiest snack, it sure was good. I thought the fries here were 10 times better than the ones we ordered in Bruges, and it was a great way to end an evening full of walking.
What's your favorite Belgian treat?