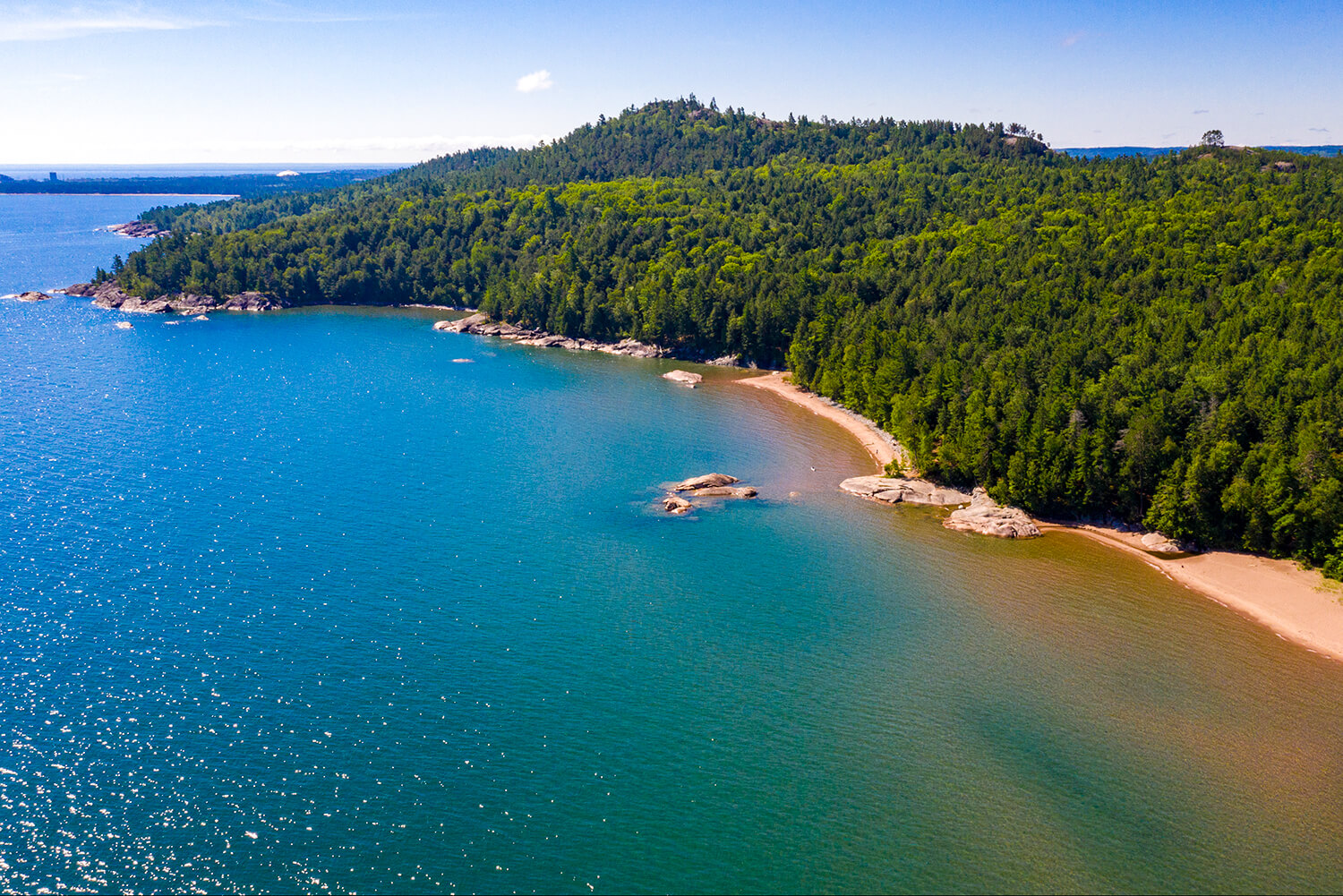 29 Oct

Summer Adventures in Marquette, Michigan

This year has certainly been a doozy, but we still tried to squeeze in some fun and socially distanced adventures closer to home. When Travel Marquette reached out to us about partnering on an outdoor inspired road trip to find adventures in Marquette, Michigan, we were happy to hit the road for our first outing in five months. Marquette is located about 6.5 hours from our home base in St. Paul, Minnesota, so it was the perfect distance for a road trip getaway. Far enough to feel like we were going somewhere distant, but close enough to still complete the drive in a day.
We weren't sure what travel in the summer of 2020 would really look like, but we were happy to find that Marquette did a great job with encouraging responsible behavior from both visitors and locals alike. Masks were required when inside, indoor dining was very limited, and social distancing was advised. We were happy to see everyone we encountered following the rules, which allowed us to feel safe while exploring the area.
We spent four days in town and managed to fit many activities into such a short timeframe. Our days were spent hiking to waterfalls, checking out views from lookouts, paddling on Lake Superior, stopping at a couple lighthouses, exploring art, shopping at boutiques, stargazing, visiting breweries, and eating at some fantastic restaurants. Read on to learn about our favorite adventures in Marquette, Michigan.
Soaking Up the Views from Lookouts
Mount Marquette
While we were in town, one of the overlooks we visited was Mount Marquette. To reach the overlook, you can either drive or hike. We ended up driving to the top and then hiking around some of the trails near the peak to take in a variety of landscapes. We loved the views from the rocky outcrops at the top of the Mount Marquette.  The overlooks showcase expansive views of Lake Superior, downtown Marquette, and the deep green forests below.
Thomas Rock Scenic Overlook
Thomas Rock Scenic Overlook is located roughly 30 minutes north of Marquette near Big Bay. The loop trail at the overlook is about one-mile roundtrip, and it is made up of a combination of maintained packed gravel and boardwalks. Along the trail, you will find interactive signs that teach you about the wildlife and landscapes in the region. The overlook showcases views of the forest, an inland lake called Lake Independence, and Lake Superior. At the top of the overlook, you will also find picnic tables and more informative signs that provide details on the area wildlife and beautiful lands in your view.
Hiking to an Abundance of Waterfalls
There are an abundance of waterfalls within a short drive from Marquette, MI. We were excited to hit the trails and explore as many waterfalls as possible. Even though we woke up to rainy skies on our hiking day, we figured we might as well head out anyways. We had a lot to see after all! Throughout our visit, we hiked our way to five different waterfalls: Yellow Dog Falls, Big Pup Creek Falls, Alder Falls, Wright Street Falls, and Morgan Creek Falls.
Yellow Dog Falls:
The first waterfall of the day was Yellow Dog Falls, which was a 30-minute drive from Marquette. To reach this waterfall, we had to hike a trail that is less than 1 mile in length each way. Yellow Dog Falls was the perfect waterfall to get us going for the day, and it ended up being one of our favorites.  The path sent us through dense trees, over log bridges, and along the river before opening up to the roaring waterfall.
Pinnacle Falls:
Next up on our list was Pinnacle Falls which is located a short drive down the road from the Yellow Dog Falls trailhead. This waterfall is a quick walk from the road. There is a break in the trees that marks the start of the trail and after walking a short distance you will come to a clearing with a sign that states this waterfall is Pinnacle Falls. Well, apparently, we were fooled as we thought this was the actual waterfall we set out to see. But alas, it wasn't, and we didn't find out until it was too late. The actual Pinnacle Falls is further downriver, but nonetheless, the small waterfall we spotted was still beautiful and worth the stop if you are short on time.
Alder Falls:
For our next waterfall adventure, we stopped at Alder Falls. This waterfall is a bit harder to find as there are no signs for the road or the river, but if you put the falls into Google Maps, it should direct you to the Alder Creek Truck Trail which you will drive for about 0.6 miles to get to the falls trailhead. There's a small parking area near the falls and the hike is short but steep with lots of tree roots spanning the path. Make sure you have sturdy shoes for this hike! Alder Falls is around 30 feet tall and one of the highest waterfalls we visited.
Morgan Falls:
Morgan Falls is located about 10 minutes outside of Marquette and it's an easy one to reach. To get to this waterfall, drive towards Marquette Mountain on M-553, and just before you reach the ski hill, there will be a parking area and pull off on the right. During certain times of the year, you can drive down the gravel road here to get very close to the falls. But when we were in town, this road was closed to vehicles and we had to walk 1.5 miles to the waterfall. It was a beautiful tree covered trail though, so we didn't mind the walk! As we walked along the road to the falls, we marveled at the mountain bike trails that we saw heading into the woods. There were plank bridges, jumps, ramps, and all sorts of features to ride. Micah would have loved to explore the bike trails if it wasn't so rainy during our visit.
Anyways, we eventually made it to the official trailhead to Morgan Falls, and from there it was a super short walk to the falls. This waterfall was another cascading beauty!
Wright Street Falls:
One of the closest waterfalls to town (that we visited), was Wright Street Falls. The falls are located off of Wright Street just a few minutes from downtown Marquette. It took us just a couple of minutes to reach the falls. We crossed the bridge with the signs telling us to stay away, and then we followed the trail to the left. The falls are located under a giant aqueduct and there is graffiti all around. It's an interesting waterfall and really makes you feel like you are in the city!
Paddling at Wetmore Landing
We had rainy weather and wavy shores on Lake Superior for our first couple days in Marquette. Eventually our luck would change though, and on our third day in town we woke up to bright sunshine, blue skies, and calm waters. We didn't want to waste any time, so we beelined it to Wetmore Landing and set up our paddling gear, an Oru Kayak and an Isle Surf and SUP Paddleboard.
The hike from the parking lot to the beach is short so we set up our gear and carried it to the water. As we launched our kayak and SUP into Lake Superior, we couldn't contain our excitement. The water was crystal clear, and the shoreline was dotted with giant boulders, secluded sandy beaches, and forests. We spent the better part of the morning exploring the waters of Lake Superior and the beaches we encountered along the way. The fact that the previous days were spent waterlogged made this sunny morning even more special and appreciated.
We also spent some time relaxing on the beach and exploring the nearby trails. Wetmore Landing has so much to offer!
Exploring Lighthouses
There are several lighthouses in the Marquette area, and we stopped by two of them. Unfortunately, due to the current conditions of the world, the lighthouses weren't open for tours, but we did get to see the grounds and the crashing waves on nearby rocky coasts. One windy morning we stopped at the Big Bay Point Lighthouse, which is also an adorable bed and breakfast. We loved watching the power of the crashing waters of Lake Superior.
Then, before we made our way out of town, we made a quick stop by the Marquette Harbor Lighthouse to get a view with our drone. This time around, the sun was shining, the water was calm, and the skies were blue. It's amazing to see what a difference the weather can make.
Hopefully, we can take actual tours of both lighthouses on our next visit to Marquette!
Soaking up Art
Sculptures at Lakenenland
Lakenenland is a whimsical land filled with "Junkyard Art", located less than 20 minutes from downtown Marquette. When you arrive, you will find a path that takes you through the trees filled with scrap metal sculptures. Some of the sculptures were giant, detailed pieces of art, some were comedic, and others provided thought provoking messages. But one thing's for sure, all of the sculptures were fantastic.
We enjoyed walking the path and getting a close up look at the art, but you can also drive the path if you don't feel like walking. Lakenenland is open 24/7 and is free to enter, so it's definitely worth a stop when you are in the area!
Shops, Galleries, and Art in Downtown Marquette
Downtown Marquette offers plenty of shops and galleries to peruse. We spent a sunny afternoon browsing the creative boutiques and a few of our favorites were Upper Peninsula Supply Co., Chickadees, Revisions, and Yooper Casual. The stores and galleries were filled with art and locally produced goods, and we had a great time checking them all out.
There were also several sculptures throughout town and a beautiful mural that we found while walking around, too.
Stargazing Over Lake Superior
The UP is a stargazing paradise—we've never seen such fantastic dark skies. We had an evening with clear skies during our visit, and we were excited to see the stars.  The timing also happened to coincide with the NEOWISE comet, so we couldn't resist trying to scope it out. We weren't sure where to go, so we found a pull off near our hotel with views overlooking Lake Superior. The only issue with our spot was that traffic was heavy on the highway behind us and in the pullout with people coming and going. This meant that the headlights messed with our images and tested our patience. But, as luck (and a bit of determination) would have it, we managed to snap a few usable images between the headlights. And in person, regardless of the cars, the views were absolutely incredible.
Sipping Beers at Breweries
There are several breweries in Marquette, and we had the chance to stop by two of them. We visited Barrel + Beam and Blackrocks Brewery and we're surprised to find how unique each location was.
Blackrocks Brewery
When we noticed a break in the rain on our first full day in town, we made our way to Blackrocks Brewery, a.k.a. the old yellow house on the corner. Only outdoor seating was available during our visit, but there were ample tables under a covered tent (perfect for when the weather isn't cooperating) as well as tables and firepits on the back patio. We snagged a seat near one of the fireplaces and were happy to find the sun peeking through the clouds. With around 10 beers on tap, there were plenty of unique options to pick from. We especially love the creative names for the brews, such as Fizzy Biscuits, Business Chicken, and Hansy Weizen. It couldn't have been a better afternoon!
Barrel + Beam
Barrel + Beam is located a short drive from the heart of downtown Marquette, but it's definitely worth a visit. We showed up for a quick drink about a half hour prior to closing, and we were welcomed with samples and friendly faces. This brewery focuses on bottle-conditioned farmhouse ales made from Michigan sourced ingredients. Many of the brews are aged in oak barrels and then finished off with bottle conditioning which gives the beers carbonation in a Champagne-like fashion. We also enjoyed the décor of this spot—it felt like we were cozied up on a couch in a toasty warm cabin.
Patio Dining at Restaurants and Cafes
Marquette has plenty of great dining options, and it's even better that there are so many fantastic patios to enjoy throughout town! We wanted to keep social distancing measures top of mind, so we ate almost every meal outdoors. Here's a recap of all the restaurants we visited and enjoyed during our time in Marquette:
Sol Azteca
The sun was shining, and our bellies were hungry when we pulled into Marquette. Thankfully, an outdoor lunch was on deck for our first stop in town. We can't resist a good patio, so the 2nd story deck at Sol Azteca caught our eyes immediately and our decision was made. Our table had a great view of Lake Superior and we ate a delicious lunch of fantastic Mexican food.
Iron Bay Restaurant and Drinkery
Iron Bay Restaurant and Drinkery  is another great restaurant in Marquette. Plus, it happens to be located right below Sol Azteca, which means that it also has a great patio with views of Lake Superior. Their menu consists of burgers, sandwiches, fresh fish, salads, and more. They also have a bakery onsite that serves fantastic baked goods and coffee.
The Delft Bistro
A sunny afternoon lunch under the old marquee at The Delft Bistro made for the start of a great afternoon. We really enjoyed the vibe of the small patio here, and happily ordered from a menu filled with "New American Fare". I ordered the Falafel with a side of brussel sprouts, and Micah went for the poutine. We really enjoyed this spot—both the food and the atmosphere were wonderful!
DIGS Gastropub
Once the weather turned favorable for the summer, the back patio at DIGS Gastropub was turned into a secret beach hideaway, called DIGS City Beach. The patio is decorated with beachy, tropical décor, and burgers, sandwiches, and wings, dominate the food menu, and the bar is known for their crafted cocktails. If you are looking for a fun, laid-back spot, this is your place.
Rice Paddy
With the rain keeping the patio's closed on the front end of our trip, and limited indoor seating available, we decided to order Thai takeout from Rice Paddy for dinner one evening. This small joint does not offer indoor seating but  it came highly recommended from several locals. We tried turning our dinner into a picnic, but right when we sat down at a picnic table, another wave of rain started. We dashed to the car and really enjoyed our meal even if it wasn't in the most scenic of locations!
231 West Patisserie
While the patio at 231 West Patisserie is on the small side, it's still a great spot to relax with a coffee and treat. We stopped in for a breakfast of croissants and coffee one morning, and we couldn't resist picking up a macaroon or two, as well. If the back patio is full, there is plenty of space inside to enjoy, as well, so either way, you can't go wrong.
Third Street Bagel
Third Street Bagel is another great spot we stopped for breakfast. There are tables out on the sidewalk, but we opted for the drive through so we could take our bagels on the road with us for our day of hiking. We enjoyed the fresh baked bagels, and we may have even visited this spot more than once during our time in Marquette…it was that good!
Contrast Coffee Co.
Getting our coffee fix is always a must, so we were happy to find several coffee shops open during our visit, even if they were all operating with limited hours. Because of the hours of all the shops, we ended up at Contrast Coffee Co. twice during our visit. We tried seasonal lattes and black coffee—both of which were quite tasty and kept us coming back for more!
Babycakes Muffin Company
Another great stop for coffee, muffins, and a wide array of baked goods is Babycakes Muffin Company. They also offer a selection of sandwiches, salads, and other savory options. We stopped in for a coffee and baked goods one afternoon and were very impressed with the delicious raspberry cream cheese bar we ordered.
Cafe Bodega
On our last morning in town, we stopped at Cafe Bodega for breakfast. While they don't currently have a patio, there is a lot of space to spread out in the dining room. The menu is made up of "from scratch" foods that are locally sourced when possible. There were so many dishes on the menu that looked fantastic, but I decided on the breakfast quesadilla and it was definitely the right choice!
Even though we spent only four days in Marquette, we sure fit a ton of adventures into our visit! We had a blast exploring all the nature, art, food, and drinks that this area has to offer. The Upper Peninsula of Michigan is definitely a special place, and we are so glad we were able to get away and spend a bit of time in Marquette this summer. 
Have you ever been to Marquette, Michigan? What adventures in Marquette would you like to do most?
We visited Marquette, Michigan, as part of a paid content creation project. Special thanks to Travel Marquette for hosting us on this road trip adventure. As always, all opinions are our own.
Pin this post to save it for later!