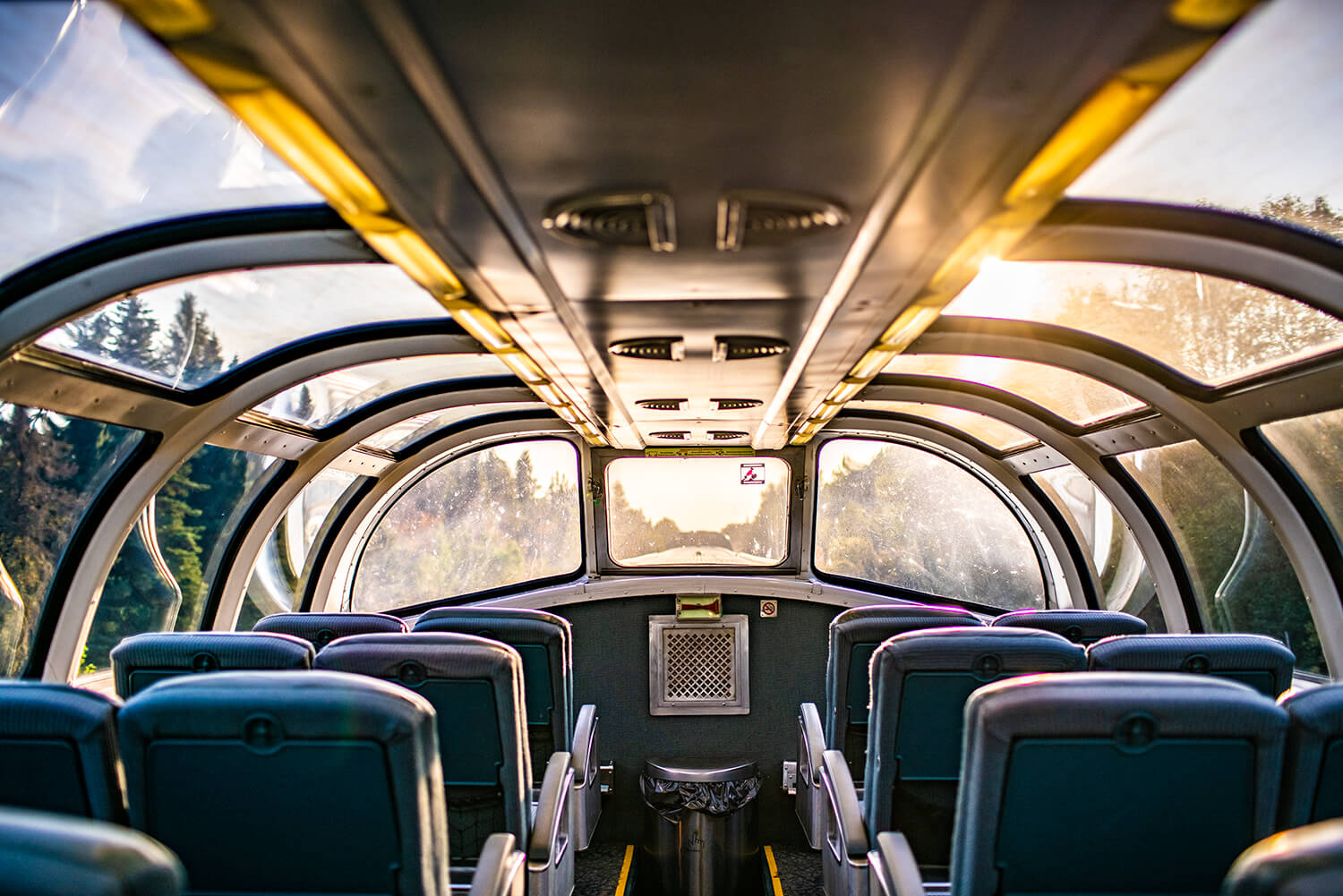 30 Aug

Journey to the North: 2 Night Train from Winnipeg to Churchill, Manitoba

As we rolled along the tracks, the outside world melted away. We were engulfed in a life that only existed inside the last two cars of our train. The three-day, two-night VIA Rail train journey from Winnipeg to Churchill, Canada, was both a time warp and a luxury of stillness all in one.
"We're on time to be late," the train attendant chirped as he walked through the swaying car with one hand on the wall as a brace. The train was chugging along at a glacial pace. At one point, we actually spotted dragon flies speeding past our window. Traveling through the north definitely requires flexibility and patience, but that patience is well rewarded as we continually discovered over the course of the following week.
Because of the permafrost laden land and its remote location (and likely a host of other reasons), there are no roads to Churchill. The only way in or out of the town is by train or plane. The tracks rest upon a bed of permafrost, so small changes in temperature can have intense ramifications. If it gets too hot or too cold, the shifts in the ground can cause a shift in the tracks, which can then translate into a shift of arrival time. The conditions in the region can be extreme, but it just makes the journey that much more of an adventure.
We partnered with Travel Manitoba and VIA Rail for the journey and we were booked in a Sleeper Plus Class Cabin. Our train trip commenced at Union Station in Winnipeg, Manitoba, after an overnight stay at the Fort Gary Hotel, and 45 hours later we were due to arrive in Churchill. The train track heads northwest towards Saskatchewan, and then curves back around to the northeastern portion of Manitoba, ending in Churchill. In total, we passed through more than 80 stations/towns during the ride. Some towns had a scheduled stop of several hours, some were barely a minute, and others were by request only.
In the end, the train ran only a bit behind schedule, and we found ourselves arriving in the great north only three hours later than planned. But honestly, even if our delay was longer, we wouldn't have minded. The train was an experience for the books, and we loved every minute of it.
Sleeper Cabin D was our home for the two-night journey. Inside we found a mirror, sink, toilet, and a very small closet with enough room to hang only a few items of clothing. There were also two chairs for daytime use that would be folded away at night to make room for a bunk bed, and we didn't even have to move a muscle to make the switch. Patrick, one of our train attendants, conveniently made up our room every morning and again every evening.
While our cabin didn't have an individual shower, there was a shower down the hall that was shared amongst those in the sleeper cabins. And, I'm happy to report that the shower felt nice and clean…a characteristic I often worry about when showering in a communal space.
The Economy Class cars are located in the front of the train, and the Sleeper Class Cabins are in the back, with exclusive access to the last 1½ cars of the train. The caboose has open seating and gave us so much room to spread out. The lower level of the caboose has a room with tables and a big open area filled with chairs along the windows, while the second level has a glass dome ceiling. There were only 13 or so other people in the sleeper car during our trip, so we had plenty of room to stretch out and roam around.
We had no time to be hungry throughout the trip as meals are included with Sleeper Plus Class tickets. When it was time for a meal, we were called to the dining car for a feast. In total, we ate five meals on the train: dinner the first night; breakfast, lunch, and dinner the second day; and breakfast on our last morning. Options such as baked salmon, roast beef, burgers, and salads made their home on the menu. Each meal had several entrees and beverages (coffee, tea, milk or juice) to pick from, and lunch and dinner included dessert. All other drinks, such as alcohol, could be purchased for an extra charge.
In addition to meals, there was an endless supply of coffee, tea, water, and cookies available in the caboose. Needless to say, our snack bag that we brought on the train remained untouched.
We had little to no phone signal for the duration of the train ride, so we had no choice but to disconnect. Our days were spent reading, napping, staring out the windows at the passing landscapes, playing cards, meandering along the train cars, popping out for a breath of fresh air at the brief train station stops, and chatting with our fellow passengers.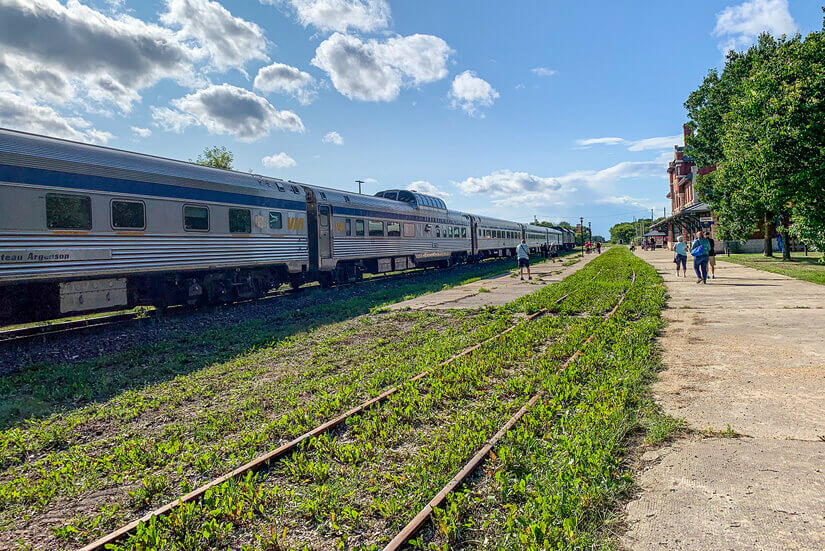 Out of the 13 other people in the sleeper car, we were some of the youngest but far from the most interesting. As we relaxed on the train, we swapped stories with our train-mates, and wow, was everyone fascinating. We shared the Sleeper Plus Class with a detective, occupational therapists, and a geologist, to name a few. Some of the travel tales we heard consisted of gorilla trekking, Antarctica cruises and the Drake Passage, remote mountain communities in Japan, and safari adventures. As we reminisced about past travel experiences, we noted quite a few adventures that are most certainly going on our "travel to-do list" for a future date.
The best part about getting to know our fellow train guests was that we had several friends to hang out with during our time in Churchill! We bumped into each other while walking around town, dining in restaurants, on tours, and in our hotel. It was so nice to see friendly faces every day and needed to catch up on everyone's unique Churchill adventures because in a place like this, there are bound to be adventures of a lifetime.
Facts: VIA Rail Train from Winnipeg to Churchill, Manitoba
The train from Winnipeg to Churchill has three classes of service: Economy, Economy Plus, and Sleeper Plus.
Sleeper Plus Class offers several different types of accommodations and passengers have exclusive access to the Sleeper Plus Cars. You can book an upper or lower berth which gives you an open seat during the day, a fold out bed with a privacy curtain at night, and a shared bathroom. There are also cabins that accommodate 1, 2, or 3 people, with actual doors available. All cabins include a toilet, sink, seats for daytime use and pull out beds for night. Shared showers are available down the hall for all Sleeper Plus Class cabins.
Upper/Lower Berth
1 Person Cabin
Bath towels, hand towels, washcloths, and toiletries, such as soap and shampoo, were provided in our cabin.
All meals are included with Sleeper Plus Class, and meals are available for purchase with all other classes. Sleeper Plus Class also has access to snacks, coffee, and tea throughout the journey.
Luggage allowance varies based on the class of service you book. See VIA Rail's official rules here. During our trip, we could each check 2 bags, and for a carry on, we could each bring 1 personal item plus 2 small items into the cabin.
Even though we could bring several items into our cabin with us, we didn't have a ton of room for storage. There is a small storage space above the vanity/toilet and a very narrow closet to hang a few items. Everything else had to be stored on the floor.
You can board and disembark the train at any of the stations along the route, but some of the smaller stops need to be requested in advance.
Because of the harsh conditions in the north, the train often runs behind schedule. There are a few longer stops scheduled into the route where time can be made up if necessary.
There is no WIFI on the train, and phone and internet signals are often nonexistent as you are traveling through remote areas. It's a good idea to bring books, games, and/or work for the journey. Also, if you'd like to watch movies or TV shows, download them prior to boarding the train.
Special thanks to Travel Manitoba and VIA Rail Canada for providing us with a complimentary Sleeper Cabin on the train from Winnipeg to Churchill. As always, all opinions are our own. 
Pin It!