21 May

Tasty Treats: Night Market Street Food Tour in Taipei, Taiwan

Jumping right into a culture and exploring its cuisine is one of our favorite ways to start a trip to a new destination, and that's exactly what we did when we visited Taipei, Taiwan. Our first night in town, we went on the Taipei Night Market Food Tour with Urban Adventures. Wandering around the Ningxia Night Market with our guide, Tung-wei, we learned about the food, history and culture of Taiwan.
Tung-wei met us at the MRT Shuang Lian Station and together we made our way over to the Ningxia Night Market. We ended up being the only people booked for the evening, so our group tour became a private one! The two hour tour started at 6:00 p.m. to avoid some of the heavier crowds that appear between 7:00-10:00 p.m.
We loved how we could customize the tour to our individual tastes—we were able to tell Tung-wei what we liked and didn't like and if there was something specific we wanted to try. It looks as though Urban Adventures has slightly altered the tasting menu of the tour since our visit, but it seems to still be very similar to what we experienced.
Night markets are everywhere in Taiwan and are a huge part of the country's culture. Browsing a night market should be a staple in every visitor's trip, and we loved exploring a wide range of markets throughout our visit. As I mentioned, the tour took us to Ningxia Night Market, and we visited the following markets on our own: Shilin Night Market, Raohe Night Market, Shida Night Market, Ximending Night Market (which is more of a shopping district), and several others that we stumbled upon while walking around town. Some of the markets sell clothing and other goods, but every one we visited sold lots of food.
Ningxia Night Market is a traditional night market located in downtown Taipei and it attracts a lot of locals due to the famous food sold from its stalls. It was actually fairly close to our adorable, little hotel, Bee House Taipei Station, which made it extra convenient. It is located on Ningxia Road between Nanjing W. Road and Mingshen W. Road. The market is only open in the evening as it is set up on an actual roadway. This means that all the stands in the road have to be set up and torn down each day. The market is around 500 feet (150 meters) long with stalls going down the middle and permanent shops and restaurants on both sides of the road. Several of the stalls in the market have been around for more than 40 years, so you know they have to be good.
We had so much fun learning about the Ningxia Night Market, about Taiwan's culture and history, and about our guide and her family. Tung-wei was so much fun—it was an evening full of laughs and lots of fantastic food. It felt like we were wandering around the market with a local friend. She even drew us an adorable map to a hot spring complete with a list of some of her favorite things to do in Taiwan. And now, on to the FOOD!
Our first stop at the market was Formosa Chang for their famous and award winning Lu Rou Fan, aka braised pork rice. This small shop is located in a store along the street of the market. Because it is in an actual building, it doesn't have to be taken down every day like the food carts in the middle of the street. We each received a small cup of soup and a small bowl of braised pork rice. Both were tasty, but the braised pork rice was extra delicious and melt-in-your-mouth tender.
Next up, we ventured to another one of the permanent restaurants down the street, Oyster Omelet Da Wang. The dish to try here was an oyster omelet, and we also got a shrimp omelet, too. The omelet came with oysters/shrimp encased in egg and then topped with a sweet potato starch gelatin. I have to be honest; this wasn't our favorite dish. Unfortunately, neither Micah nor I could get past the texture of the gelatin mixed with the rest of the omelet. I did like the flavor of the omelet though, so perhaps I would have enjoyed it more without the sauce on top. I was excited to try this iconic dish regardless—and if it sounds like your cup of tea, this would be a good spot to give it a try as they come highly recommended from fans of the dish. Also, there is another shop called Yuan Huan Bian at this market that was recently awarded a Michelin Star for their oyster omelets, so that could be another great spot to check out.
Micah revealed himself as a picky eater early on in the tour, so Tung Wei made sure to get him some food that he would be sure to like—fried chicken! At first thought, it may seem silly to get fried chicken in Taiwan, but it is actually a pretty famous staple at night markets throughout the country. Taiwanese fried chicken is extra crunchy and coated with a delicious mix of spices. It was definitely a hit with both of us and one we kept ordering at different times throughout our trip!
We also had to try stinky tofu, or I should say that I had to try stinky tofu. I was super curious about this dish that incites either pure hate or complete love in people. The stench that wafts out of the stinky tofu carts as you pass by is enough to knock you out cold. It definitely stinks, and needless to say, Micah was not a fan. But I actually loved it! Tung Wei mentioned that a lot of people think it has a similar kick to it like a gorgonzola or blue cheese—that combined with the ever so slightly crunchy outer shell made me a fan. Stinky tofu for life!
To end the evening, we went to another food stall for dessert. We ordered shaved ice and a sweet peanut soup. I loved that neither dish was overly sweet, and even though they were huge portions, they still felt light. And that definitely made it the perfect way to end an indulgent evening.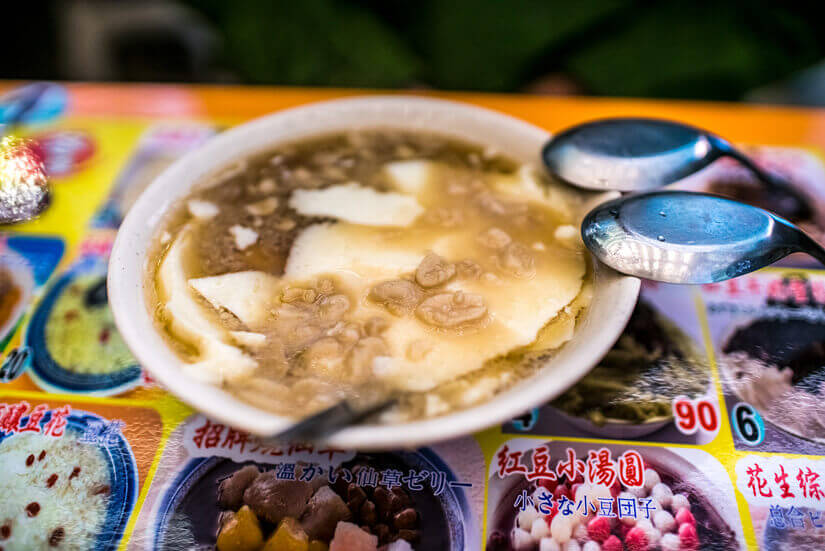 As we walked back to our subway station chatting with our guide, we knew that we were really going to enjoy our time in Taiwan. The culture, food, and people gave us quite the welcome to Taipei—our trip was definitely off to a great start!
Are you a fan of food tours? Share your favorite food destination with us in the comments below!
Pin it!