25 Feb

Sliding into Winter: Snow Tubing and Waterslides in Quebec

After spending the night in a hotel made of ice, we decided we still had room for a bit more adventure. It was our last full day in Quebec, Canada, and we were spending the night at Hotel Valcartier, which is home to the Hotel de Glace. The property also houses both a giant waterpark as well as snow tubing at North America's largest winter playground. So needless to say, we couldn't resist a day spent flying down giant slides both inside and out. It doesn't take much to convince us to act like kids again!

While the indoor waterpark is open year-round, the outdoor waterpark transforms into a winter tubing park once the snow starts to fall. We loved the indoor/outdoor combo and had such a wonderful time at both.
Snow Tubing at the Winter Playground
We started our day outside on the snowy slopes of the winter playground, and it almost felt like we were at a small ski resort! There are over 35 snow slides to tube down, and some send you flying like crazy. In addition to snow slides, you can also find a skating rink and a playground for kids.
Thankfully, you don't have to hike to the top each time you want to slide because the park operates tube lifts, as well. To reach the top of the hills, you just plop down in one of the tubes attached to the tow line and it whisks you all the way up.
There are different run ratings for each slide, ranging from green circle to double black diamond, just like the system used at ski hills. With the massive amount of runs offered, we mainly stuck to riding the black diamonds and double black diamonds, and we still didn't even make it down every black run available.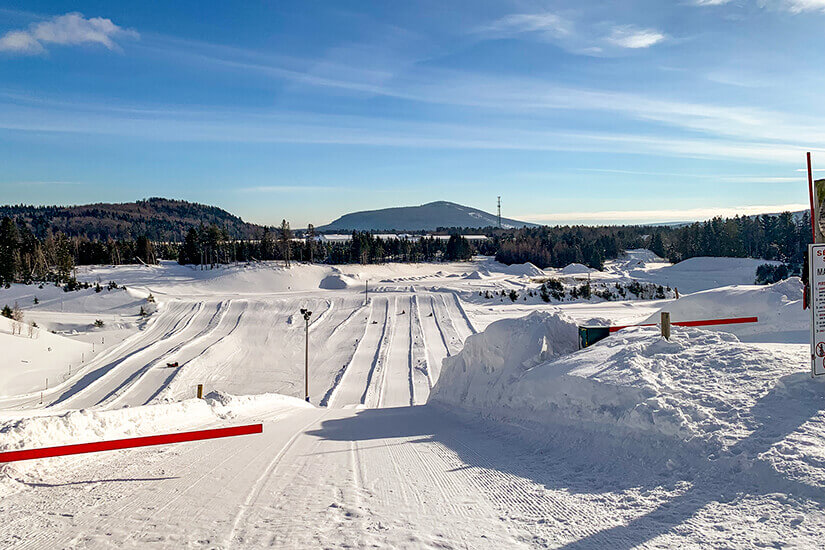 Each hill has a minimum and maximum number of riders that can go down at a time, typically between one and eight. Every person has to have their own tube, but you can link up at the top of the hill and slide down together. The more people in your chain, the higher your speed will be. Once you are ready to go, you just have to wait for the arm to lift and confirm no one is in your lane. Then it's time to slide.
One of the most extreme runs at the park is called Everest. It is the highest accelerating run in North America (33.5 meters/110 feet high), and it's basically a straight down metal slide.
The Himalayas, which consists of four runs, were another set of hills that were extreme. These four runs are ultra-steep and extremely fast. Another couple we met said they clocked themselves at almost 50 mph (80 km/h) on their GoPro while going down one of these hills—how crazy is that?!
We also really enjoyed the Demi-lune run which is built as a half pipe. We could only go on this run one at a time, and it felt like we were getting launched into the air as we flew from one side of the pipe to the other.
Another interesting concept was the snow rafting slide where you sat in a giant raft with 4-12 people. It felt like we were about to go white water rafting for a minute!
The Tornado tube was also absolutely crazy. The giant tubes hold 3 to 8 people and are specially designed to spin in circles as they soar down the run. We couldn't stop laughing the entire way down.
We loved sliding down the hills with massive bumps along the way—you really felt like you were about to be launched in the air! And, the runs that went straight down really picked up crazy speed. It was insane!
Waterslides at the Bora Water Parc
The contrast between the two parks was perfect. After we spent all afternoon outside, we warmed up and retreated to a tropical environment inside. There is a locker room with showers at the entrance of the park. Good to know: you can store your belongings in a rented locker or on the open shelves, but you can't bring anything but a towel with you inside the waterpark.
The indoor waterpark has 14 waterslides and two pools. One of the pools is a 4,000 sq. foot wave pool, and the other pool has a sunken ship for young kids, water games, and a waterfall.
There is also an Adventure River that twists and turns its way throughout the water park. Don't make the mistake of thinking it is a lazy river like us! We were expecting to warm up with a relaxing float, and instead, we spent the float trying to dodge waterfalls, buckets overflowing with water, and more. It definitely lived up to its name and even though it was more than we bargained for at the time, we had a blast.
After a crazy introduction to the park, we decided it was time to hit the waterslides. We didn't have enough people for the giant tube slide called Tribu (you need 3 to 6 people for this one), so we hopped on the double tubes and slid down both the slides called Cyclone and Flash. These waterslides were a mixture of open and enclosed and they had some crazy drops! I'd have to say these were our favorite slides at the park.
We also enjoyed the Capsule and Chute Libre. These slides have trap doors that you stand on. Once you are in position, the door closes, and a countdown begins. The door beneath you opens and you fly straight down at an intense speed. It was quite the thrill!
The Serpentine slides are a mixture of 5 enclosed and open slides that twist their way throughout the park. They were fun, but nothing too extreme.
We might have missed a few areas of the park, but we ended with a stop at the Flowrider surf wave. You can surf the wave on your belly, knees or standing up, and let me tell you…it was hard. Micah started out with trying to stand up right away. After a quick lesson, he did manage to stand, but not for long! He was able to take a couple tries and then decided to call it a night. I opted to start out on my belly and then made my way up to my knees. Even that was pretty difficult. When I almost lost my swimsuit bottom, I figured that was enough for me, lol. It would be fun to have a bit more time to practice one day!
All in all, we spent almost four hours on the outside slopes and close to two hours at the indoor waterpark. The combination of the two parks made for a fantastic day and we were completely exhausted when we went to sleep for the night. It was quite the way to end our trip in Quebec City, that's for sure!
Which do you prefer: water parks or winter tubing?
Pin it!