13 Nov

Wisconsin Road Trip Adventures: A Week in Door County with Lands' End Heritage Tour

We recently road tripped to Wisconsin in partnership with Land's End to join in on the Land's End Heritage Tour. Our mission was to explore the beauty that the great state of Wisconsin has to offer. We grew up in and currently live in Minnesota–Wisconsin's neighbor to the west. Being from the midwest, we know how many great adventures this area has to offer, so we are always excited to head out and explore our neck of the woods. For this road trip, we made our way to Door County, which is a small peninsula bordered by Lake Michigan on the western side of Wisconsin. And wow, we were in awe at all the natural beauty in the region time and time again.
There is so much to see throughout Door County—a week was not even close to enough time to see it all! Throughout Door County there are five state parks, 19 county parks, orchards, wineries, breweries, lighthouses, lots of local art and adorable shops, an abundance of opportunities to get out on the water, delicious restaurants, and more.  The weather wasn't the best during our visit…think 30 mph winds, misty rain, and temperatures hovering around 35-45ºF! We may not have been able to do some of the activities that we wanted to do like canoeing, ziplining, or a sunset boat ride, but even so, we still had a fantastic trip full of one adventure after another.
Lands' End provided us with clothes to wear throughout our journey and we stocked up on warm jackets, cozy sweaters, fleece, pants, shoes, slippers, and more. Thankfully, with our toasty new wardrobe, we were ready for the elements and adventures the week had in store for use!
Wearing: Bounce Roll Neck Sweater
Hy-Land Court RV Park and Lands' End Airstream
Our home for the week was at Hy-Land Court RV Park in Ellison Bay, Wisconsin. The RV park was chalk full of amenities like cable, internet, electric, bathrooms with showers, laundry facilities, water and sewer hook ups, picnic tables, and fire rings. We stayed at site #12 and it had a few trees that would be great for shade on a sunny day. The park was brimming with fall colors in every direction and the location was perfect—we were a short drive from Ellison Bay, Sister Bay, Ephraim, Fish Creek and several other towns in the area.
We were staying in the adorable Lands' End Seagoing Duffle Airstream which was created to look like their iconic bright blue duffle bag. Inside, we had a bedroom with a super cozy double bed, table/couch area, a kitchen with fridge, sink, stove and microwave, heat/air conditioning, bathroom, and shower. And it came stocked with Lands' End home goods and everything we could have ever needed for a week of camping! We enjoyed time at our campsite having bonfires, relaxing, reading, and playing games.
Product: Natural Open Top Canvas Tote Bag
Product: Seagoing Duffle Bag
Wearing: Shearling Moc Slippers
Wearing: Performance Texture Merino Crew Sweater
Wearing: Micah- Performance Texture Merino Crew Sweater & Jenna- Cozy Sherpa Fleece Pullover
Wearing: Rib Hat, 600 Down Vest, Serious Sweats Full Zip Hoodie, Straight Fit Jeans
Wearing: Lofty Blend Quarter-Zip Mock Tunic Sweater, Mid Rise Pull On Skinny Blue Jeans, Suede Everyday Comfort Penny Loafer
Cave Point County Park
One of our favorite spots in Door County was Cave Point County Park. The park is located along the eastern side of the peninsula, and it's surrounded on three sides by Whitetail Dunes State Park. We spent the better part of an hour at this park exploring the rocky coastline and watching the crashing waves ebb and flow. The caves at this park are all located underwater, but if the weather is nice, taking a kayak out and getting a glimpse though the crystal-clear water would certainly be a treat.
Wearing: Waxed Canvas Backpack, Active Sweater Fleece Hooded Jacket
Wearing: Suede Everyday Comfort Penny Loafer
Wearing: Waxed Canvas Backpack, Rib Hat, Serious Sweats Full Zip Hoodie, Straight Fit Jeans
Wearing: Active Sweater Fleece Hooded Jacket, Down Vest, Knit High Waist Leggings
Whitetail Dunes State Park
We didn't have a ton of time to spend at Whitetail Dunes State Park, but we did manage to check out the exhibit in the ranger station and take a look at the beach. The white sands were shining in the sunlight and Lake Michigan looked as endless as the ocean. The park is home to almost 15 miles of trails, sand dunes, rocky coastline, a display of a Native American village site, and more.
Peninsula State Park
We always love exploring state parks, and Peninsula State Park was no exception. Throughout our week in Door County we stopped here several times for hiking, leaf peeping, and lighthouses. The park was filled with bright orange, yellow and red fall foliage during our visit, and we couldn't get over how stunning it was! One of our favorite hiking trails was the 2.1 mile loop, Eagle Trail. The hike took us through thick wooded paths, along the shoreline, and next to towering, rocky bluffs. It was definitely a treat for the eyes, and a wonderful hike on a brisk autumn afternoon.
Wearing: Active Fleece Pullover Tunic
Wearing: Long Sleeve Solid Flagship Flannel Shirt, Straight Fit Jeans, Casual Comfort Chukka Boots
Wearing: Active Fleece Pullover Tunic, Mid Rise Pull On Skinny Blue Jeans
Eagle Bluff Lighthouse Tour
Due to Door County's peninsula position on Lake Superior, there are several lighthouses to guide ships around the rocky landscape. A few of them offer tours, and we were able to take a tour of the Eagle Bluff Lighthouse in Peninsula State Park. Our guide led us through the keeper's house and told fascinating stories about the history of the property. We even got to peek at the light in the tower that is still in operation today. William Duclon was a lighthouse keeper at Eagle Bluff for 35 years, and he and his wife raised seven sons there. The sons all shared one bedroom, and they helped keep the place running in tip top shape. When the property was being renovated into the museum it is now, one of the sons paid the house a visit. He gave the docents insights as to what the house looked like when they lived there and told them stories about life at Eagle Bluff when he was a child. These stories were some of my favorites during the tour—we heard about how the light was kept running through the night, how the boys had to carry water up a giant staircase from Lake Michigan before the well was built, how the boys all had to pile into two beds to sleep, and so much more. It was a fun tour at an interesting historic site!
Wearing: Squall Jacket
Another lighthouse that we wanted to visit was the Cana Island Lighthouse. We ran out of time (and good weather), so we didn't make it, but we did catch a glimpse of it from shore. The lighthouse is located out on an island off the shore of Baileys Harbor. Sometimes the path to the island is walkable, but when the water level is too high, rides are offered on a trailer behind a tractor…yes, a tractor! Hopefully we can make it out to Cana Island next time because it certainly looks beautiful!
Wearing: Active Sweater Fleece Hooded Jacket, Down Vest
Fish Boil at Pelletier's
Door County is famous for their fish boils, so of course we had to pay a visit to Pelletier's Fish Boil in Fish Creek to check one out. What is a fish boil? It's a traditional Scandinavian cooking technique that involves a large steel pot over a fire. Basically, what happens is the potatoes, onions, and salt boil in a giant pot, and towards the end of the boil, locally caught whitefish gets added. Once everything is cooked, the "boil over" takes place, aka fuel is thrown on the fire, which causes the water to boil over in an explosion of flames. It's quite a show to watch!
Dinner is served with whitefish, potatoes, onion, coleslaw, bread, a drink, and a slice of cherry pie for dessert. We both opted for the "Lite Eater's Fish Boil" which came with one 7 oz. piece of fish, but the regular order comes with two pieces of fish. Both Micah and I were stuffed at the end of dinner, so instead of getting two pieces of pie, we shared one topped with ice cream. It was a fun evening and a delicious meal!
Ellison Bay Fall Art Crawl
Our visit happened to fall during the Ellison Bay Fall Art Crawl, which was a happy coincidence. For one weekend, nine different artistic businesses come together and create a trail of events. The participating businesses were a combination of shops, galleries, learning facilities, and even a cider house. The 2018 trail was made up of the following stops: Clay Bay Pottery Gallery, Linden Gallery, Turtle Ridge Gallery, SUTRA Fine Art & Textiles from India, Gills Rock Pottery, Rob Williams Studio/Gallery, The Clearing Folk School, Ellison Bay Pottery Gallery, and Island Orchard Cider. We managed to make it to the majority of the locations on the list.
Some of the locations were serving treats like cookies and drinks, and Gills Rock Pottery was offering kiln baked bread and turkey sandwiches (which was amazingly delicious!).
A couple of our favorite shops were Clay Bay Pottery Gallery and Linden Gallery.
Wearing: Lofty Blend Quarter-Zip Mock Tunic Sweater, Mid Rise Pull On Skinny Blue Jeans
We also enjoyed walking around the beautiful grounds of The Clearing Folk School. The shop inside was cute, we took a peek at a woodworking workshop that was taking place, and the wonderful ladies at the desk gave us some great suggestions on what to see and do in the area.
Wearing: Rib Hat, Long Sleeve Pattern Flagship Flannel Shirt, Straight Fit Jeans
Wearing: Lofty Blend Quarter-Zip Mock Tunic Sweater, Mid Rise Pull On Skinny Blue Jeans
Island Orchard Cider was a great place to end our art crawl. We ordered a flight of hard cider and appreciated sipping on the various ciders they brewed in house. We even randomly ran into one of our friends there—it was definitely a hopping place during the art crawl!
Wearing: Long Sleeve Pattern Flagship Flannel Shirt
The Curvy Road Along Highway 42
 Located along Highway 42 in northern Door County, you can find a stretch of road that curves into what looks like a squiggly line. It is one of the most photospread spots in Wisconsin and one of the most famous roads in the Midwest, so we just had to check it out for ourselves. The construction of the road is said to have been influenced by a famous landscape architect, Jens Jensen, who was the founder of the nearby Clearing Folk School in Ellison Bay, but some say it was built to weave around utility poles. But whatever the reason was for the design, it certainly ended up as an intriguing and beautiful stretch of road.
Anderson's Dock
Anderson's Dock in Ephraim is one of the most iconic sites in Door County. The building at the docks houses The Hardy Gallery (which was unfortunately closed during our visit), but just the outside of the building alone makes this place a must stop location. The building is slathered with painted names, messages, declarations of love and more. We stopped just before sunset and were welcomed with a beautiful, glowing light cast over the entire area.
Wearing: Jenna- Bounce Roll Neck Sweater, Mid Rise Pull On Skinny Blue Jeans, Comfort Elastic Ballet Flats & Micah- Rib Hat, 600 Down Vest, Long Sleeve Pattern Flagship Flannel Shirt, Straight Fit Jeans, Casual Comfort Chukka Boots
Orchard & Winery Tour at Lautenbach's Orchard Country
Lautenbach's Orchard Country sits on 100 acres of land and includes an orchard, vineyard, and market. It is a family owned business, and they grow cherries, apples, grapes, raspberries, and pears. We figured this would be a great spot to take a winery tour since they offer so much more than just a winery. Door County is famous for their cherries, and as luck would have it, our tour at Lautenbach's Orchard & Winery covered both cherries and wine! We went out into the orchard and learned all about growing, harvesting, and processing cherries. Then it was time to learn a bit about the on-site wine production.
Wearing: Sweater Fleece Coat, Mid Rise Pull On Skinny Blue Jeans
Once we heard about the history of the farm and how everything is made, it was time for a wine tasting. We sampled three different wines and got to take our glasses home with us. Our favorite was the Ashlyn Sophia. After the tour was complete, we sampled even more wine in the store as they offer a complimentary wine tasting of up to six wines. Lautenbach's produces a wide range of red and white wines, fruit wines, and hard ciders.
Apple Tasting at Seaquist Orchards Farm Market
We were a little too late in the season to actually pick apples from the trees, but we did make our way over to Seaquist Orchards Farm Market for a bunch of apple fun. They have a production facility that you can peek at—you can see how they sort/process the apples and how they make a variety of apple products. Inside the market they sell a wide range of local products like baked goods, canned goods, fruits, honey, decorations, and more. They have a large assortment of samples for you to try, and our favorite was the apple tasting station. The apples are set up from sweetest to most tart, and we each picked a couple of our favorites to take home with us.
A Picnic with Local Products
There are so many local products produced in Door County that we just had to throw together a picnic with some of our favorites. All of the products were made in Wisconsin, and most of them actually came from within the boundaries of Door County.  We spent the week visiting specialty producers of cheese, wine, beer, cider, cherries, apples, honey, and artisan bread. The treats we gathered were apples from Seaquist Orchards Farm Market, tart cherries from Cherry De-Lite, honey from Wisconsin Natural Acres, pepperjack meat sticks from StoneRidge, cracked wheat bread from Macready Artisan Bread Co, a bottle of Ashlyn Sophia wine from Lautenbach's Orchard Country, and a couple varieties of cheese (Valmy and Santa Fe Southwest Cheddar) from Door Artisan Cheese Company. It was a delicious and fun meal full of fresh local products!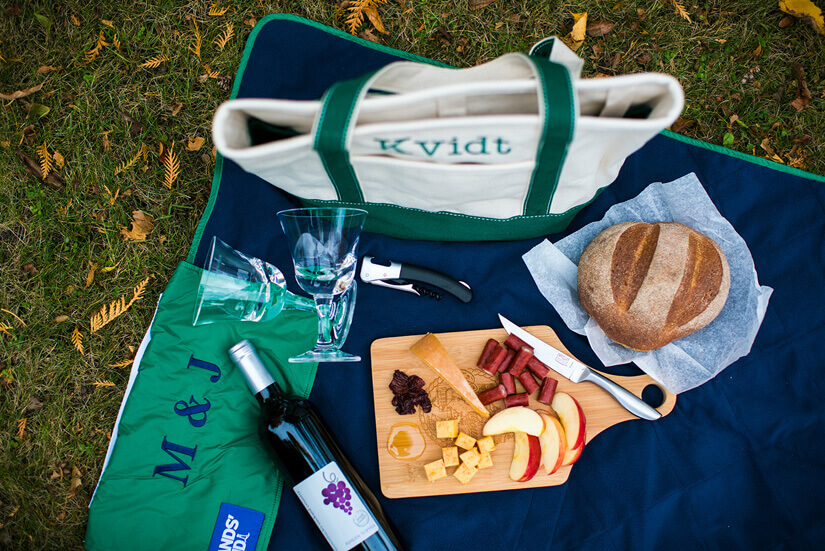 Product: Seagoing Stadium Travel Blanket, Natural Open Top Canvas Tote Bag
Arts & Shopping
All of the small towns in Door County are filled with one adorable boutique shop after another. Every time we went for a drive I wanted to pull over and start shopping. We especially loved browsing through the shops in Sister Bay, Ellison Bay, Ephraim, and Fish Creek, but really, any town you go through has so much to offer. Many of the shops feature work from local artists, as well!
One of our favorite shops in Sturgeon Bay was Popelka Trenchard Glass. The store is gallery and workspace owned by Stephanie Trenchard and Jeremy Popelka. We stopped in one afternoon following lunch and got to take a peek inside the workshop during a glass blowing demonstration led by Jeremy. We also had a great chat with Stephanie about her glass sculpture work, travel, and more. It's definitely a fun place to stop if you have any interest in glass artwork!
Wearing: Lofty Blend Placed Cable Sweater, Mid Rise Curvy Skinny Jeans
Door County Coffee
I've been drinking Door County Coffee with my parents for years, so it was only appropriate that I stop in the flagship store when we were in Door County. Micah and I went in for an afternoon treat of a cookie and a coffee flight. My coffee flight contained cold brew drip coffee, breakfast blend, a fall harvest blend, and a dark roast coffee. It was fun to try several varieties at once and I was surprised that the cold brew was one of my favorites. And, of course, we had to pick up a couple bags of coffee to take home with us!
Wearing: Lofty Blend Placed Cable Sweater
Door County Brewing
We always like to check out local breweries when we travel, so visiting Door County Brewing was another must that came highly recommended. The taproom is filled with reclaimed wood, board games, and a music stage—it was cozy and lively all in one. We arrived just before a band went on for the evening, and we listened to the show while snacking on a cheese spread board and a couple of brews to go with it.
Wearing: Cozy Sherpa Fleece Pullover
Door County Creamery
Door County Creamery was another spot that was recommended, and I'm so glad we had a chance to stop in. They offer farm tours during the summer and fall (which I would have loved to do if it wasn't sold out!), and they offer a variety of gelato, cheese, and soaps all made from goat milk. We popped in one afternoon for some coffee and gelato. Micah ordered the mint stracitella gelato and I settled on the olive oil and sea salt. They were both fantastic, but the olive oil and sea salt stole the show—yum!
Door County Ice Cream
Everything in the area seemed to be called Door County something or another! And, Door County Ice Cream was no exception. Located in an adorable historic building in Sister Bay, this ice cream and sandwich shop served up some might tasty treats. We had a hard time picking a flavor from the never-ending row of ice cream, but in the end, classic chocolate and Door County cherry won out and both were great choices.
Wearing: Active Sweater Fleece Hooded Jacket, Down Vest, Knit High Waist Leggings, Suede Everyday Comfort Penny Loafer
Our Favorite Restaurants
We went to so many fantastic restaurants throughout our week in Wisconsin. There are so many that we will write an entire post dedicated to our favorite restaurants, but for now, here are some of our absolute favorites. The Swedish breakfast and cozy atmosphere made Al Johnsons a standout—plus, they have goats on the roof! Our salad and pizza at Wild Tomato and sandwiches at The Cookery were two of our favorite meals from the trip. And, we had a blast going out to the Sister Bay Bowl supper club for a Friday night fish fry. Stay tuned for even more deliciousness from Door County soon—Bluefront Café, Glacier Ledge, Chef's Hat, Analog Coffee, Basecamp Coffee Bar, and Heriloom Café & Provisions all made the list, too!
Door County, Wisconsin, is such a fun region to explore. Even though we were there for a week, we still left with a long list of actives that we want to do on our next visit. Wisconsin is a beautiful state with so much to see and do—we had an absolute blast road tripping around Door County as part of the Lands' End Heritage Tour!
We visited Door County, Wisconsin, as part of a paid content creation project with Lands' End. As always, all opinions are our own.
Pin it!