20 Apr

48 Hours in Wrightsville Beach, North Carolina

Our recent trip to North Carolina sent us straight to the coast for some adventures in Wrightsville Beach. We spent a couple of days by the beach and then made our way to Wilmington for the weekend to soak up some city life.

We had a wonderful time exploring this cute oceanfront town. Our days were filled with long walks, beach time, boat rides, gardens, browsing local shops, and eating at several fantastic restaurants. It was a wonderful mix of outdoor adventures and local charm.

Here's how we spent a couple of days in Wrightsville Beach:
Lunch at Tower 7
We were starving after our early morning flight, so we set out to find a tasty lunch spot. Tower 7 drew us in immediately—the menu is filled with delicious Mexican dishes, and the surf vibes and décor give the restaurant a laid back and welcoming atmosphere. There were no fewer than 10 items on the menu that were calling my name, but I resisted the urge to order everything and settled on the Tacos in a Beach Towel. Essentially, it is two hard shell tacos wrapped in soft shells with gooey melted cheese holding it all together. Micah had the chicken enchiladas, and we both really enjoyed our meals.
Lodging: Blockade Runner Beach Resort
It was time to check into our hotel after our fantastic lunch at Tower 7. We drove a half mile down the road and pulled into the parking lot of the Blockade Runner Beach Resort. The cute lobby and front desk staff gave us a warm welcome before we beelined it to Room 333. When we opened the door to our room, we were excited to find giant windows with an oceanfront view. I really loved the colors and design of the room, and the inviting atmosphere made it a great spot to call home for a couple of nights.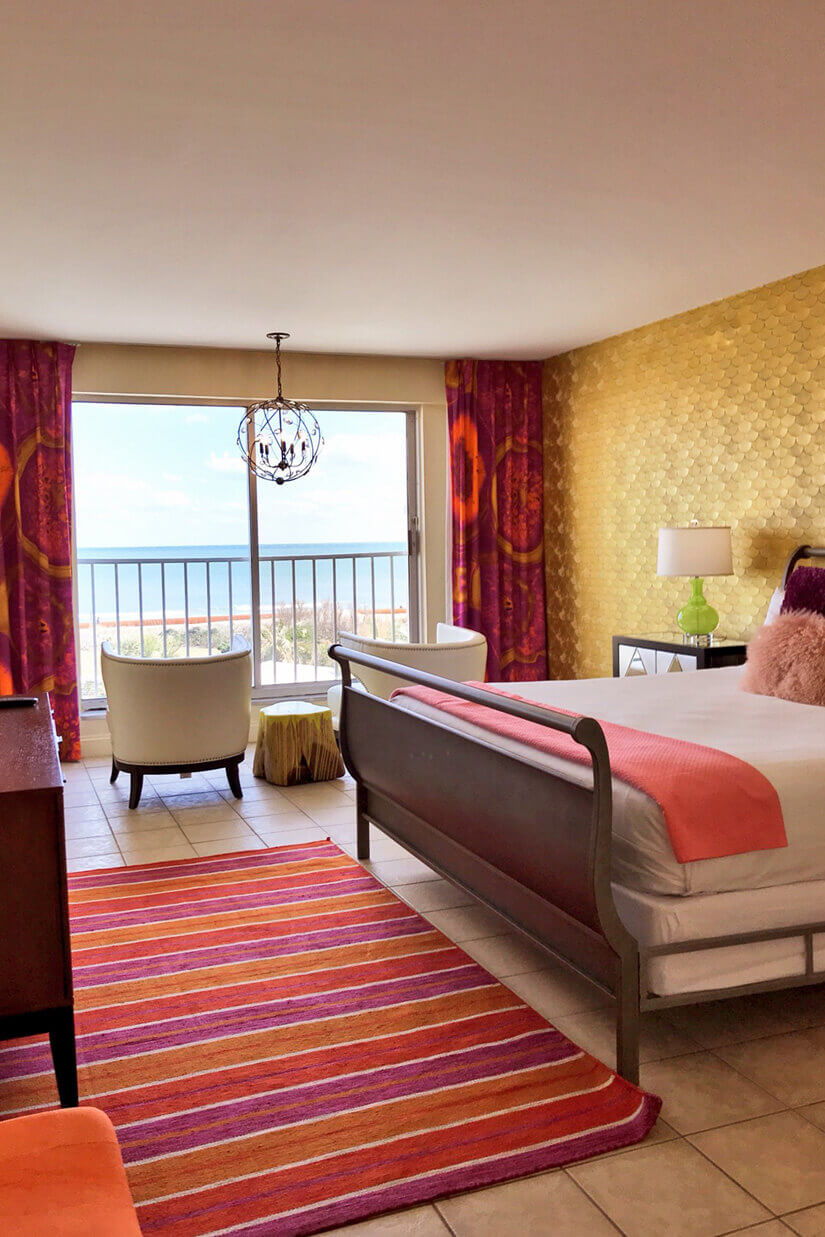 Walking "The Loop"
The Loop is a 2.45-mile paved trail in Wrightsville Beach. Runners, bikers, and walkers use the trail on a regular basis, and you are sure to spot several locals enjoying their time on The Loop on most days. The circular trail consists mainly of sidewalks, and runs along a stretch of the causeway and other primary roads in Wrightsville Beach.
The Loop crosses bridges spanning the Intracoastal Waterway, passes gardens, parks, and the marina, and provides easy access to the pier and beach. You can start and finish at any point along the trail, and we decided to add an extra mile by starting the walk from our hotel. It's a great way to see Wrightsville Beach while getting in some exercise and soaking up the fresh ocean air.
Johnnie Mercer's Pier & Beach
During our walk around The Loop, we decided to make a pit stop at the beach and Johnnie Mercer's Pier. The pier is made from solid concrete, which is unusual for the area and makes it a fun sight to see. If you are interested in fishing, we heard the pier is a great spot to drop a line. But, if you are more interested in beach time like us, it makes a great backdrop when relaxing on the sandy shores. We spent a good half hour watching the birds, frolicking on the beach, and putting our feet in the water before making our way back to The Loop to finish our walk.
Dinner at EAST Oceanfront Dining
We certainly worked up an appetite during the afternoon and, since our feet were getting tired, it was nice that dinner was at our hotel! After freshening up in our room, we ventured back downstairs and scored a table right by the window at EAST Oceanfront Dining. Filet mignon with potatoes was Micah's meal of choice and I ordered the daily catch, which was flounder with root vegetables and orzo. We weren't hungry enough for appetizers or dessert, but I wish we were—there were some pretty delicious looking options on the menu!
Relaxing in the Hot Tub
After a long day of travel, playing in the sand, and exploring, we were ready to put our feet up and relax. And, well, the hotel hot tub was just the right place to do so. To wind down our evening, we went for a soak and melted our cares away. We can't think of a better way to end a long but fun day on the road!
Breakfast at Causeway Café
Causeway Café is a cute little diner and perfect for a homestyle meal. This restaurant is a popular breakfast spot, and we were lucky to snag the last two seats at the bar when we arrived. It was a Thursday around 9 a.m. and the place was hopping! We enjoyed watching the cooks in the kitchen, and my blueberry malt pancakes and Micah's French toast were both delicious.
Airlie Gardens
After breakfast, it was time for a relaxing stroll through Airlie Gardens. The garden's 67 acres are also home to sculptures, walking paths, historic structures, and plenty of seasonal plants and flowers. Depending on when you visit, you will find an array of blooms.
When we visited, tulips certainly stole the show—they were everywhere! And they also happen to be one of my favorite flowers (perhaps because they remind me of my grandma). Walking around the gardens was a great way to spend the morning, especially after a big breakfast at Causeway Café.
Mid-Morning Break at The Workshop
We are never ones to turn down a caffeine fix, so after the gardens, we made our way to The Workshop. This cute coffee shop is also a shark tooth jewelry shop! The owners are local SCUBA divers, and they scour the ocean floor for shark teeth to use in their art. We ordered a coffee and a smoothie and spent a bit of time browsing the jewelry and talking to locals before jetting off to our next adventure.
Boat Cruise to Masonboro Island
Next up was a boat tour to nearby Masonboro Island, which we were told is the longest undisturbed barrier island ecosystem in southern North Carolina. We boarded our boat at the docks directly across from our hotel and got ready for our tour with Wrightsville Beach Scenic Tours.
There are several tour options offered. The Masonboro Island tour let us get off the boat to explore the nature trail and the white sandy beaches. If you'd like, you can spend several hours or even all day out on the island, but we were on a tight schedule so ours was just a short visit. But, though our time was short, the scenery was nothing short of spectacular. The sand dunes and white sandy beaches were practically deserted, and we felt like we were a million miles away from civilization. We'd love to return one day with a picnic basket and plenty of time to relax.
Lunch & Brews Wrightsville Beach Brewery
We had a long morning full of adventures, so after our boat tour, we were certainly ready for some grub. Lunch was at Wrightsville Beach Brewery and, of course, we couldn't resist sampling a brew. I ordered the Carolina Harvest Ale with Local Shrimp Tacos, and Micah ordered the Airlie Amber Ale with the Chicken Mornay Sandwich. We really enjoyed the atmosphere inside the brewery and would love to head back for one of their live music nights or brewery yoga sessions!
Afternoon Shopping
It was time to get moving again after another great meal, so we decided to browse some of the shops along the main drag in Wrightsville Beach.
Dinner at Oceanic Restaurant
Dinner on our last night in town was at Oceanic Restaurant. It's the area's only standalone oceanfront restaurant and, even though we didn't get a table by the window, we were still able to enjoy some spectacular views. Micah ordered the filet mignon and I went for another catch-of-the-day special. This time it was blackened mahi-mahi with crab on top—delicious.
Breakfast at Café Del Mar
By this point, it sounds like all we did was eat when we were in town. Well, we certainly didn't go hungry—that's for sure.  But, alas, breakfast was calling our names, so we made our way to Café Del Mar for coffee and a quick bite to eat. This coffee shop is connected to Tower 7, so I guess this establishment both welcomed us when we arrived and bid us farewell on our visit to Wrightsville Beach. We weren't quite ready to leave the beach that morning, so stay tuned, because next up on our adventures was a fun weekend in nearby Wilmington, North Carolina!
Have you ever been to Wrightsville Beach, North Carolina?
We visited Wrightsville Beach, North Carolina, as part of a content project. Special thanks to Travel Mindset and Visit Wrightsville Beach for hosting us on our adventures. As always, all opinions are our own.
Pin it!