07 Nov

Camping in Lakefront Cabins at True North Basecamp

The adorable lakefront cabins at True North Basecamp offer an experience akin to glamping. Located in Crosby, Minnesota, the six onsite cabins come with several amenities while still offering a camping feel, which creates the perfect combination of comfort and nature.
We were in desperate need of some time away from the city. With limited time in our schedule and a lack of motivation to pull out our camping gear for one night, we decided a lakefront cabin at True North Basecamp offered just the right balance. It was exactly what we needed for a brief break from reality and we were happy to spend a couple of days relaxing in the north woods of Minnesota.
We pulled up to cabin C6, and immediately felt right at home. The cabins look like little tin huts, which is a nod to the mining heritage that used to be big in the Cuyuna region during the 1900's.
The lakefront views, a bonfire pit and picnic table greeted us as we made our way inside the cabin. The inside of each cabin was designed by artists, and they all have a unique theme. Our cabin was the Twin Six cabin—it was decked out in original artwork and funky lighting—I loved the design and layout inside.
The cabin has a table and chairs, bunkbeds with room for 5 people, electricity, heating and air conditioning, USB charging ports, reading lights, and even WIFI. The shower house is located just a short walk away (basically on the other side of the parking lot), and inside you will find showers and bathrooms that are climate controlled all year long. The shower house even has heated floors for those chilly Minnesota days! The only thing you really need to bring with you for your visit is a sleeping bag, pillow, and towel.
Crosby, Minnesota, where the cabins are located, is right at the doorstep of the Cuyuna Country State Recreation Area—this means the outdoor activities available nearby are fantastic. True North Basecamp has bike in/bike out access to the much raved about mountain bike trails in the Cuyuna Country State Recreation Area. The area has 25 miles of mountain bike trails and 8 miles of paved bike trails open in the summer, and in the winter, 40 miles of various trails are open for fat tire biking, snowshoeing and cross-country skiing. In addition to biking trails, you can also find plenty of other summer and winter activities in the area such as hiking trails, kayaking, golfing, fishing, boating, ATV trails, horseback riding, downhill skiing, cross-country skiing, and snowmobiling. No matter the season, there are plenty of ways to get your fill of adventure activities nearby.
We thought about bringing our bikes with to check out the nearby trails, but instead, we decided to spend a relaxing evening at the cabin. Our night consisted of hiking, grilling, playing cards, relaxing by the bonfire, and stargazing. It was a simple evening, but it was just what we needed to refresh our souls.
The next morning, we were met with a rainy forecast for the day ahead, so our hiking plans went out the window. On our way out of Crosby, we stopped at the Red Raven for a coffee. In addition to coffee and a sandwich menu, the Red Raven offers mountain bike rentals and bike sales, too, so if you need a bike to explore the nearby trails, you are in luck!
There are lots of charming little towns in the area, and because Micah had never spent much time in this region of Minnesota, we decided to visit one of them before heading back home. We made our way to Nisswa, a cute town that I spent many a day exploring when I was a kid. Nisswa is around a 30-minute drive from the cabins, and it is a town filled with cafes, coffee shops, cute boutiques, and access to a wide range of outdoor activities such as boating, hiking, biking, snowmobiling, golfing, fishing and much more.
We popped into Adirondack Coffee for breakfast and more coffee before making our way through many of the cute shops in town.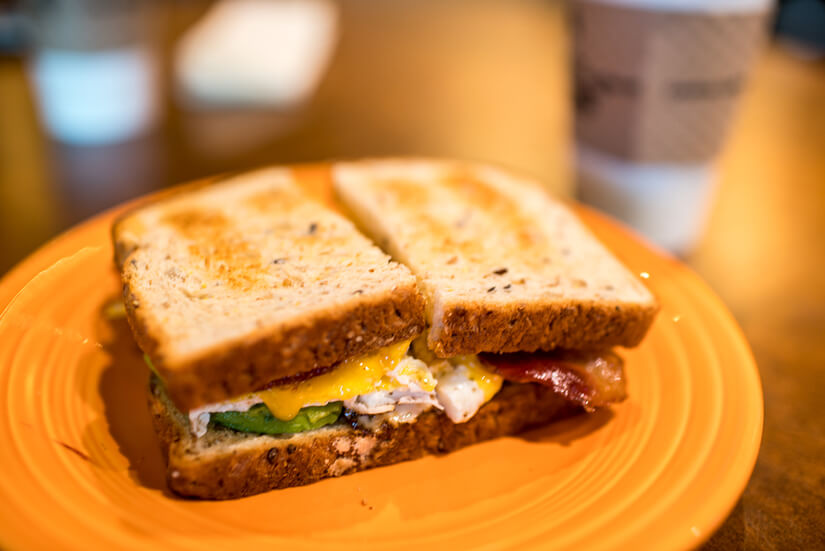 I have so many great childhood memories from this region of Minnesota—visiting Paul Bunyan Land, relaxing lakeside on sunny summer days, shopping, and hiking—so it's nice to finally revisit the area and add another fun experience to the list. True North Basecamp offers a wonderful, nature-focused getaway with access to some of the best outdoor activities and cute towns that Minnesota has to offer.
And now I'm dreaming about a winter stay in the cabins so we can go on a fat tire biking adventure!
Have you ever been to True North Basecamp or northern Minnesota?
Pin it!