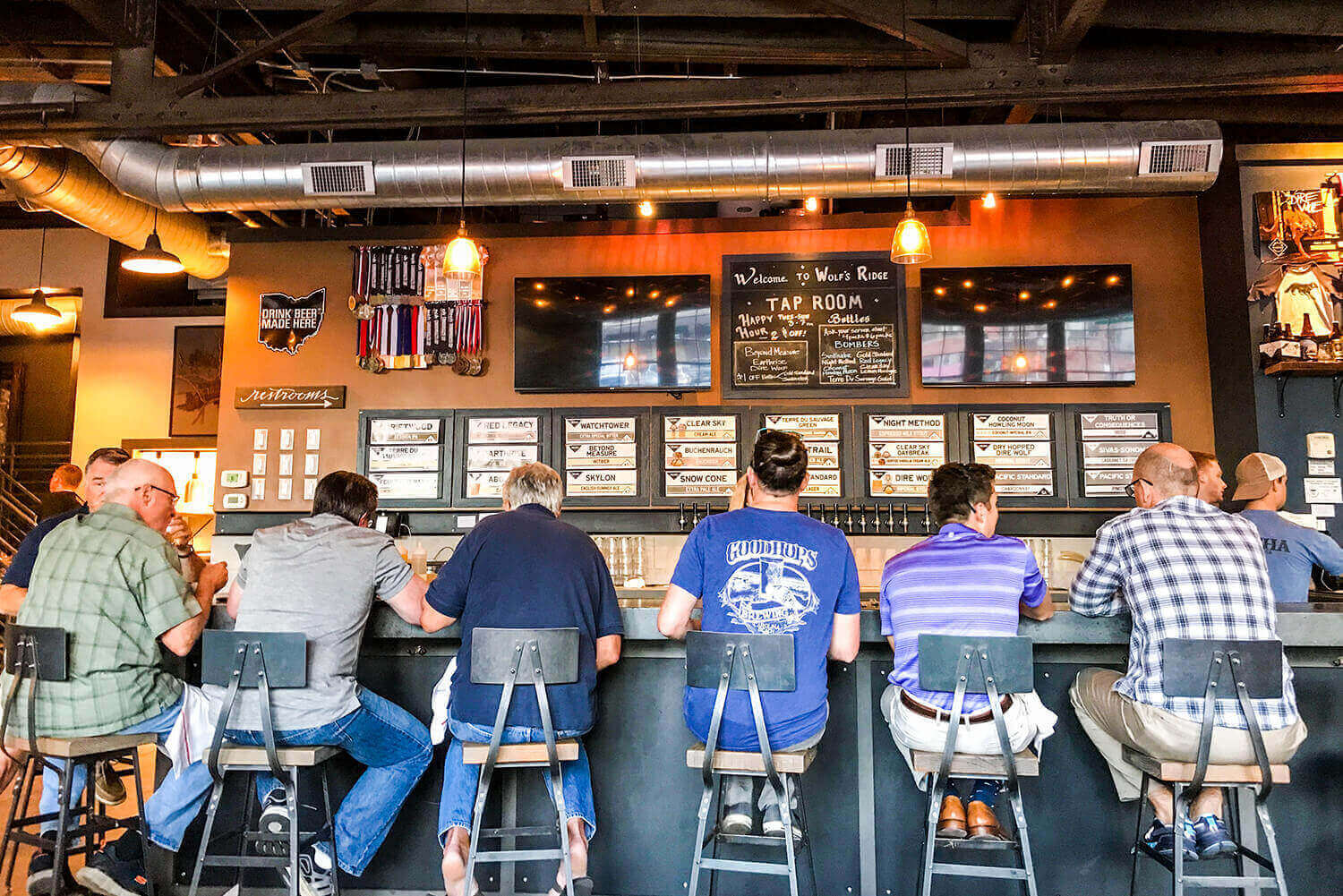 14 Oct

Brewery Hopping Along the Ale Trail in Columbus

Just as we couldn't resist exploring the Coffee Trail and the Made in CBUS Trail while we were in Columbus, Ohio, we also couldn't pass up the chance to delve into the Ale Trail. All three of these trails are based on a similar concept—each one has a passport booklet that encourages you to explore and visit the local establishments listed inside. You pick up a passport at any of the participating businesses, and it makes a great guide to finding some of the best spots in the city.
The 2017 edition of the Ale Trail includes 37 breweries. Each time you visit a new brewery in the book, you can collect a stamp with your beer purchase to earn prizes along the way. Whenever you reach a certain number of stamps (at 4, 11, 18, 25 and 32 breweries), you will earn a Columbus Ale Trail tasting glass. If you visit all 37 Ale Trail breweries, you get a locally produced reclaimed wood flight tray that holds your five tasting glasses. For those that have ample amounts of time in Columbus, it definitely makes visiting all of the breweries a fun challenge!
During our visit to Columbus, we made it to four different breweries. Unfortunately, there just wasn't enough time to check out all 37 breweries in four days, so we had to settle for only visiting a few. But, as luck would have it, we have a friend who lives in Columbus, and she volunteered to show us two of her favorite breweries from the Ale Trail. It's always great to have recommendations from a local, and it was so nice to catch up with a friend that we haven't seen in way too long!
While we enjoyed all of the beers we tasted during the trip, we are certainly not beer connoisseurs, so we won't get into beer specifics. We will leave the actual beer talk to the pro's, but here's a bit more information (and photos!) about the four breweries that we visited.
Wolf's Ridge Brewing
We had heard from several people that Wolf's Ridge Brewing was a place we just had to stop at when we were in town. Both the beer and the food get rave reviews, so who are we to pass up on that—am I right? After a busy day exploring Columbus, we made our way to Wolf's Ridge Brewing for some food and drinks. They serve food in both their dining room and tap room, and the menus are American-inspired items made with seasonal ingredients. Both menus looked fantastic to us, but we were feeling like a more casual dining atmosphere so we decided to pop into the tap room for some snacks. We ordered the chicken drumsticks and garlic french fries to share, and they were absolutely delicious and the perfect complement to our brews.
Wolf's Ridge Brewing is a family owned brewery located in downtown Columbus. In addition to live music on Sundays, daily happy hour, and over 20 beers rotating on tap, the brewery also offers free tours and a variety of beer education classes, such as Beer 101 and Sensory Analysis. I'd love to join in on a sensory analysis class next time we are in town—it sounds like a fun way to learn more about the nuances of beer!
Elevator Brewing Co.
On the way back to our hotel after visiting Wolf's Ridge Brewing, we passed 13th Floor Taproom at Elevator Brewing Co. and decided we just had to make a stop. This brewery was completely different from the one we just left. The 13th Floor Taproom is located inside of Elevator Brewing Co.'s brewery and has more of a garage vibe going on. It was a wide-open space with several tables, video games, a shuffleboard table, and a giant map with pins placed from visitors around the world. I always love maps like that—it's so neat to see how people from near and far all make it to the same spot. We arrived just a half hour before they closed, so we didn't linger very long, but it was a fun stop to try on a whim and we were glad we made our way there.
Elevator Brewing Co. was started in 1999, which means it was one of the original craft breweries in Columbus. They got their name because they originally started brewing beer inside of an old grain elevator. Their beer has won many awards over the years, and it is sold at retailers throughout Ohio, in the taproom where we stopped, and at the Elevator Brewery and Draught Haus. The Elevator Brewery and Draught Haus is located just a couple of blocks from the taproom in an old historic bar and restaurant. At this location, you can order food and play games such as pool or darts. I wish we would have had enough time to check out both locations—especially since they are so close to each other!
Land-Grant Brewing Co.
Land-Grant Brewing Co. was located about a 15-minute walk from our hotel, and it was the first stop we made with our friend, Jess. I loved the style of this brewery; the brewery and taproom were built inside of a historic factory in the Franklinton neighborhood and you can often find the hottest sporting event on the TV's throughout the brewery. The taproom has a large open layout and there is a fantastic patio outside.
Land-Grant opened its doors in 2014, so it is a fairly new brewery, but that doesn't mean it's lacking in quality. In fact, I'd have to say they had some of our favorite brews from the trip! Land-Grant hosts a rotating selection of food trucks, so you can still get your snack on even though they don't have an on-site restaurant. They also offer tours of the brewery and building on Saturdays if you would like to get a peek behind the scenes. Land-Grant has a great set up if you are heading out with a group of friends; the large communal tables create a welcoming atmosphere for groups of all sizes.
Lineage Brewing
After Land-Grant Brewing Co. we decided to visit one more brewery for the evening. Jess suggested one of her favorites, Lineage Brewing, and we happily agreed to stop there. While all of the other breweries were walking distance from our downtown hotel, this one was a bit farther away and required a short drive to the Clintonville neighborhood. It was definitely worth the short trek to get there though. Inside of Lineage Brewing, it felt more like a cute and trendy café rather than a brewery. But, that's not a bad thing! It is absolutely adorable and I fell in love with the décor.
Lineage Brewing started out as a homebrew and eventually grew into the brewpub that it is today. They grow their own hops and have honed their skills to serve some of the best brews in the city. Lineage Brewing also has a menu with fresh seasonal ingredients—we didn't have a chance to eat there, but the food certainly looked delicious! The building that the brewery is located in now used to be a car wash, and the garage doors are still in play. On nice evenings, they open the garage doors to create airflow and atmosphere throughout the brewery. There is seating both inside and outside, and if you'd like to bring a pet along, they are free to enjoy the patio with you!
With so many breweries located in the city of Columbus, you really are spoiled for choice. There are great options to pick from in every direction, and we hope to check out even more on our next visit to Columbus!
We visited Columbus as part of a video project campaign. Special thanks to Travel Mindset and Experience Columbus for hosting us on our adventures through the city. As always, all opinions are our own.
Pin it!