16 Sep

A Photo Essay: A Week Exploring Minneapolis

I always love exploring my own backyard, so when the opportunity came up to join a group of travel bloggers and writers on a weeklong adventure in Minneapolis, I happily agreed. Micah was gone for a work project for most of the week, so he could only join for one day. I spent the week exploring many spots throughout the city that I haven't had the chance to see before. and we ate at several restaurants that have been on my list to try. It was a fun week full of new adventures and great people, so get ready for a detailed look at what we did!

To start off the week, Micah and I made our way to the Minnesota State Fair. The state fair is just one of those Minnesota traditions that you can't miss if you are in town during the festivities. "The Great Minnesota Get Together" is the largest state fair in the United States by average daily attendance. You can find a huge variety of attractions at the fair, such as large concerts at the grandstand, all kinds of crazy food on a stick (and not on a stick), farm animals, cultural events, rides, shops, and even heads carved out of butter. It's quite the sight to see!
Every year we have to try some of the new food creations, but we still can't resist seeking out our favorites year after year. The deep fried pickles, spaghetti on a stick, pronto pup (corn dog), cheese curds, and pineapple/raspberry twist dole whip are staples for us—of course we do share everything so it's not quite so filling! The new foods we tried this year were the bacon wrapped tater tots, deep fried avocados, and the sweet corn beer. They were all pretty good, but I'm not sure any of them will become staples.
The rest of the week was spent mostly downtown Minneapolis. By this point, Micah was out of town for a video production, so I flew solo…with the rest of the great group of writers and bloggers on the trip, that is! Everyone else in our group was staying at the AC Marriott in downtown Minneapolis, so that was our meeting point throughout the week. I ended up staying at home during the week since we only live a few miles away, but I was able to tour the hotel and enjoy downtime in the amazing hotel lobby. The lobby was designed so that it would be a welcoming place for people to work and hang, and they did a great job with it. I loved the style and design, and it was a great place to catch up on emails during our breaks.
Our first adventure as a group was to head to the new U.S. Bank Stadium for a behind the scenes tour. I hear lots of mixed reviews about this place, but I was pleasantly surprised at how cool it was inside. The attention to detail throughout the stadium is amazing and I loved the design elements. From an abundance of local art and eateries, to amazing VIP suites, and plenty of green initiatives, I was impressed. Even though the stadium was built for Vikings football games, they hold hundreds of other events each year, as well, such as concerts, meetings and private events, rollerblading on the concourse, and even the X Games.
For dinner that evening, we walked over to Sea Change, the restaurant at the Guthrie Theater. They have an impressive menu of cocktails, and while the menu is focused on seafood, they also have several non-seafood options, as well. I ordered a Bee's Knees cocktail and for my main course I decided on the Arctic Char with White Bean and Artichoke Giardiniera. We also had langoustines and oysters that were ordered for the table. Everything was delicious and it was a great way to start off the week!
We had an early start the next morning—breakfast was at Key's Cafe in the historic Foshay Tower. I can't believe I had never been to this iconic local gem before. To share, we ordered a caramel roll and cinnamon roll with frosting, and they were both melt in your mouth delicious. I had the "No. 8" for my entrée, which was a Spinach & Egg Scramble with hash browns and toast. Let's just say it definitely won't be the last time I dine at Key's Cafe.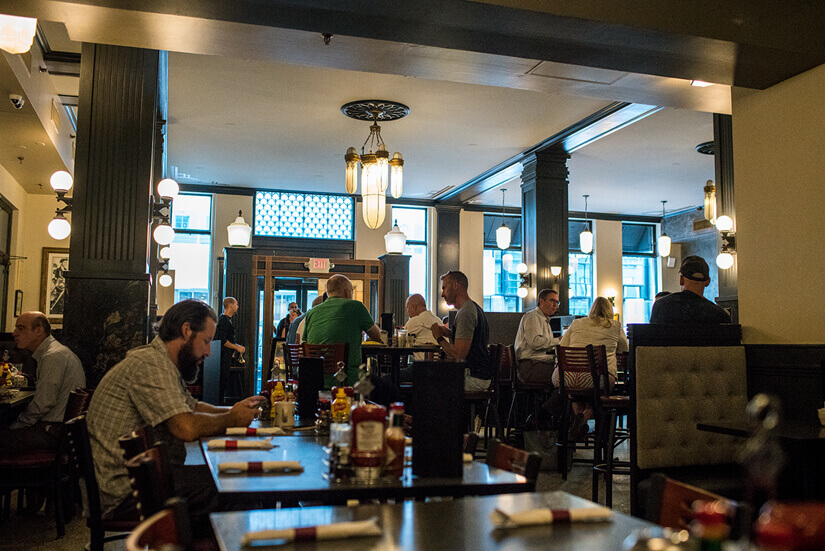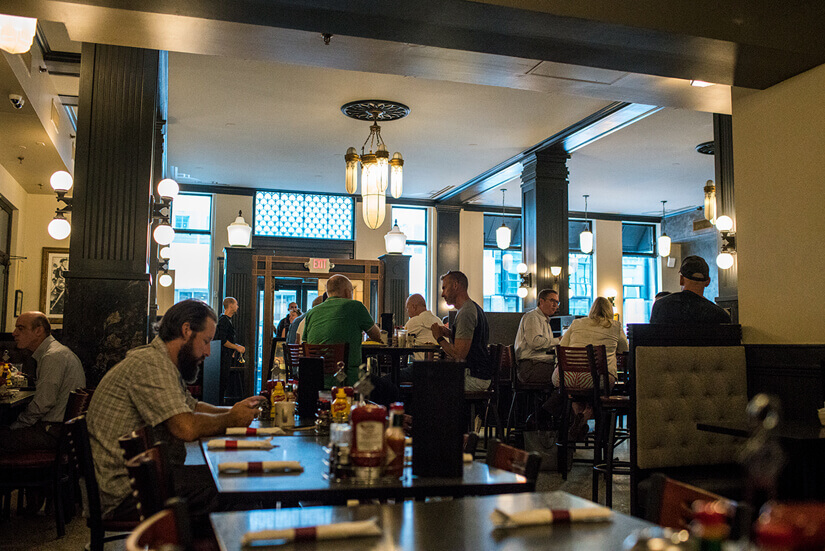 After an extremely filling breakfast, I was happy to hear a little bit of walking was in order. We made our way through downtown Minneapolis with our sights pointed towards the Minneapolis Sculpture Garden and Walker Art Museum.
The Minneapolis Sculpture Garden has been under construction for the better part of a year, and it reopened this summer with new and improved exhibits. I was excited to finally see the new gardens—the iconic "Spoonbridge and Cherry" sculpture is still on display, but there are several new sights to see, too, such as "Hahn/Cock", aka a giant blue rooster.
There were also several new exhibits inside the Walker Art Museum that I had yet to see, so I enjoyed browsing inside, too. The Walker focuses on contemporary visual arts and design, and two of my favorite exhibits were "Katharina Fritsch: Multiples" and "Jimmie Durham: At the Center of the World."
And just like that, it was already time for lunch. We went back downtown to check out the food truck scene and found truck after truck lining the streets. It was tough picking from so many great food truck options, but I ended up eating at Bibuta. They are famous for their sushi burrito, but because I had enough seafood the evening before, I decided to order a beef bowl instead. It was a great choice and came filled with rice, beef slices, cucumbers, carrots and a sweet soy sauce like glaze—yum!
Thankfully we had more movement on the itinerary for the afternoon and a bike ride was up next. We hopped on Nice Ride bikes, the bike share program in the Twin Cities, and rode through downtown and across the Hennepin Bridge towards St. Anthony and Main. After stopping for views of the waterfall on the Mississippi River, we crossed the Stone Arch Bridge back into downtown Minneapolis. I've been on these bikes twice this summer now, and they are so convenient. It definitely made me wonder why we don't take them out for a spin more often. I think that will have to change going forward!
Mill City Museum was next, and while I've been to this museum before, it was for a special Christmas exhibit and not a normal day at the museum. It was fun to see the museum as it is most of the year. We explored the museum exhibits, took a ride on the Flour Tower, and soaked up the views from the observation deck. Minneapolis used to be called "The Flour Milling Capital of the World", and the Mill City Museum is built inside of an old flour mill. It's an interesting stop for a fun rundown of the milling history in Minneapolis.
Following an afternoon break, we met up again for dinner at Monello. I've been wanting to eat at this restaurant for a while now, so I was excited to finally visit! We were served the six course tasting menu with wine pairings, and I think we ended up sampling almost everything on the menu. Every person at the table was served a different dish on the menu for each course, and we basically ended up sharing everything because we all wanted to try the various dishes. Some of my favorite tastes were the Torchio with Braised Rabbit, Crème Fraiche & Artichokes, the Spaghetti Nero Ala Chitarra with Rock Shrimp & Oregano, the Red Prawn with Charmoula & Ramps, and the Olive Oil Cake with Lemon, Mascarpone and Rosemary. Another amazing meal with fantastic service to match.
The next morning was my last full day with the group. We met at the AC Marriott and hopped in a van to make our way to Paisley Park for a tour of Prince's private estate and production complex. It was amazing to see where all the magic happened for so many years, and I learned so much about Prince and his estate. Photos weren't allowed inside, but before the tour, we walked out to the fence surrounding the property to look at the fan memorials and tributes to this beloved Minnesota icon. It was a moving experience, and I was glad to finally have a chance to tour the property.
Lunch was scheduled at Hell's Kitchen, the only restaurant on the week's itinerary that I had been to previously. I've been to Hell's Kitchen several times, but I made sure to try something new this time around. I ordered the delicious Walleye Tacos, and we got an order of the Lemon-Ricotta Hotcakes for the table. Both fantastic choices!
We had a free afternoon after lunch, so I decided a coffee break was in order. Penny's Coffee was recommended to me earlier in the week, so I figured I had to check it out. I loved the views of the skyline from the tables inside, and they had a beautiful patio outside, too.
On my way back to the hotel, I couldn't resist popping into the Meet Minneapolis visitor center for a quick picture of the Mary Tyler Moore statue. Did you know the Mary Tyler Moore show was set in Minneapolis? What was meant to be a quick photo stop, turned into a full on browsing session. There are so many cute items for sale inside—it's definitely worth a stop if you have some extra time in downtown Minneapolis. Plus, the helpful employees have a host of beneficial information if you need any tips or help exploring the city!
To round off the trip, we walked through the extensive skyway system on our way back to the Foshay Tower. We stopped at the IDS Center for views of the pretty glass ceiling and gave the non-locals a look at the world's longest continuous skyway system—it spans 11 miles and connects 80 blocks in downtown Minneapolis!
The Foshay Tower used to be the tallest building in Minneapolis and it has a very interesting history behind it. The tower is now home to the swanky W Hotel, but it has plenty of other fun stops to offer, as well. To learn more about the tower, a stop at the Foshay Tower Museum and Observation Deck is a must. I love this small museum and the views of Minneapolis from the observation deck are wonderful.
After the museum, we went down a floor to the Prohibition Bar on the 27th floor. This floor was originally intended to be the private apartment of the building's creator, but it is now a speakeasy bar with fantastic cocktails and small plates. I sipped on the Bleuphoria cocktail and we had several delicious small plates to share.
Our last stop of the trip was to Manny's Steakhouse, which is also located on site at the W Hotel. This steakhouse is legendary, and it has been voted as one of the best, in the city, country, and even in the world. Dinner was an endless stream of deliciousness—we dined on a 28 oz. lobster tail, an array of vegetables, loaded mashed potatoes, thick cut apple smoked bacon, and filet mignon. And, of course, several of us couldn't resist trying the Purple Rain cocktail after our visit to Paisley Park earlier in the day. For dessert, we had cheesecake, key lime pie and the giant Manny's brownie. Let's just say you could have rolled me out by the end of the evening. It was worth it though…Manny's is really that good.
It was a jam-packed week full of fun adventures. I had a wonderful time exploring my own backyard of Minneapolis, and it was great to discover so many new spots in a city that we love and call home!
Have you ever explored Minneapolis before? What would you like to see most?
Special thanks to the Marriott and all the fine establishments in this post for hosting me on a fantastic week in Minneapolis. As always, all opinions are my own.
Pin it!