06 Jul

Walking Tour through the Streets of Quito, Ecuador

Before our trip to the Galapagos Islands, we had a few days to spend in Quito, Ecuador's capital city. We didn't know much about the city prior to scheduling our Galapagos trip, but we were excited to have a couple of days to explore. That is, until we started to do a bit of research. Stories of muggings in broad daylight, kidnappings, unsafe taxis and more flooded our screens. Nearly every blog post, article and guidebook we looked at warned us about the dangers of Quito and how sketchy the city is. We were advised to not carry any valuables with us outside of our hotel, not to walk down quiet streets even during the day, to not go outside after dark, to only take registered taxis, and so on. We were preparing for the worst.

Thankfully though, when we arrived, we didn't have any of the uneasy feelings that we were expecting. The entire Old Town has been designated an UNESCO World Heritage site, and we were welcomed with charming architecture, colorful markets, lively streets in Plaza Foch and friendly faces.
Now, I'm not saying that Quito is entirely safe. When we arrived, locals still told us not to walk around certain areas of the city, we were told to be extremely careful with our valuables on public transportation or to avoid it all together, and every time we went out to eat, we were asked if we wanted an official taxi to be called to take us back to our hotel so we didn't have to walk. You should definitely exercise caution and take safety measures when out and about in Quito (or anywhere really), but thankfully, we didn't experience the Quito that we had read about prior to our visit. I'm not sure if it was because we prepared ourselves for a bad experience, if it was because we were extra cautious, if the safety of the city has improved recently, or if it was just a bit of luck, but we came out unscathed. We didn't carry our large camera around, we had the hotel call taxis for us and we didn't go wandering around deserted streets at night. Despite all of the warnings, we had a wonderful couple of days exploring Quito.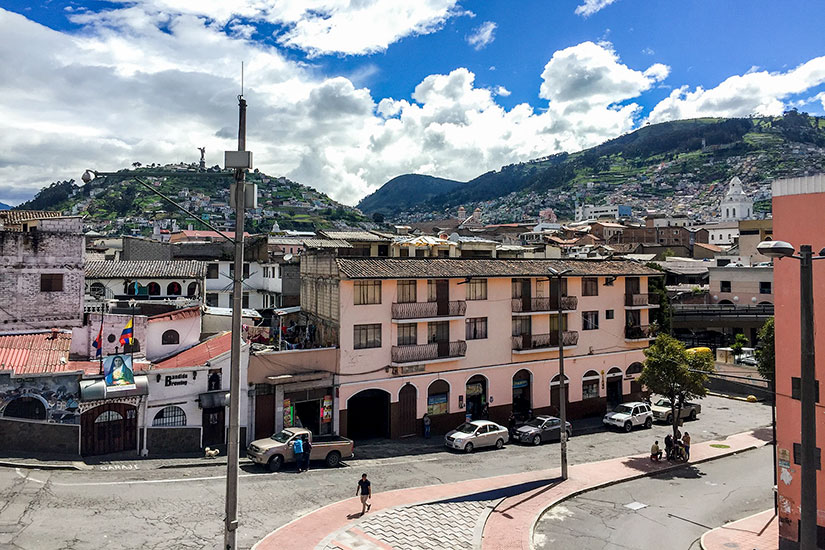 When we were deciding on how to spend our two full days in Quito, we came across a free walking tour of Quito's Old Town from Free Walking Tour Ecuador. We don't normally take general walking tours of a city, but we heard great reviews about this tour. Because we wanted to learn more about this place that we heard so much conflicting information on, we decided to join the tour. And, I'm so glad we decided to sign up for it—we learned a lot, visited some interesting spots, and overall, it was a wonderful way to spend the afternoon! The only regret I have is that because we didn't carry our DSLR camera with us around town, we barely took any photos. I guess I should have used my phone camera more!
Our 2.5 hour tour started at the Community Hostel right in Old Town. We were invited to free wifi, coffee and tea upstairs in the common room while we waited for the tour to start. Tours are offered two times per day (10:30 a.m. and 2:30 p.m.), Monday through Saturday, and while the walking tours are free, be sure to bring a bit of cash to tip your guide–they work hard for it!
Shortly after 2:30 p.m. our tour was underway and we walked a short distance to one of the main markets in Quito, Mercado Central. All of the guides are local Ecuadorians so they can offer an interesting perspective on the city. Our guide, Ovi, shared stories about the history of the market, as well as insights on the various flowers, fruits and vegetables, and foods for sale in the market.
He told us about the abundance of delicious fresh juice, and I think everyone in our group ended up purchasing one. For the life of me, I can't remember the flavors of the juices, but they just looked too delicious and were only a dollar or two—how could we pass it up?!
Sipping on our juice, we made our way to the next stop, Plaza de la Independencia, one of the main plazas in Quito's Old Town. The plaza was filled with locals enjoying a sunny afternoon, and after we learned a bit about the surrounding buildings, we made our way over to the Carondelet Palace where we were able to take a quick peek inside.
The palace is the seat of government of Ecuador and the building dates back to around 300 years ago. The president of Ecuador typically lives in the palace, but the president at the time of our visit decided to live off site in a different home, possibly because of the intense history surrounding the building. Several past presidents have been murdered in and around the palace grounds, so the building has quite the torrid history. We didn't get to go inside the palace on a tour because it is something you have to register for in advance, but we did get to walk across the front porch, take in views overlooking the plaza, and peek inside the building from the front gate.
From there, we made our way over to the Church of the Society of Jesus (Iglesia de la Compañía de Jesús), where we marveled at the ornate carvings on the outside of the building.
While we wandered through the streets we heard stories and learned about the history of the city.
Next it was time to head towards another church, San Francisco Church. We had the chance to go inside this church, and wander around. Unfortunately, photos weren't allowed inside, but it was absolutely gorgeous. As we listened to the songs from the service that was taking place, we tried to keep our eyes in their sockets—we couldn't believe the intricate details and beautiful gold covered surfaces standing in front of us! It was a beautiful church and I could have spent plenty of time ogling at the pretty designs in front of me!
After wandering around the church, we walked through a plaza that used to be a "black market" in Quito, and from there, we were able to look up towards the hill to catch a glimpse of El Panecillo, one of the cities iconic sites.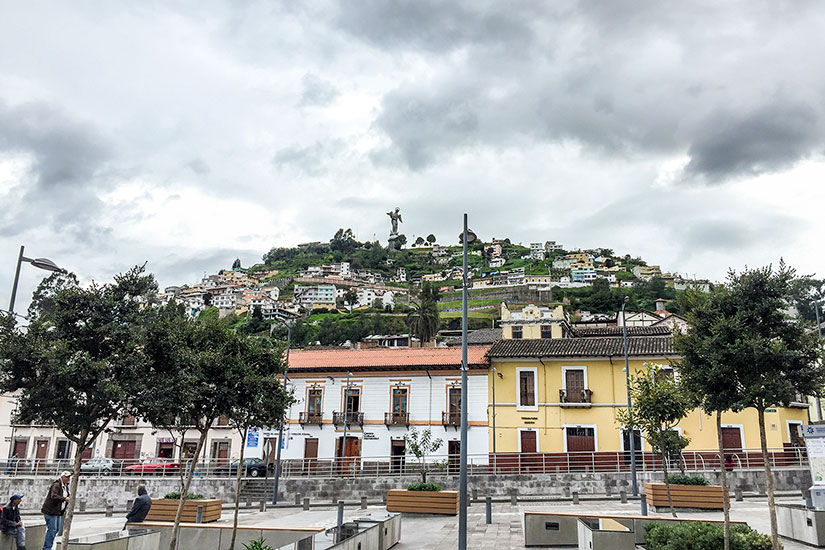 Our last stop was an adorable chocolate shop on La Ronda, one of the oldest streets in Quito. This area is filled with artist workshops, cafes, shops and restaurants, and it was one of my favorite parts of town. I loved the small streets lined with adorable, colorful buildings, and as we ducked into the chocolate shop, I began to find a soft spot for this city. Chocolate is one of Ecuador's top exports and we had the option to snack on coffee and chocolate as we learned the history of chocolate and how it is produced today.
Normally, our tour would have had a couple more stops, but our guide had a family emergency to tend to so he had to head out. Our tour still lasted just about 2.5 hours though, and it actually worked out perfect for us in the end. We arrived back at our hotel right as our Galapagos tour introduction was beginning thanks to Ovi finding us a safe taxi to make sure we could get back to our hotel.
We learned so much about Quito on our short couple of hours walking around the city with our guide. Throughout the tour, we discussed Ecuador's history, economics, politics and culture. Even though we didn't have time to go in depth on the various topics, we slowly began to understand the city and its charm just a little bit more. It was a fantastic introduction to a city that we weren't expecting much from, and although it wasn't our favorite city, we still had a great time exploring!
Have you ever been to Quito? What were your thoughts?