25 Apr

Camping & Hot Springs in Banff National Park

We loved Banff National Park so much that we ended up visiting twice in one summer. The first trip was for a video project, and the second visit was a getaway with a couple of friends. Both trips consisted of us spending a few nights camping in the park.
There are several campgrounds throughout Banff National Park, some accept reservations and some do not, but we were only able to stay in two of them. We camped at the Tunnel Mountain campground as well as the Lake Louise campground, and while both trips were similar in some ways, they were both vastly different, as well. Next time we visit, we would love to check out some of the more remote campgrounds, but until then, here's a bit of information on the ones we did visit and how we managed to warm up and get clean after a freezing night in our tents!
Camping at Tunnel Mountain Village I Campground
We camped at the Tunnel Mountain Village I Campground during both trips to Banff National Park. The location is very convenient as it is situated just outside the town of Banff, which is filled with trendy restaurants and bars, cute shops, museums, grocery stores, and plenty of activities. Basing yourself near Banff will give you easy access to the Banff Gondola, Banff Hot Springs, paddling on the Bow River, an abundance of hiking trails, many scenic lakes and all the town has to offer.
The Tunnel Mountain Village I Campground is quite large and it is made up of 618 campsites for tents. Not all of the sites have fire pits, but throughout the campground there are restrooms with showers and flush toilets. There is also a Tunnel Mountain Village II Campground which is available for campers and RV's.
Our first visit was for three nights, and we booked the C10 site which had a fire pit. We really enjoyed the layout of this site—the trees were perfect for hanging our hammock, we had partial mountain views, and we were close to the restrooms. The one thing we didn't like about this site was the lack of privacy. We always prefer campsites that are more remote and surrounded by trees, but the entire campground is fairly open and you can see lots of other sites around you in all directions. Thankfully, we didn't have any noisy neighbors and we lucked out with three peaceful days and warm temperatures.
The second time we made it to the Tunnel Mountain campground we stayed at site G55. This site also had a fire pit, and while it wasn't too far from the restrooms, it was farther than our first site, which is a bit of a bummer after dark. While the layout of the site wasn't quite as nice as C10, I liked how it was more private and secluded. You could still see plenty of other sites, but there weren't sites surrounding us in all directions.
Camping at Lake Louise Campground
The Lake Louise Campground has 187 campsites and is much smaller than the Tunnel Mountain Campground. All of the campsites here have picnic tables and electrical hook ups, and soft sided camping units, such as tents, need to stay inside of the closed electric fence that surrounds the campground that was set up because of the large bear population in the area. There are also restrooms with flush toilets and showers, which is always nice. The campground is located just outside of the Village of Lake Louise and has easy access to many great hiking opportunities, a gondola, Moraine Lake, Lake Louise, and plenty of other lakes in the area.
On our first trip of the year to Banff National Park, the Lake Louise campground was fully booked. We took a day trip out to the nearby area (Lake Louise and Moraine Lake), but unfortunately, we couldn't spend one of our three nights there. So, when it came time to plan our return visit, we were excited that we were able to book our first night at the Lake Louise Campground.
Our site number was A16 and it also had a fire pit—clearly booking a site with a fire pit became a trend for us—you just can't go camping without a bonfire, am I right?! We had quite a walk to get to the restroom and unfortunately, they weren't as clean as the bathrooms in the Tunnel Mountain Campground. I know we were camping, but it's always nice when you do end up with access to clean facilities!
We only had one night at this site, and it was a freezing night. The temperatures dropped down to 27ºF overnight, and we woke up with ice on our tent. After such a cold night and not the cleanest bathrooms, the last thing I wanted to do was to take a shower. So, instead of trying to freshen up at the campground, we made our way towards Banff for a soak in the Banff Upper Hot Springs.
Banff Upper Hot Springs
Let me tell you, visiting the Banff Hot Spring was one of the best decisions we could have made after a freezing night of camping. Not only was it a nice way to warm up, it was the perfect way to shower when camping! We were able to relax and take our time soaking in warm, steamy waters with views of the mountains in the distance.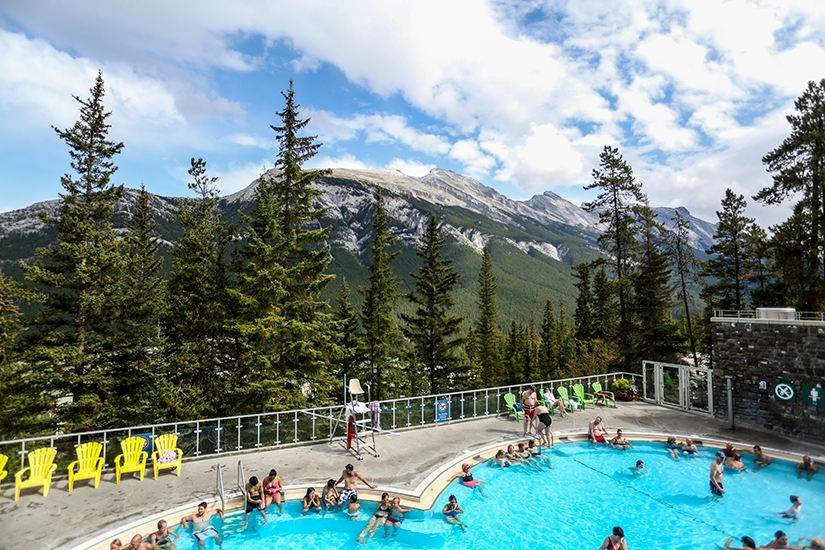 The hot spring offers a large pool, clean showers, toilets, lockers and a café. The water that is used in the hot spring is natural hot spring water that is heated geothermally by the earth. The temperatures of the water change with the time of year, but they range from 81ºF to 116ºF—during times when the natural hot spring water isn't flowing enough to fill the pool, the pool is topped off with heated municipal water. We had a great time at the hot spring, and there are a couple of other hot springs in the area that we would love to check out on our next visit!
Tips & Recommendations:
Permits are required to camp in Banff National Park. You need both a park permit and a camping permit, and if you want to have a fire, you will need a fire permit, too. The fire permits include wood and are valid for only one night, so you will need one for each night of camping if you want to have a nightly fire.
Quiet hours are from 11 p.m. to 7 a.m., and during this time, campfires, music, guests, and alcohol are not allowed.
In order to keep the campgrounds quiet, generators are only permitted to run between 9 a.m. – 10:30 a.m. and 5 p.m. – 7 p.m.
If you need to wash dishes, it is requested that you use the outdoor sink rather than the sink inside the restroom.
All campers need to comply with the 'Bare' Campsite Program, which has been set up to keep campers safe and the wildlife wild and alive. It's a good idea to read the full instructions, but some tips to follow are store all your food in a hard-sided vehicle or in the campground storage lockers when not in use. Also, when your campsite is unattended, be sure it is clear of coolers, food, dishes/pots, garbage, bottles/cans, pet food, and any items that are used to prepare food. If you don't comply to the rules, you risk your camping permit being revoked.