21 Dec

Reflections on 2016 and Goals for 2017

The year of 2016 has been quite the interesting year for the world, and for us here at Wander The Map, too. We've dubbed this year, "the year of learning".  Our year was filled with some fantastic highs and some extreme lows, both of which led to an abundance of personal growth. While we had plenty of amazing experiences and opportunities, we are looking forward to moving on and seeing what is in store for 2017. We always love reflecting on the year and thinking about our goals for the future, so once again, we are partnering with Michelin as part of their Be There Moments campaign to do just that. Here is a recap of our highs and lows from this past year, as well as our goals and plans for 2017.
Reflections from 2016:
Highs:
— After a year full of work projects, we managed to plan an entire two week trip that was free of any work obligations. Other than gathering content for the blog and answering some emails, we spent two weeks taking a much needed break from work. We made our way to four countries in Europe: Hungary, Slovakia, Austria, and Germany. Our time was spent exploring Christmas markets, finding numerous urban adventures in each city we visited, and enjoying lots of time relaxing at cafes and coffee shops.  While most of our travels contain elements of both work projects and non-work projects, this trip was the first long break we've had in almost two years.
— We finally took some time to concentrate on our health and get into shape this year. We have been so focused on work the past couple of years that we had completely let our health fall to the wayside. It was great to finally start eating healthier and exercising on a regular basis. Even though we are very active when we travel, we don't always eat the best—plus, our activity level drops drastically when we are at home. Making our health a priority was the first step in feeling better from the inside out and we can't wait to continue this trend into 2017 and beyond!
— Iceland is one of our favorite countries, and this year we had a chance to head back for another visit. We spent 10 days road tripping around the island in a camper van with our friends from Pure Adirondacks, and then Micah and I spent an additional five days exploring Reykjavik and the surrounding area. The trip was filled with so many fun adventures, some of which we have yet to share with you here, so stay tuned for more stories from Iceland soon!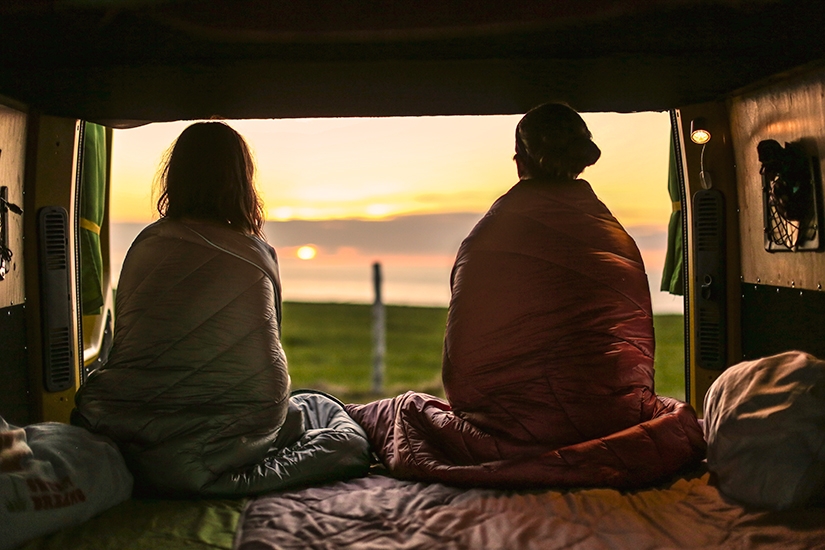 — Redesigning this website was high on our list of priorities for the past couple of years, and this year was the year we made it happen. We worked for a couple months straight to create a new design from scratch and our new layout went live in April. We still have a few minor tweaks to make and pages/features we want to add, but it was so nice to get a good start on the redesign.
— Micah started building a tintype camera with his dad back in 2014, and he finally finished it this past summer. The camera was a personal project that enabled him to take a step back from the world of digital cameras and focus on taking time to create images on tin. To learn a bit more about the project and see some of the photos he has created, check out his Instagram @craftedbylight.
— Since moving home to Minnesota in 2014, we have been trying to find time to add more skiing into our lives. While we went several times over the past couple of years, this past fall we finally purchased our own sets of skis! This means that it will be even easier to get out on the slopes. Now, we will only have to purchase lift tickets (and not rentals), making it more financially feasible for the years to come, and it will be nice to ski on the same skis instead of learning on a new pair each time we head out. One of our favorite ski experiences last year was skiing in a snowstorm at Lutsen Mountain in northern Minnesota. It was so cold, but we practically had the slopes to ourselves!
— Spending time at home with our family has been a huge priority for us as of late. Even though we didn't get to be home as often as we liked, we made it home way more than we did in 2015, so at least it was a move in the right direction!
— It is so hard to narrow down, but some of our favorite travel experiences from this past year were going for a glider ride in New York, having a rain forest adventure in Puerto Rico, sailing on Lake Michigan in Milwaukee, Wisconsin, going on a street art tour where we made our own art in Berlin, Germany, relaxing at the Thermea Nordic Spa in Winnipeg, Canada, and taking a cooking class in Budapest, Hungary. Oh, and we can't forget the time we came across a black bear with cubs when we were hiking in Manitoba, Canada—yes, it really was a high to see a bear out in the wild! We had so many other exciting adventures this past year that could be added to the list, but we will be recapping everything in an upcoming post soon.
— We had the chance to work with several awesome clients this past year and we formed a couple of long-term partnerships that we are excited about. It's so great to work with companies and businesses that we jive with and we are looking forward to expanding on this even more next year.
— Most of all, we are thankful to learn from our experiences and come through this year with a better outlook for the future. We are looking forward to having more clarity in both our business and personal life in 2017!
Lows:
As I said above, we dubbed this year "the year of learning", and while there were many challenges presented to us throughout 2016, we were able to learn many valuable lessons along the way. These lessons range from work/life balance to ways we work with clients and everything in between. Here are some of the lows we experienced:
— One of our main plans for the year was to spend most of our summer at home in Minnesota. Instead, we spent the majority of the summer on the road working on projects—while we were happy to have an abundance of work, it definitely messed with our plans to enjoy the lake and family!
— We spent too much of the year hopping from city to city and place to place. The reasons for so much movement were work related and not our own urge to try and fit everything in all at once, and it was exhausting.  We learned we need to focus on slowing down and moving at a more reasonable pace.
— Because of this crazy fast pace we had for most of the year, we ended up missing out on several exciting opportunities. These opportunities consisted of both work projects and last minute travel plans. We didn't leave enough time open in our schedule for spontaneity, and that definitely needs to change.
— We did a poor job with creating and filling our schedule this year. To make room for a project that we just couldn't pass on, we had to cancel the last two weeks of a trip to Europe in July. Financially, we are happy for the opportunity, but it was a huge bummer as I was looking forward to that trip for almost a year.
— Unfortunately, on the last day of our camper van road trip in Iceland, I caught hand foot and mouth virus and spent the rest of our trip under the weather. I spent an entire day in bed and slept 20 hours straight—I had painful blisters on my hands and feet and couldn't keep food down. It was miserable. I managed to get out and about the last five days of our trip, but it was hard to fully enjoy our adventures while feeling so horrible.
— Freelancing can be so wonderful as it gives you flexibility and a lot of freedom, but it can also be challenging when you are waiting on payments from clients when relying on an income stream that has major ebbs and flows. We had a couple of challenging financial moments this year, but in the end everything worked out and ultimately we are so happy to have a job that we love!
— On that note, we also had a few jobs with challenging clients. I'm not going to go into detail, but let's just say we are going to be more diligent about creating boundaries and expectations going forward—it's not fun when people try to take advantage of you!
Goals for 2017:
While we have plenty of goals that we want to achieve with our website and businesses, we have three main goals for the year.
One of our goals for 2017 is to focus on quality over quantity. While we love travel, we have learned we need to slow down and not move around quite so quickly. Moving to a new hotel every night gets tiring, and we don't have a chance to really experience the destination we are visiting. Even though our various work projects often require moving from spot to spot on a fast timetable, we need to work on planning in some downtime either during or before/after projects.
This plays into the previous goal we mentioned, but another goal is to work on our work/life balance. Planning in more time at home to see our family and friends is very important to us and we hope to find a better balance this year and going forward.  We appreciate a busy work schedule because it means we can keep doing what we love, but we have realized that we need to create a better balance for ourselves with the trips that we take and the jobs we accept. This was made very apparent in 2015 when we spent the majority of our time on the road, and we received many reminders of this again in 2016. While I was able to spend some time at home catching up on life and work, we still need to work on finding that right balance between the two.
Our last big goal for 2017 is to keep our schedule open for spontaneous adventures to take hold. We have several trips in the works for the upcoming year, but only one is set in stone. At this point, we are planning road trips with flexible dates and are only penciling in other trips just in case we want to switch up our schedule. The past couple of years we have missed out on several opportunities both personally and for work because we had too many projects and trips already set in stone. We want to try a year of spontaneity to see how it goes, and hopefully we can take advantage of some of those last minute cheap flight deals that I am always finding!
Travel Plans for 2017:
I know I just got done saying we are leaving room in our schedule for spontaneity, but we are still planning on having another year full of travel so we wanted to share a bit about what is to come. In February, we are heading to Alaska and we are over the moon excited! This is a trip we've wanted to take forever, and we are so happy to have it set in stone.
The other trips in the works are road tripping through Alberta and British Columbia in Canada, as well as the West Coast of the United States. We are hoping to explore more of Wyoming, Montana, Colorado, California, Washington and Oregon. We are also talking about a trip to the UK and we would love to get back to explore more of Asia, as well. That said, we are trying to leave this year open for spontaneous adventure, so who knows what opportunities will present themselves.
Stay tuned and we hope you all have happy holidays and a wonderful 2017, as well!
Thanks to Michelin for sponsoring this post. When it comes to those we care about, no distance is too far. Use #BeThereMoments on Instagram to connect with a community of likeminded people who are making the effort to show up when it matters most.