16 Nov

A Photo Essay: Road Trip through Nebraska

This is a sponsored post written by me on behalf of Nebraska Tourism. All opinions are 100% mine.

We packed up the car and set out for a five-hour drive from our hometown of St. Paul, Minnesota. Our destination of the day was Omaha, Nebraska, and we were about to embark on a road trip with Visit Nebraska to see what adventures we could find throughout the Cornhusker State.

While we tried to keep our schedule open for spontaneity, we did share some ideas of what we might do during our road trip. We had four days and lots of driving on the horizon, so we didn't get to fit in everything we had hoped to see, but we did end up visiting a number of fantastic spots throughout the weekend!

Our first day was spent exploring Omaha, Nebraska, and the second day was spent in the state's capital, Lincoln, Nebraska. Exploring the cities at the beginning of the trip was a nice contrast to the nature we visited out west on the last couple of days. We were impressed with the diverse landscapes and vibrant cities that we found—here's a photo recap of our favorite adventures from our road trip through Nebraska!

When we arrived in Omaha, we made our way to Wilson and Washburn for lunch and then took in the city skyline views at the Gene Leahy Pedestrian Mall.
Our hotel for the night was the new EVEN Hotel Omaha. I absolutely adored this hotel–with games available in the lobby, free filtered and flavored water on tap at all hours, amazing work out facilities with a dedicated spin cycle room, a self service market, and a pool, the attention to detail was amazing. In addition to all of this, each room is equipped with an array of exercise equipment such as resistant ropes, stability ball, yoga mat and multiple channels of ever looping exercise videos on the TV!
The Joslyn Art Museum was located only a few blocks from our hotel, so we made the short walk over to check out some art. The museum is free and is filled with art spanning from several centuries; there are also plenty of sculptures outside to view, as well.
Downtown Omaha is home to the cities historic neighborhood, Old Market. Cobblestone streets are lined with boutiques, restaurants, art galleries, bakeries, coffee shops, and a variety of entertainment options.
After exploring downtown, we made our way over to the Blackstone District, which is one of Omaha's newest up and coming entertainment neighborhoods. This area is filled with history, as well as plenty of new bars, restaurants and shops. Our waitress from lunch at Wilson and Washburn made us an amazing list of things to do and places to check out in Omaha. We definitely weren't disappointed with her suggestion to check out Nite Owl, a quirky cocktail bar and restaurant in the Blackstone District.
After a day of exploring Omaha, we had one more stop before making our way to Lincoln. Breakfast at the adorable Over Easy was calling our names, so we made a quick stop for a delicious breakfast before leaving town.
Because day two had another six hour drive on the itinerary to make it to western Nebraska, we only had about 5 hours to spend in Lincoln. Thankfully, we packed a lot in during our short visit to the state's capital. We explored downtown Lincoln and the free museum, Sheldon Museum of Art.
Another stop in Lincoln consisted of a brewery, but this wasn't just any old brewery visit! The taproom at Blue Blood Brewing Co. sits on top of an old cave called Robber's Cave, and the brewery tours give you a look at both the brewery and the cave. It was very interesting to learn not only about the brewing process, but about the history of the cave and how it was used in the past!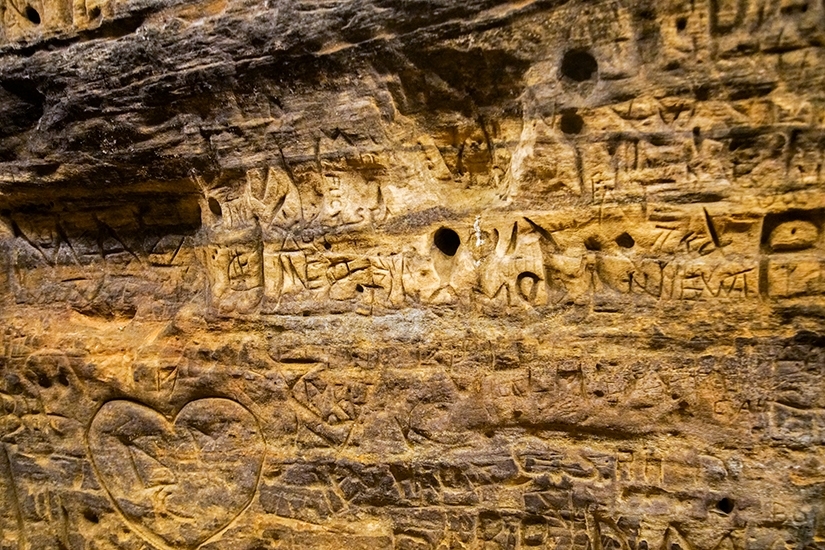 Another area we visited in Lincoln was the Historic Haymarket and Railyard. These entertainment districts are right next door to each other and offer plenty of options for dining, shopping, art and more.
As I mentioned before, my one goal for this trip was to figure out what a Runza actually consisted of. Well, I succeeded–we made our way to the home of the midwestern sandwich for a quick bite to eat before our drive out west. A Runza is a sandwich stuffed with ground beef, onions, cabbage, and spices, and you can add a variety of other toppings, as well. My Runza was a little smushed, as evidenced in the photo below, but it was actually pretty good!
The rest of the evening was spent driving out west to Scottsbluff, and because the sun sets so early this time of year, most of our drive was in the dark. The next morning, we made our way over to Chimney Rock and reminisced about one of our favorite childhood games, Oregon Trail. We laughed as we looked out at the landmark of Chimney Rock and couldn't help thinking about covered wagons, forging the river and dysentery.
Scotts Bluff National Monument was next on our list of stops for both its history and beautiful landscapes. This area was an important landmark on the Oregon Trail, as well, and we even got to walk a portion of the old Oregon Trail where I may have had a standoff with an ox…
Scottsbluff is a small town in western Nebraska, but it is home to a restaurant that is voted to be one of the 10 best restaurants in the state. We couldn't leave town without paying it a visit, so after exploring Scotts Bluff National Monument, we went into town for a meal at the Emporium. I ordered a gyro with sweet potato fries and Micah ordered a burger with fries, and we were both impressed. It was so good and ended up being our favorite meal from the trip!
I can't quite remember where, but I once saw an article about the strange site of Carhenge. When I realized it was in Nebraska and we were practically driving right by this quirky roadside attraction, I couldn't resist stopping. Carhenge is a sculpture that was built to resemble Stonehenge, but instead of using rocks, they used actual cars. In addition to the main attraction, there are several other car art displays on site such as the Auto-Graph Car and The Fourd Seasons. It was a great way to break up the drive on day three of our road trip through Nebraska.
Our last morning in Nebraska was spent exploring Toadstool Geologic Park which is located in the northwestern corner of the state. We were completely blown away by the unusual rock formations and landscapes in this area and it quickly became one of our favorite hiking spots that we've recently visited. It might have been because it was a weekday, but the entire time we explored, we only saw two other people. The park is located away from any towns in the area, and the silence was almost eerie.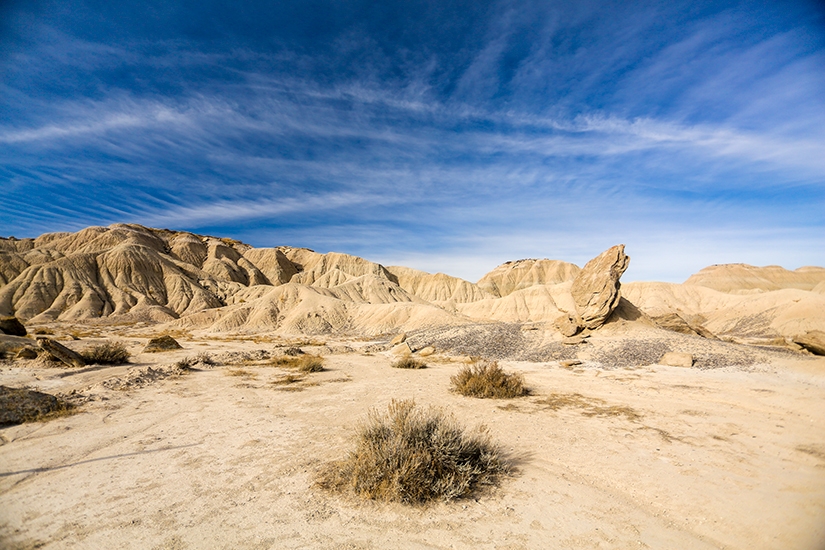 We spent quite a bit of time mesmerized by the rock formations and exploring the interpretive trail before we had to pull ourselves away. Toadstool Geologic Park was the perfect way to end our road trip through Nebraska!
Have you ever taken a road trip through Nebraska? What Nebraska Events would you like
 to check out?