21 Oct

Creating Art at the Corning Museum of Glass

I never knew glass could be so fascinating. When we were road tripping through the Finger Lakes region of New York this past summer, we just had to plan a visit to the Corning Museum of Glass. While I was fully expecting to have a great time at the museum, I'm surprised to say that it ended up being one of my favorite museums of all time. With interactive exhibits, classes, demonstrations, historic pieces, scientific exhibits and some of the most detailed and creative art I've ever seen, there were countless opportunities to be inspired by a medium that I had previously only thought about in very basic forms.
There is literally something for almost everyone at the museum, and each museum ticket is good for two days of exploring. Two days at one museum may sound a little excessive, but because there is just so much to see, I could have easily spent two full days wandering around and staring at all the little details of the art in the exhibits. We only had time to spend one day at the Corning Museum of Glass, but it was a day well spent. We definitely got a good taste of everything the museum has to offer—we watched a glassblowing demo, walked through most of the exhibits, made our own glass art, and even had lunch in the delicious on site restaurant.
In addition to the museum and experiences for visitors, the Corning Museum of Glass also offers space for artists and students to learn and hone their glassworking skills. There is also a scientific research department at the museum—from technical knowledge, historic and modern uses, research on science and technology and advancing the art of glassmaking, there is always something interesting brewing in the research department.
With so much to see in so little time, here is a breakdown of what we experienced at the Corning Museum of Glass:
Exhibits:
There are many exhibits, galleries and collections in the Corning Museum of Glass—seriously, this place is huge! Some of the collections are Glass in Nature, Glass of the Romans, Asian Glass, Paperweights of the World, Modern Glass, Origins of Glassmaking, Crystal City, Contemporary Glass and more. I lost track of how many different collections were in the museum, but there is room after room of interesting displays. Other sections of the museum include rotating exhibits, the innovation center, and a conservation department.
One of my favorite exhibits was the new contemporary gallery building; even the building was a work of art. The roof is made up of diffusing skylights, which means that the light shines in from different angles all day long, and as the sun moves the exhibits change and reflect light in different ways. I loved the creative way these artists used glass to create magnificent pieces of art, and I couldn't get enough of this gallery.
Another one of my favorite areas was the Innovation Center. I have always been a science lover, so learning about all the ways that glass is used in our day-to-day lives was extremely interesting. I didn't realize or hadn't thought about how much we use glass every day! There are displays about optics, windows and vessels, aka glass containers of all kinds. These displays explain how different creations were invented, they provide information about the inventors themselves, and they have interactive displays where you can get a hands on approach to learning.
Demos:
If you want to see artists at work and learn how various glass pieces are created, head over to one of the demos offered throughout the day. You can watch a variety of shows such as hot glass demos, flameworking demos, glassbreaking demos and optical fiber demos.
Our first stop of the day was to watch a glassblowing demo. We watched the glassmakers create a piece from scratch while a narrator explained each step along the way. It was the perfect introduction to the museum and definitely got us excited for the day ahead of us.
Make Your Own Glass Experience:
There are several Make Your Own Glass experiences offered at the Corning Museum of Glass, and each experience lasts between 20-40 minutes. You can try your hand at glassblowing, glassforming, fusing, sandblasting, or flameworking, and each technique gives you the opportunity to pick from an array of different designs such as flowers, sculptures, ornaments, pendants and frames. While the projects require no previous experience, a parent or guardian must be present for children to participate.
I decided to try my hand at glassforming and created a flower. My first step was to pick out three colors, and I ended up selecting white, light green and dark green. I suited up in my safety gear of gloves, apron, a sleeve and glasses; it was time for my mini lesson. The instructor briefly went over the process of spinning and pulling the glass, and then we got to work. First of all, the entire process is definitely a challenge—glass artists have some extreme talent and glasswork is not as easy as it looks! But, have no fear, the instructor does end up pulling most of the weight of the project. I was guided through every step of the way and offered assistance when I struggled. I twirled the bar, flattened out the glass, pulled the flower into shape and gave the stem a twist at the end. Let me tell you, if I didn't have the help, my end result would not have been pretty! But with just a short 20 minute lesson, it was fun to get a taste of the challenging art of glassforming, and it definitely made me want to give it another go sometime in the future.
Since I created the flower, Micah decided to try something different and went with creating a glassblown ornament. Micah picked out blues and white for his color options, and then got to work blowing and spinning the glass. Most of the work for this project consisted of Micah giving the pole a few spins and then a few puffs of air as the instructor helped with the actual glass work. The ornament turned out really nice and it was interesting to see how glassblowing worked firsthand. This process was much less hands on than the flower—he still had fun, but if you are looking for a more hands on experience, we would say the flower is a more involved process.
If you have time and want to get a more in depth look into working with glass, the museum also offers a variety of other options, as well. There are one-day workshops, weekend workshops and even longer workshops that last one to ten weeks.
Cafe & Shop:
The museum café offers pastries and coffee in the morning, and lunch is served starting at 11 a.m. with a limited menu starting at 2 p.m. I was super impressed with the café and the variety of options offered—it was hard to make a decision because everything looked so delicious! The café is set up like a cafeteria with several different stations. There are lines for soup and salads, pizza, sandwiches, made to order pastas, and a hot entrée that changes depending on the day. Micah ended up deciding on the made to order chicken alfredo pasta, and I went with the hot entrée, sweet potato stir fry; we definitely made great choices.
The museum shop is located next to the café and it is stocked with most any glass item you can imagine. We looked at dishes, kitchen supplies, decorations, jewelry and much more. If we didn't already have a fully loaded car, I would have been tempted to buy way too many items!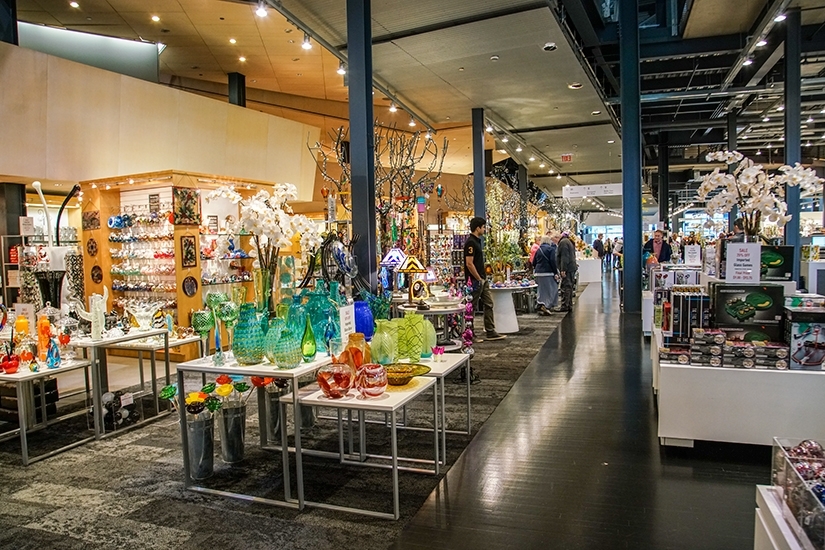 After a full day of exploring, I have to say that the Corning Museum of Glass was one of my favorite experiences on our Finger Lakes road trip. The museum is worth a visit in its own right, and when you add in all of the exciting adventures you can have in the surrounding areas, the Finger Lakes region is a wonderful vacation destination and one we would highly recommend!
Special thanks to the Corning Museum of Glass and the Corning and Southern Finger Lakes tourism board for organizing and hosting us on so many amazing adventures throughout our week in New York. As always, all opinions are our own.