28 Sep

Happy Campers Iceland Road Trip – Part 5: What to Pack for a Camper Van Road Trip

Packing always seems to be a challenge. I love packing light and prefer to pack carry-on only whenever possible. There's something freeing about traveling light, especially when you are moving from place to place. But, sometimes, packing light just isn't an option, especially when you are taking a trip that requires special supplies such as camping or sporting equipment. Our Happy Campers road trip was somewhere in the middle. We needed to pack more than we would for a normal city break or beach vacation, but because the camper van was so well stocked, we didn't need a full pack of camping supplies either.
Going into the trip, we had no idea what we needed to bring with and we also had no idea how much storage space we would have in the camper van. So, we tried to pack as little as possible while still bringing all the essentials with. Looking back, there were several items we wished we would have packed and several items we didn't need to bring with, but overall, we did end up packing pretty well and had plenty of extra room to store our gear.
With that, here are our suggestions and ideas for what to pack for a camper van road trip. We will discuss what to pack for your road trip (or purchase when you land), what is included in the rental, and which extras are worth adding onto your rental. This list is based off of our rental with Happy Campers in Iceland, but it could easily apply to any camper van road trip around the world!
What to Pack for a Camper Van Road Trip:
Soft-Sided Luggage – We packed most of our supplies in our soft-sided Marmot bags because they are much easier to stash in the back of a crowded space than a hard sided suitcase. Micah has the 60 liter and I have the 45 liter version—we both could have used a little more space, but we were able to fit everything we needed in these sizes.
Inverter Power Strip – The combination of inverter and power strip allows you to plug-in multiple electronics to the dashboard at one time. Definitely handy when you have several people trying to power up at once!
Small Blanket – It was very convenient to have a couple extra blankets when you have several people with different internal body temperatures. I was wrapped up in my Rumpl almost the entire trip!
Water Bottle – A water bottle is helpful for not spilling while traveling on bumpy roads and for taking with on hikes.
Headphones – Sometimes you just need a little peace and quiet or you want to listen to something different than the rest of the crew, so headphones are a must.
Eye Mask and Earplugs – Sleeping during the midnight sun can be troublesome so an eye mask is helpful, and earplugs are necessary because you never know what you might park next to!
Daypack/Small Backpack – Packing a daypack for hikes is always smart.
Headlamp/Flashlight – If you are traveling in Iceland in the summer you won't need this (thanks to the midnight sun!), but if it is going to get dark outside, extra light is always helpful.
Bug Spray and Sunscreen – No explanation needed!
Paper Road Map – It's always good to have a back up just in case.
Trash Bags – Grocery bags are great to reuse for trash if you have any extras from the store.
Tent – We brought a tent with and didn't end up using it, but it's nice to have just in case you want to get away from the group for a night or if you plan to do any backpacking.
Flip Flops – Nice to have for showering at the campsites.
Travel Towel – Also nice to have for showering J And, for the hot pots you will find in Iceland!
Toilet Paper – Just in case—you never know.
Dramamine – Camper vans can get bumpy! If anyone is prone to motion sickness, some sort of motion sickness medication is always a good idea.
Entertainment – It's nice to have something to entertain yourself with on long drives or in the evening when you are relaxing. Books, small games like Bananagrams or a deck of cards, and a supply of music on your phone are all great options.
Slippers – I didn't bring any, but would have loved to have a cozy pair of slippers on the chilly evenings in the camper van.
Camera/Computer/Electronics – This will be different for everyone, but we couldn't resist bringing all of our camera gear to capture the gorgeous landscapes of Iceland!
Personal Items & Clothing – Obviously this one will vary greatly depending on how you travel, but I'd recommend bringing your normal travel toiletries, a mix of active and comfortable clothing, base layers for the chilly evenings, hiking shoes, rain jacket, and swimsuit.
Food – See our post about cooking on the road for the type of food we packed and purchased upon arrival, as well as ideas on easy dishes to cook. Pack any items you can't get on the road such as specialized dehydrated foods (like our Good To-Go's), Munk Packs or your favorite protein bars. Everything else can likely be purchased when you arrive.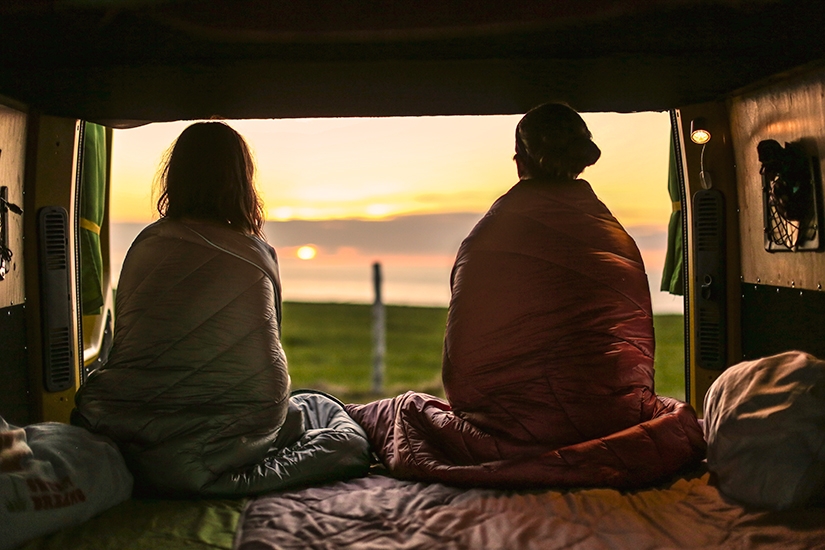 Happy Campers camper vans come with the following items included. If you are traveling in a different part of the world with a different company, you might need to pack some of the following items, as well:
Bedding and Pillows – We received four pillows and two sets of bedding with sheets and blankets.
Kitchen Supplies – Plates, bowls, cups, silverware, pot, pan, gas grill, dish towel and dishcloth, soap, brush for washing dishes, and cutting board

Happy Campers also offers several items as "add-on" options. Here's a breakdown of which ones we found useful:
Table and Chairs – We enjoyed having a table for both inside the van and outside, and extra chairs always come in handy.
Inverter – We brought our own, but it was nice to have an extra inverter for more ways to charge our devices. There was only one outlet in the inverter from Happy Campers, so it's still smart to bring an inverter power strip if you have one.
Extra Gas Canister – If you are planning on cooking most of the trip, it's always nice to have extra gas on hand. I believe we went through 2 or 3 cans and we cooked most of our meals for 10 days.
Coffee Press – If you are a coffee addict like me, I would grab a coffee press because they are a free add on.
While you might need less or more with you depending on the type of trip you are taking, we hope this helps you get started! Packing can be difficult when you don't know what to expect, so we wanted to share our insights with you from our trip. We'd love to hear what you find essential to pack on road trips—share with us your "must have's" in the comments below!
Stay tuned to learn even more about our adventures in our Happy Campers camper van:
Happy Campers Iceland Road Trip – Part 1: Camper Van Tour
Happy Campers Iceland Road Trip – Part 2: Our Itinerary Day 1-5
Happy Campers Iceland Road Trip – Part 3: Our Itinerary Day 6-10
Happy Campers Iceland Road Trip – Part 4: Cooking on the Road
Happy Campers Iceland Road Trip – Part 5: What to Pack for a Camper Van Road Trip
Happy Campers Iceland Road Trip – Part 6: Logistics, Expenses and FAQ's
Special thanks to Happy Campers for providing us with a complimentary rental. As always, all opinions are our own.