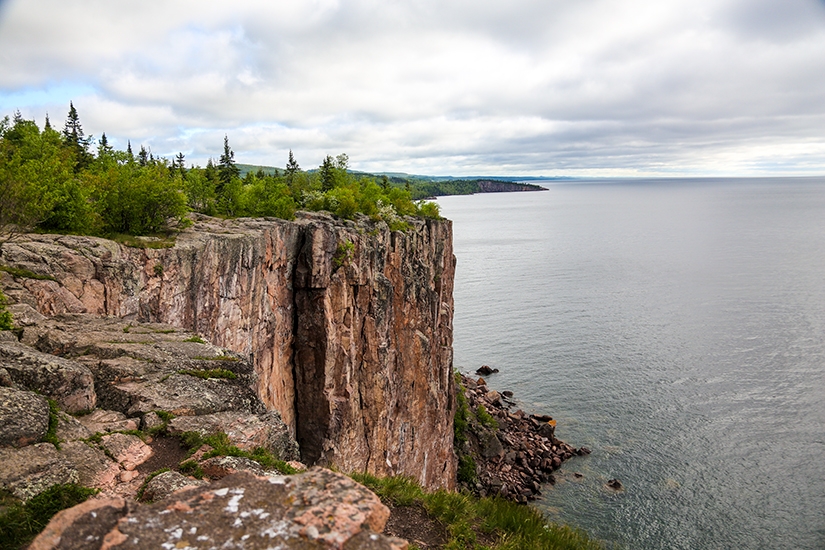 05 Aug

Road Trip through Northeast Minnesota

One of our favorite areas of Minnesota is the northeastern region of the state, in particular the stretch of land from Duluth to Grand Marais. This area borders Lake Superior, the largest freshwater lake in the world—Lake Superior is so large that it feels more like an ocean than a lake! In the past, Duluth was voted the best outdoor town in America by Outside Online, so we definitely aren't alone in our love for this region.
We've explored this area of the state many times throughout the years, and we had the opportunity to visit again this summer in conjunction with the TBEX conference and Explore Minnesota. TBEX is a travel blogging conference that is held several times per year in cities around the world, and one of the 2016 destinations was Minnesota. We were excited to have so many travel bloggers and friends exploring our backyard, and we had a great time on our Post-FAM road trip exploring northeast Minnesota. Unfortunately, we had to leave the trip a day early for a wedding, but the rest of the group made their way to Ely for canoeing and wildlife adventures after our departure. Our crew consisted of Vicky from Vicky Flip Flop Travels, Leslie from Unravel Travel TV, Vicki Winters from The Vicki Winters Show, Alyssa from Explore Minnesota, and us.
Our two-day trip was packed with so many fun activities. Here are some of our favorite adventures from the trip and stops you should definitely consider adding to your itinerary when traveling around Minnesota!
Glensheen Mansion
The Glensheen Mansion is a beautiful 39-room estate that is located on the shores of Lake Superior. The house was built in the early 1900's, and with its colorful history and fascinating design details, it is well worth a visit.
To start off the evening, we were supposed to have a bonfire by the lake, but the rain decided to ruin our plans. Instead, we took a walk around the grounds before heading inside for a brief tour of the house during the daylight.
Then, after the sun went down, we were in for a completely different type of adventure: the flashlight tour. This tour takes place at night with all the lights in the house turned off—the only source of light is the guide's flashlight. It was both spooky and amazing to see the house in a different light.
Vikre Distillery
The Vikre Distillery is located in the Canal Park area of Duluth, and when we stepped inside, I immediately fell in love with the décor and style.
After a behind the scenes tour of the distilling process, we all ordered up a cocktail made with their handcrafted spirits. I tried the Swedish Sno Cone craft cocktail—it was both pretty and delicious!
Vista Fleet Boat Tour
Getting out on the water is a must when you are in Minnesota, and Vista Fleet offers some great tours of Lake Superior. We hopped on the 75-minute Waterfront Tour of the lake and the harbor. I've actually been on this tour a couple of times before, but each time has been different, and I always love boat rides especially on a sunny day. This time around, one of our very own, Vicki Winters, grabbed the mic to join in on the narration! The tour was the perfect way to have a relaxing but entertaining afternoon.
The Duluth Experience Bus Tour
The Duluth Experience offers a variety of tours such as kayak, biking, brewery, walking and bus. Some of the tours cover general history and/or sightseeing around the city, and others cover Duluth's darker history topics. Our tour for the afternoon was a history and sightseeing tour, and our entertaining guides showed us some of Duluth's top sites while sharing interesting facts along the way.
We encountered a bit of rain on the ride, but we didn't let that stop us—we stopped outside of Bob Dylan's childhood house for a rainy photo. I never realized that he was originally from Duluth!
A couple of the other stops we made were Enger Tower and a stop along the Duluth Skyline Parkway for views of the city and lake below.
Split Rock Lighthouse
The iconic Split Rock Lighthouse sits high on a cliff overlooking Lake Superior. Weather on the Great Lakes is unpredictable, and over the years there have been many shipwrecks on the lake. After a storm damaged 29 ships in 1905, officials decided a lighthouse needed to be built, and Split Rock Lighthouse was completed in 1910. The lighthouse was operational until 1969 and has since become a State Park and National Landmark. Now, you can tour the lighthouse, the keeper's house, the oil house and the fog signal building.
Palisade Head
For some of the best views along the shore of Lake Superior, head to Palisade Head in Tettegouche State Park. After driving up the steep road to the upper parking lot, you will find stunning cliffs and sheer drop offs to the lake below.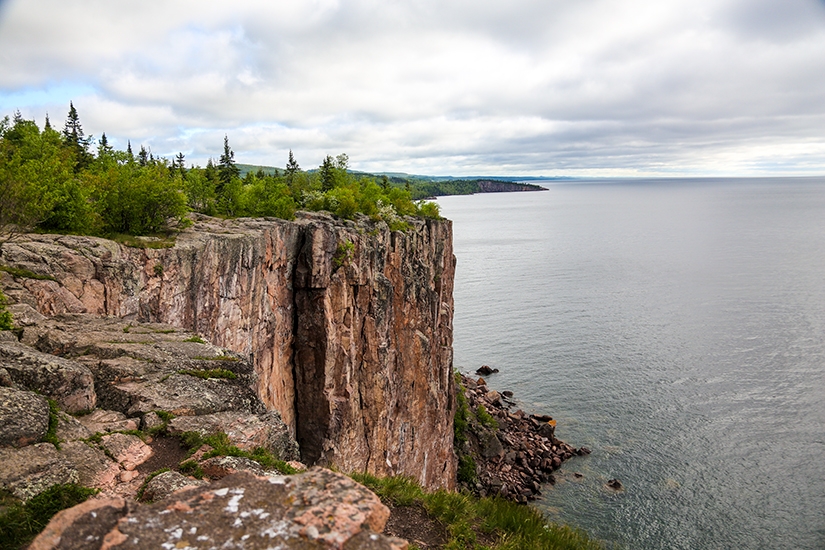 Lutsen Mountain
One of our favorite places in Minnesota is Lutsen Mountain—it's a fantastic ski resort with plenty to offer all year long. We love skiing at Lutsen in the winter, but since we were visiting in the summer, we were able to experience the new gondola with greener surroundings.
We rode the gondola to the top of Moose Mountain where we took a short walk to an overlook along the Superior Hiking Trail. Then, it was time for lunch with a view at the Summit Chalet.
Cascade River State Park
Another one of our favorite spots is Cascade River State Park. The hike along the river offers amazing views of the waterfalls that cascade their way down the river. Cascade River State Park is a great spot for both camping and hiking, but this visit was all about checking out the beautiful waterfall.
Shopping and Sights in Grand Marais
Grand Marais is an adorable lakeside town, and where we stayed the second night of our trip. The streets are filled with shops and restaurants—if you are in the mood for some shopping, be sure to check out Silverston Gallery, Lake Superior Trading Post, Joynes Ben Franklin, and Stone Harbor Wilderness Supply.
For a dose of nature, walk along the beach of Lake Superior and try your hand at skipping rocks. Another option is to walk out to the lighthouse or Artist's Point for some peaceful views of the lake.
Grand Marais Artisan Tour
We also checked out some of the artisan spots in Grand Marais—for such a small town, Grand Marais is surprisingly filled with an amazing art culture. Both the North House Folk School and the Grand Marais Art Colony provide space for residents and visitors to work on and develop artisan crafts. The Grand Marais Art Colony has studio space for artists to create their art, such as clay, glass, painting and printmaking, on site.
The other spot we visited was the North Folk School. I'm so glad we were able to check this place out as I had no idea it existed even though we've driven by it many times in the past. The North Folk School is amazing and offers a wide range of classes to learn almost any artisan craft around. We toured the classrooms and saw wool being dyed, boats being built and lessons being taught. Classes range from things like cheese making to boat building –some of the courses last a day, but many are multi day classes. I definitely want to take a class here at some point; the only hard part will be narrowing it down to my top choice!
Voyageur Brewing Co
Breweries have been popping up all over Minnesota, and Grand Marais is no exception. Voyageur Brewing Co is located right downtown and serves up great brews and some delicious food (try the cheese curds!), as well. Plus, they often have live music, and we were lucky enough to catch a fantastic performance by Plucked Up String Band.
Restaurants
There are so many wonderful restaurants to visit in this region. On this trip, we stopped at several great spots—first up was Tobies Restaurant & Bakery in Hinkley, to grab some cinnamon buns and caramel rolls for the drive. They were amazingly hot and delicious and the perfect treat for the ride north. When we arrived in Duluth, we had lunch at Grandma's Saloon & Grill, one of the iconic restaurants in the city.
Then, we went to Canal Park Brewing for dinner—this spot is always one of our favorites and I love their fish tacos.
In Grand Marais, we went to My Sister's Place for dinner, which is another one of our favorite spots. If you are feeling adventurous, try the Goober Burger. It's a burger with peanut butter and mayo—it sounds horrible, I know, but it is surprisingly good!
Some of our other favorite restaurants in Duluth are Northern Waters Smokehouse, Little Angie's Cantina, and Pizza Luce. In Grand Marais, we also love Gunflint Tavern, Dockside Fish Market, and Sven & Ole's Pizza. Both cities have plenty more options that we would love to try at some point in the future—I guess we just need to make more road trips up to the area!
Where to Stay
There are plenty of great spots to stay in northeast Minnesota, but on this trip we stayed at two wonderful hotels. The first night we were at the Canal Park Lodge in Duluth. Located right in the heart of Canal Park, the lodge is both on the waterfront and only steps away from plenty of great shops and restaurants. Our room was gorgeous and modern; plus, we even had a patio overlooking the lake.
For our second night of the trip, we ventured up to Grand Marais and stayed at East Bay Suites. I absolutely loved this place! Our room was more like an apartment than a hotel—we had a fireplace, kitchen, living room, and once again, a balcony overlooking the lake. The hotel has bonfire pits out on the beach for guests to enjoy, so we wound down the evening with some s'mores over the fire!
We definitely packed a ton of activities into our two-day road trip, but even though we fit so much in, we barely made a dent in all the great adventures available in the area! Thankfully, for us, the region is only a few hours away from our home; it's one of our favorite spots and well worth a visit.
Special thanks to TBEX and Explore Minnesota for organizing and hosting us on a great Post-FAM trip! As always, all opinions are our own.