13 May

Our Favorite Restaurants in Virginia Beach

We consumed some delicious food in Virginia Beach, and by some, I mean a lot. I love sampling local specialties when we travel, so a large percentage of our meals consisted of fresh seafood, and every meal left our mouths watering for more…although our waistlines may have protested a bit.

Because we had so many great meals, we wanted to share our favorite stops with you—we made it to a number of restaurants and a couple of breweries and coffee shops that we enjoyed, as well.
Back Bay Gourmet
I absolutely loved the atmosphere of this adorable café—while Back Bay Gourmet is located in a strip mall, the inside made me swoon. In addition to the restaurant, the café has a gift shop in the front with cute home décor and tasty looking treats. We stopped in for a bite to eat after our morning kayak tour, and the lunch menu consists of fresh sandwiches, paninis, wraps, salads, and soups. Micah ordered the La Playa Cuban with homemade chips and I opted for the Snack Attack sandwich with pasta salad. The Snack Attack was a chicken sandwich on Naan bread with avocado, pepperoncini, tomato arugula, Manchego cheese and cilantro-lime vinaigrette. It consisted of some of my favorite ingredients and also happened to be created for the crew at Surf & Adventure, aka the company we kayaked with earlier that morning!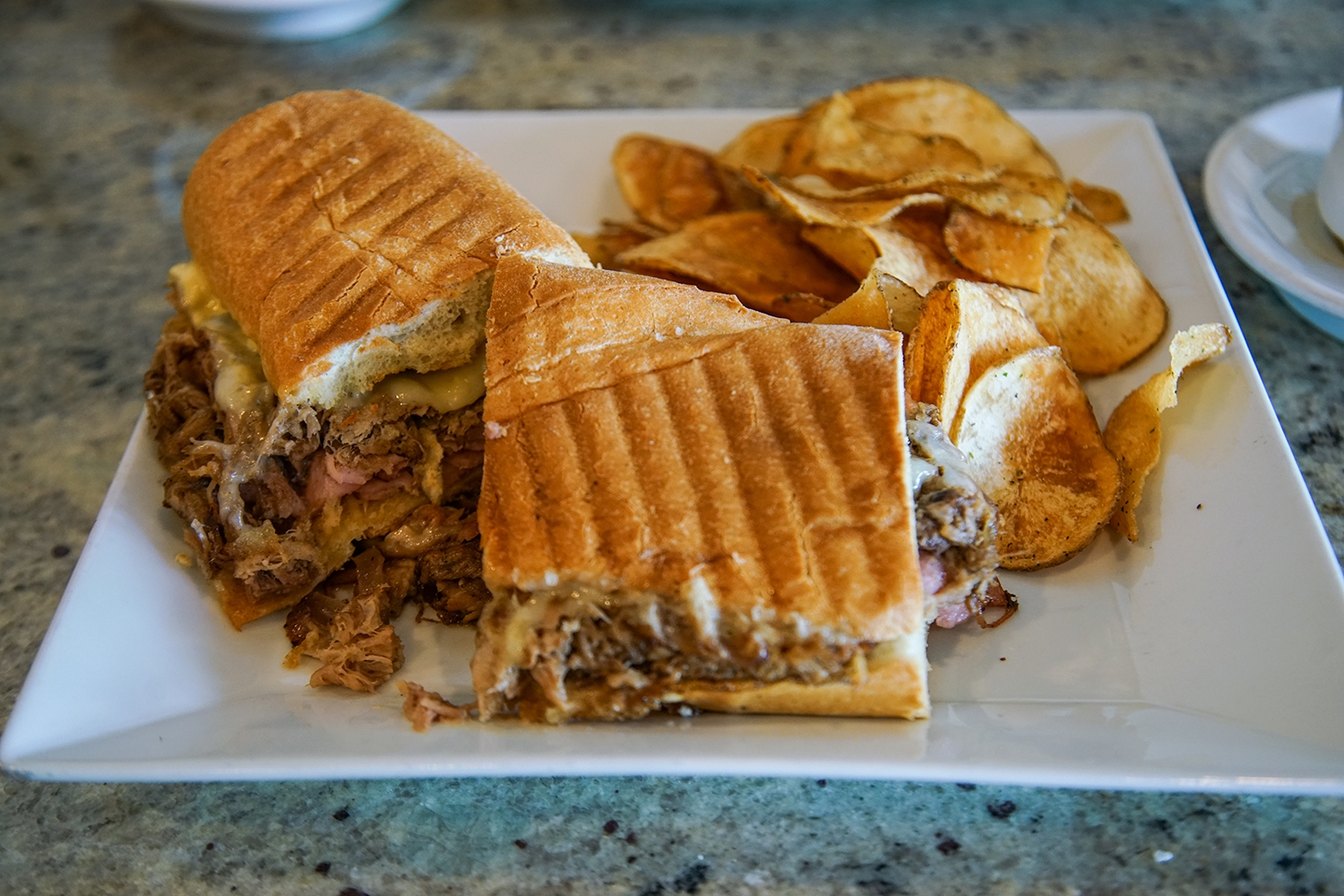 Blue Pete's
Kenny, our kayaking and biking guide suggested this local gem to us—it's located right on the water in Virginia Beach's Back Bay area and the surroundings are gorgeous. We had a window seat for a late dinner and our views overlooked the water and docks out back. The menu is made up of pastas, sandwiches, and a variety of surf and turf dinners. Micah ordered the Crab Encrusted Salmon and I ordered the She-Crab Soup and a garden salad. Both meals were fantastic and filled with fresh, delicious seafood. I think the soup might have been one of my favorite meals from the entire trip!
Waterman's Surfside Grill
Another one of my favorite meals was at Waterman's Surfside Grill—this spot is located right on the Boardwalk, so after some time at the beach in the afternoon and an evening stroll, we made our way for some beachfront dining. We sat out on the patio and had views overlooking the beach. Unfortunately, since it was a rainy day, the windows weren't open, but it didn't mean the views were any less fantastic! The menu consists of almost anything you can think of, and we opted for some fresh seafood once again. Micah ordered the Blackened Salmon and I had the Local Chesapeake Bay Crab Stuffed Flounder. I am still dreaming about this dish and almost wanted to go back for it two nights in a row!
Margie and Rays Crabhouse Seafood Restaurant
This spot was located fairly close to our condo, and it is a small little mom and pop diner. We heard this was an awesome breakfast spot, but since we couldn't make it for breakfast, we opted for a lunch visit instead. The menu is focused on fresh crab and seafood, but they also served a variety of other items to fit anyone's preferences. One of my favorite sections on the lunch menu was the variety of specials that included a seafood option with two sides for, in our opinion, a very reasonable price of around $10 a plate. Micah had a chicken sandwich and fries and I had the flounder with broccoli and coleslaw. I loved how fresh, light and delicious my meal was, but you can definitely order a heartier meal if you so choose.
Repeal Burbons and Burgers
Speakeasies always get me excited, so a stop at Repeal Burbons and Burgers was a must. While it isn't exactly hidden, this spot is definitely a gem. The inside is dark, cozy and the bar is lined with bottle after bottle of bourbon. The menu is simple with burgers, salads and appetizers offered, but the burger toppings consisted of some crazy concoctions such as the Wicked Psssah, which comes with lobster, cheddar cheese and chips or the Model T, which comes with egg salad, cheddar cheese, lettuce, tomato, onion and Sriracha aioli. It was a tough choice but Micah ordered the classic burger and I ordered the Pugilist which is blackened and topped with blue cheese and roasted garlic aioli. The fryer was down when we were there, so truffle fries were not an option, but that's ok because the truffle mac and cheese was calling my name, and wow, was it good! The other aspect about this spot that I loved was the Build Your Own Old Fashioned or Manhattan—you can pick a whiskey, bitters and garnish for the Old Fashioned and add in your choice of vermouth for a Manhattan. I especially loved the selection of bitters they offered, such as orange cream, hopped grapefruit, celery shrub, and hell fire habanero to name a few!
Ocean Eddie's
We ended up at Ocean Eddie's the very first day they were open for the season. The restaurant is in the perfect location, right on the Virginia Beach Fishing Pier. We sat on the patio outside and had fantastic views overlooking the ocean. Micah ordered another chicken sandwich here and I had the crab cake sandwich—both of us ordered fries and had a great lunch in the fresh ocean breeze!
Flip Flops Grill & Chill
We made our way to Flip Flops after a 14 mile fat tire bike ride and we were famished! This spot is a laid back restaurant filled with local art, and it was also featured on the TV show, "Diners, Drive-ins and Dives". The menu consists of sandwiches, tacos, quesadillas, burritos and a variety of entrees. Micah ordered a burger and tots. I wanted to try the famous BBQ Fish Tacos, but I was starving and wanted a more indulgent option. Instead, I ordered the Southwest Chicken Wrap and Sweet Potato Fries, and let me just say, those fries were to die for!
Roast Riders Coffee and Tea
I came across some beautiful photos of this coffee shop online and it made me want to stop in for a little afternoon pick-me-up, so we decided to stop in on our way to the airport. We loved sipping on our coffee and getting some work done in the beautiful atmosphere that surrounded us. On weekends, they partner with other local establishments to serve a variety of food options—I wish we were around on the weekend because I would have loved to sample one of the creative dishes they always seem to come up with!
Bad Ass Coffee
To escape some rain one afternoon, we made our way into Bad Ass Coffee. The coffee shop serves a variety of breakfast and lunch choices, but we were just visiting for the coffee. Micah just had plain black coffee, but I ordered an Eye Opener, aka a brewed coffee with 2 shots of espresso!
Back Bay Brewing Co.
Back Bay Brewing Co. was founded by a group of friends in 2011. The taproom is small, but there are two large tables and plenty of seats at the bar. We ordered a flight to sample a few of the different brews—our picks were coconut, shandy, amber and stout. Micah liked the amber the best and my favorite was the shandy.
Reaver Beach Brewing Co.
The other brewery stop on our itinerary was Reaver Beach Brewing Co. This brewery was founded in 2010 by a newlywed couple. There are 20 beers on tap including some wild and sour beers. Micah tried the Riptide and I had the Diablo Rojo—both were great and the atmosphere was very laid back with board games and chalkboard covered tables for entertainment!
What are your favorite Virginia Beach restaurants? Do you have any to add to our list? Share with us in the comments below!
We traveled to Virginia Beach courtesy of Visit Virginia Beach and Travel Mindset for a video campaign project. As always, all opinions are our own.