04 Dec

Adventure at the Mall of America

This isn't your typical mall. The Mall of America, located in Bloomington, Minnesota, offers so much more than shopping. Think snorkeling in a giant aquarium, petting stingrays, riding roller coasters, flying across zip lines, mini golfing, bowling and more, and you will have an idea of all the adventures you can find at the largest mall in the United States!
In addition to the craziness listed above, the mall is home to an amusement park with over 30 rides, two hotels, a comedy club, over 520 stores, a wedding chapel, more than 50 restaurants, a movie theater, and over 400 events each year. The Mall of America is so large that it could hold 32 Boeing 747s or 7 Yankee Stadiums, and it just keeps getting bigger and better every year.
Micah and I have a soft spot for this giant mall—currently, we live less than 10 minutes away, and we've been visiting the "mega mall" since it opened way back in 1992. We grew up just a few hours away from the big city, so my family made frequent visits to the Mall of America over the years as weekend getaways. I have fond childhood memories of my cousins and I playing with our Barbies in the hallways while we waited for our dinner reservations, going school shopping for new digs each summer, and taking photos on the giant LEGOS that once stood outside the front entrance. Micah remembers searching for the old Metropolitan Stadium home plate and pretending to take his turn at bat, riding the log chute and getting lost in the maze of hallways with his friends. And, in college, we both even worked at the mall! Needless to say, we've spent a lot of time at the Mall of America.
We've watched the mall shift and change over the years, and we can tell you, right now, it is definitely the best it has ever been! You can even take the Metro light rail right up to the entrance from a number of spots around the city, including the airport.
Even though we know the mall from top to bottom, there always seems to be something new to explore every time we visit, which is why we were super excited that the Mall of America hosted us to explore all of the crazy adventure activities the mall has to offer.
Snorkeling at SEA LIFE Aquarium
Snorkeling in an aquarium is probably the least expected adventure you can find at the mall! After donning a wet suit, mask, fins and snorkel you hop into the Rainbow Reef exhibit for a swim with some unique marine life. The fish you see aren't normally found together in the wild, but with the controlled environment, they can all live in the same tank. You will see bamboo sharks, puffer fish, tangs, many other tropical fish varieties, and even people in the tunnel below!
We loved exploring the aquarium from the water—it was such a fantastic adventure and one of our favorite experiences at the mall! You can also go on a diving excursion to SCUBA with the sharks or on a behind the scenes tour if you are looking for even more adventure.
After swimming in the tanks, you can check out all of the other exhibits at SEA LIFE as admission is included in your snorkel price. There is a 300 ft. long tunnel with 4 separate tanks: Rainbow Reef (where we snorkeled!), Atlantis, Amazon River and Sturgeon Lake. Each tank has a different grouping of marine life and walking through the tunnel feels as though you are underwater with the fish.
Other exhibits include petting/feeding the stingrays, jellyfish discovery, and Pacific Northwest Rockpool where you can touch a variety of anemones, starfish, and more!
Snorkeling is priced at $89.99 and includes aquarium admission, 1-hour snorkel tour, a souvenir photo and snorkel gear. If you would like to visit only the aquarium, tickets cost $24.25 per person at the box office or $17.99 with a pre-purchase online.
Rides at Nickelodeon Universe
We still can't kick the habit of referring to Nickelodeon Universe as Camp Snoopy, but whatever we may call it, it just keeps getting better and better. There are over 30 rides in the amusement park, and it sits right smack dab in the middle of the mall. Nickelodeon Universe has rides for all ages, but it's 8 thrill rides will leave your stomach behind.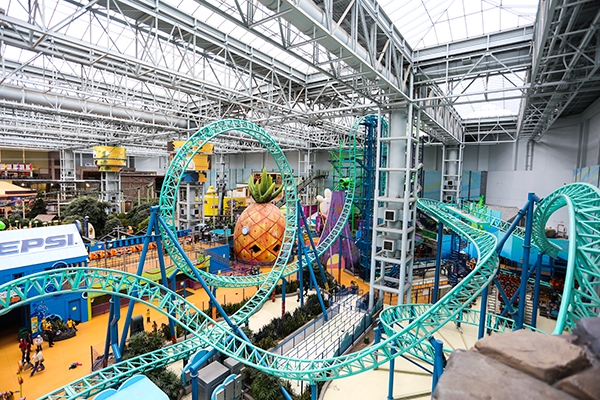 Our favorite ride by far is the Spongebob Squarepants Rock Bottom Plunge—this ride crawls straight up towards the ceiling and then drops you straight down before twisting, turning and flipping around the rest of the tracks. Micah's second favorite ride is the classic log chute, while mine is the Teenage Mutant Ninja Turtles Shell Shock, which allows you to control your flipping as it hurls you in circles through the air. We also love the twists and turns of the Fairly Odd Coaster and the Avatar Airbender. There are just so many fun rides to pick from!
You can purchase an unlimited ride wristband at regular price for $33.99, or you can buy a point pass in a varying range of points depending on the amount of rides you'd like to ride. There are package deals and special discounts that can be found online, as well, so be sure to check before visiting!
Zip Line and Adventure Course at Dutchman's Deck
Home to North America's longest indoor zip line, the Dutchman's Deck attraction is located inside of Nickelodeon Universe. The Barnacle Blast Zip Line soars above the amusement park at a height of 55 feet, and it is definitely a thrill! We were surprised how fast the zip line was and how much fun we had flying through the air.
Dutchman's Deck also holds the world's tallest Sky Trails ropes course in the world—shimmy your way across the planks and ropes, and don't look down! Trust us, it's a lot higher than it looks from the ground and is sure to leave you weak in the knees when you are wobbling on a rope suspended 56 feet high.
The zip line costs $12.99 per person and the adventure course is $14.99 per person.
Mini Golf at Moose Mountain Adventure Golf
We are a bit surprised that we had never tried out the mini golf course until now. The 18 holes are situated in a minelike atmosphere with sporadic views overlooking Nickelodeon Universe.
There aren't too many obstacles on the course, but that doesn't mean it's not fun. The holes are challenging (for someone of my skill level at least!), and the scenery is enjoyable throughout. The only problem I had with the course is that Micah ended up winning!
Tickets for a round of golf cost $8.99 per person.
Bowling at Sky Deck Sports Grille and Lanes
Bowling has long been a favorite past time of ours, and we are happy to see that a bowling alley has returned to the 4thfloor of the mall. Sky Deck is home to a restaurant, bar, pool tables, arcade and bowling alley, and it's always a good time.
Black lights and TV screens light the 12 lanes, which makes it perfect for either an afternoon of action or a night out with your friends. Our first game saw us in a tie, but as usual, Micah came out with the win on the second game. I guess I need to work on my bowling skills a bit more!
Games range from $4.00-$5.50 and shoe rentals are $3.00 per person.
Even though the Twin Cities have so much to offer, the mall is definitely a destination in and of itself. We suggest spending a few nights at one of the mall hotels and then hopping over to downtown Minneapolis to check out the fantastic nature, art and culture in the city. Either way, you definitely won't get bored in this bustling metropolitan that we call home!
Have you ever been to the Mall of America? What adventure would you like to try most?
Special thanks to the Mall of America for providing us with complimentary tours and passes. As always, all opinions are our own.