02 Oct

Camping at Voyageurs National Park

The sun had started to set. We had just landed at our boat-up campsite for the night, and there wasn't a soul in sight. Water, trees and blue sky stretched as far as we could see and nothing was to be heard except the splash of a nearby turtle diving into the water. We were isolated and surrounded by nothing but beauty. This is how camping should be.
It was time to start a fire and get dinner cooking. As we gathered our supplies, we realized we were missing one key element–we forgot the matches in the car parked over an hour away by boat. There was no way we could make it back before sunset, so it looked like junk food was the only option on our dinner menu. Luckily for us, we did have everything but the matches–we had a boat to transport all of our gear, so we didn't need to pack light.
As we weighed our options, I became determined to start a fire sans matches. Thankfully, we had some internet signal, so I quickly googled tips to starting a fire without matches. I got some interesting queries, but one caught my attention the most. It told me that I could start a fire with none other than a coke can and chocolate. What did we have to lose, right?
Well, I hate to spoil the suspense, but it didn't work. At least I couldn't get it to work. But, as luck would have it, we happened to spot a couple of fishermen passing by. Since we were feeling like a warm dinner, Micah flagged them down to ask if they had a lighter. They didn't. However, their friends on the other side of the bay did! They called them over, and with their huge generosity, we were now one lighter richer and our new friends rode off into the sunset in search of more fish. After our bellies were full from a warm dinner, it was time to relax by the fire.
Camping in Voyageurs National Park is a unique experience. The park is located in northern Minnesota and it sits right along the Canadian border. The majority of the park is made up of water, so boating is really the only way to get around.
Campsites are only accessible by boat, and they are all fairly private and spread out. Our campsite, Lost Bay, was on a little peninsula and came equipped with a picnic table, fire pit and bear box, and we even had our own little privy in the woods. It was so nice to feel so isolated for an evening, even though we knew we weren't too far from civilization. Because we don't own a boat, the generous Ebel's Voyageur Houseboats let us borrow a little boat for the night to shuttle back and forth from our campsite to our car.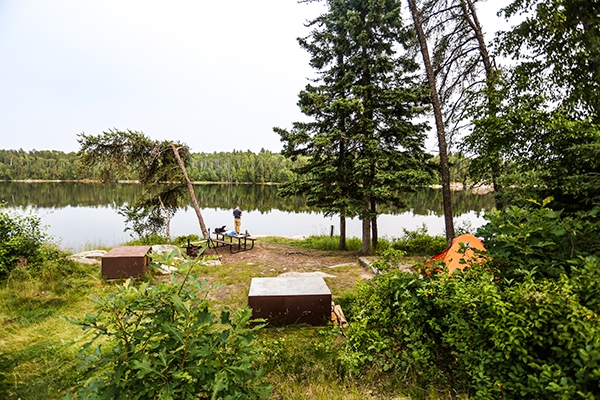 In addition to tent camping, renting a houseboat is another popular option at Voyageurs. There are four houseboat companies servicing the park area, and you can rent smaller boats from them, as well. The park requires that all sites, both tent and houseboat, need to be reserved prior to arrival; it's a rule that's recently been instated, so be sure to make your plans in advance.
After a late arrival to the park our first evening, we spent the night in a docked houseboat at Ebel's Voyageur Houseboats, and it was just too cool. Now even more than ever, we are really loving the thought of renting a houseboat for a week one summer–hopefully next year!
We are so fortunate to have Voyageurs National Park in our backyard of Minnesota, and I can't believe this summer marked our first visit there. We will definitely be back in the near future, but until then, stay tuned for our mini-guide to Voyageurs National Park next week!
Many thanks to Alyssa from Explore Minnesota for showing us around the park, and to Ebel's Voyageur Houseboats for their generosity with the boat and houseboat.