07 Jul

Traditional Japanese Tea Ceremony in Kyoto, Japan

She moved with reverence and grace while we quietly observed every dance-like move. The entire ritual was performed with precision and intention.
We were watching an authentic tea ceremony in a 100 year old traditional Geisha ryokan, and it just so happened to be one of our favorite adventures from our time in Kyoto. Learning about the process and history behind the ceremony provided a look into a unique slice of Japan's culture in a city where the history dates back thousands of years.
The ceremony started with us slipping off our shoes and finding a spot to sit on the floor along the bright blue carpet. We were instructed to settle in and leave all of our worries and troubles behind, while quietness filled the air.
Traditionally, tea ceremonies were only for men—women weren't allowed to join in until 100 years ago. In order to become a tea master, one must go through an intense training that you can only pass once you have perfected each step and movement of the process. Tea ceremonies are a spiritual meditation with a base in Zen philosophy—it is an experience that connects the tea master and their guests with the large world around us. The four fundamental aspects of the tea are harmony, respect, purity and tranquility.
After learning about the history of the ceremony and how to properly hold our bowl, we watched as the Matcha green tea was prepared by our tea master. Each tool was cleaned in a precise and exact manner and each movement was performed with grace—it was simply mesmerizing. The first bowl was served to the "guest of honor", aka, the guest seated directly in front of the tea master.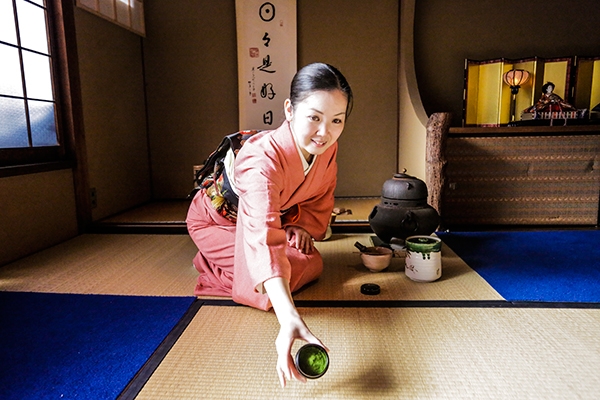 Once the ceremony was complete, it was then our turn to try our hand at making a bowl of tea for ourselves. We scooped some of the tea powder into our bowl before our tea master poured a ladle of water on top. The next step was to whisk the tea in a circular motion with the flick of your wrist until the tea turned into a frothy, bubbly green.
With our tea, we were served wagashi, or sweets to enjoy before drinking our tea. The sweets are said to balance out the bitterness of the tea. The first sweet was an almost jelly like treat that was hard on the outside and soft and gummy on the inside, while the other sweet was a sugar flower to commemorate the shop's one year anniversary. Everything was delicious—I was surprised to find that I actually enjoyed Matcha green tea because green tea has never been my favorite drink around.
After much deliberation on whether we should check out a tea ceremony, we couldn't have been happier that we ended up wandering into the Camellia Japanese Tea Ceremony at the last minute. Our tea master, Atsuko Mori, was so sweet–you could just tell how much she loved teaching and sharing the traditions of the tea ceremony, and she enthusiastically answered each and every one of our questions.
We didn't make reservations because we weren't quite sure how we wanted to spend our day, but you can make reservations in person or by email if you so choose. The ceremonies are 45 minutes long and are offered every hour on the hour between 10:00 a.m. and 5:00 p.m. Prices are 2,000 yen per adult (around $16) and 1,000 yen per child (around $8), and it includes the ceremony, a bowl of tea and a sweet.
We left the ceremony with our worries melted away and a newfound love for Matcha green tea. It was the perfect end to our three days in the historic city of Kyoto.
Have you ever been to a tea ceremony like this?