30 Jun

Photo Tour through the Tiny Town of Shibu Onsen, Japan

Shibu Onsen is an adorable, tiny town in the middle of nowhere. We literally had to take planes, trains and automobiles to get there, but it was definitely worth the hassle. Our visit to this town came about because of Micah's obsession with visiting the nearby Snow Monkeys, and we are so glad we had the chance to visit.
While the town feels almost a bit worn down, it has an old world charm that can only be found in a well-loved, traditional spot like this. To get there, we took the Shinkansen train from Tokyo Central Station to Yokohama Station where we then piled into a local bus for a short ride to the center of town.
The journey took us a better portion of the day, and when we arrived we made our way to the hotel to drop off our bags before heading out to see the monkeys.
Shibu Onsen is a town focused on the healing powers of the Japanese onsen. There are nine different onsen and two foot baths, each filled with a different hot spring water to cure a variety of ailments. Eight of the nine onsen are only accessible to residents and overnight guests, while the ninth bath is open for use by daytime visitors.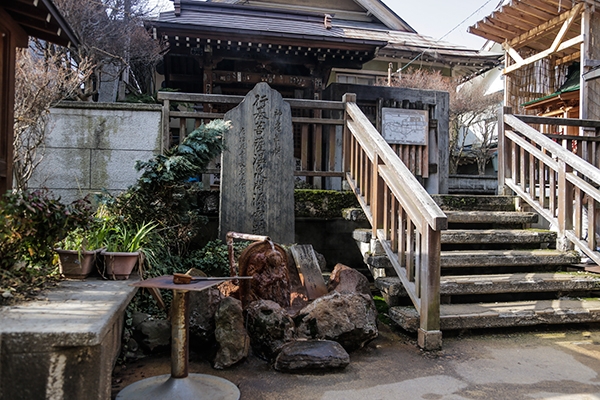 Both residents and overnight guests can be seen walking around town in their yakuza robes and wooden geta sandals.
If you want a fun souvenir, you can purchase a passport book to record your onsen visits. At the entrance of each onsen, there is a stamp station where you can record your visit. It is said that if you visit every bath, you will have good fortune.
If you do decide to visit an onsen, be sure to read up on the proper etiquette beforehand. You have to bathe completely nude and wash yourself at the stations before getting in. The water is hot, and I mean hot! You are allowed to add cold water to cool it down, but be respectful if there are locals or others already enjoying the bath. Also, you are not allowed to enter if you have a tattoo–there is a long history on why it's not acceptable, but basically it comes down to the fact that tattoos are typically associated with gangs and illegal activity in the Japanese culture.
Unfortunately, we didn't have a chance to visit any of the public onsen, but I did manage to hop in our Royaken's onsen before bed. The onsen all close at 10pm and we were at dinner with some friends until about 10:30 p.m. While I wouldn't have traded that night for anything, I would have loved to hop in and experience at least a few of the public onsen, as well.
We did get to dress up in our traditional garb and go for a little walk around town, though. It was a chilly evening, but it was still fun to clickity clack around town with our wooden shoes and robes! Here's a look at Shibu Onsen after dark:
Have you ever been to a Japanese Onsen?