09 Jun

Ichiran Ramen: How to Order the Perfect Bowl

Ichiran Ramen may not be the best bowl of ramen out there, but I have to say it is certainly one of my favorites. However, the process of purchasing a bowl can be a bit intimidating for first timers, so we wanted to create a guide to show you exactly what to do to get yourself a piping hot, heaping bowl of amazingness!
While we were in Japan, we tested ramen every chance we got, and let me tell you…that was a lot–we even made a visit to the Shin-Yokohama Ramen Museum. The majority of our meals in Japan consisted of ramen because we are pretty much obsessed. Sure, we made sure to try other Japanese specialties as well, but ramen definitely won our hearts.
So, what is it about Ichiran Ramen that we loved so much? The entire process was fun, the ramen was delicious, it was affordable, and you could customize your order exactly the way you liked it. The ramen they serve is a classic tonkotsu ramen, which is a pork-based broth, and they are very particular about each and every ingredient that goes into their soup, from the water, to the home-made noodles, to the secret red sauce.  We ordered different combinations every time we visited, and I think we both finally found our own perfect bowl!
Jenna's Favorite: medium flavor strength, rich richness, regular garlic, thin green onion, with sliced pork, 1/2 red sauce, and medium noodles.
Micah's Favorite: medium flavor strength, medium richness, a little garlic, no green onion, with sliced pork, no red sauce, and soft noodles.
You can find Ichiran locations throughout Japan and in towns such as Kyoto, Tokyo, Osaka, Hiroshima, and many more.  The restaurant is set up for you to focus on the ramen and nothing else. You make your purchase on a machine and then wait in line for an open seat at your own little individual booth where you are served from a small window open to the kitchen. You never have any face-to-face interaction with an employee except during busy times when someone is managing the line. We were able to wait for seats next to each other, but I'm not sure if that is always allowed. It's such a fun and unique concept and I loved every minute of it. The only bad thing? I now crave it all the time!
How to Order Your Own Ramen:
1) Insert your money and select a bowl of ramen and any add ons you would like. You can purchase kaedama (noodle refill) at the machine or at your seat later. The machine will spit out tickets that you will use to order your ramen once you sit down.
2) Wait for an open seat. There is a board on the wall that shows which seats are open, if any. An open seat will have an illuminated blue symbol. Find the corresponding seat and make yourself at home.
3) Fill out your form to customize your ramen exactly the way you would like. You can choose the texture of your noodles, richness and flavor strength of your broth, amount of garlic, amount of green onions, with or without pork and level of spiciness. On our first visit, we were handed English order forms, but the other times we visited we received Japanese forms. Because we had a photo of our English form, we were able to fill out the Japanese one with no issues, but here's a photo in case you don't receive a translated version.
4) Once you have your selections made, place your meal tickets and customization form near the window and ring the bell. Someone will come to pick it up and your ramen will be prepared fresh and just for you!
5) When your ramen is ready, they will slide it through the window and close your blind. Next step is to slurp up and enjoy! There is a water spout at each booth, so you can fill up your own water if you would like a glass or 20.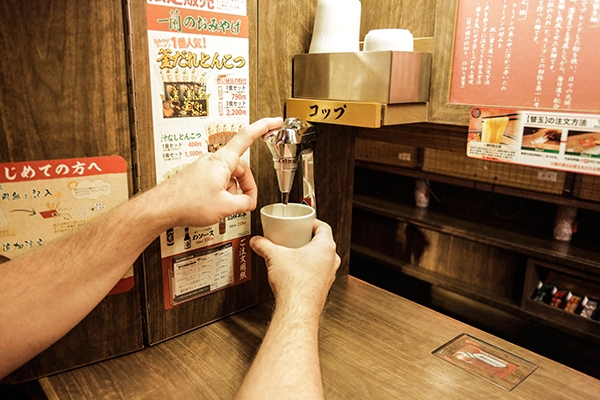 6) If you ordered any extra noodles, a good time to place your refill order, or kaedama, is when you are halfway through eating your current noodles. Be sure to save some broth. You order the refill by pressing the button again and either laying down your refill ticket or if you don't have a ticket, a tray with the additional money for the second helping of noodles. Your noodles will be cooked to order and brought out shortly. You then dump them into your bowl and can continue to enjoy your steaming bowl of soup!
7) Once you are done, just head on out as there is nothing else that needs to be done. You are free to go about your day once again, only now you will be filled up with the warmth of a delicious bowl of ramen!
Have you ever tried Ichiran Ramen? What's your favorite ramen spot?