13 Feb

45th Parallel Distillery Tour and Tasting

To continue on my quest of seeking a behind the scenes look into facilities around the world, we ventured across the border to Wisconsin and made a stop at 45th Parallel Distillery for a tour and tasting.
The owners originally wanted to open up shop in Minneapolis, but due to the high cost of licensing fees, they decided to head over the border to Wisconsin where the rules weren't quite as stringent. Instead of Minnesota's fees of $29,000, they would only be charged $1,000 in Wisconsin; plus, the city of New Richmond offered them land for free. Obviously, being only 50 miles away from Minneapolis, it made sense to pick the cheaper spot.
Thus, the craft distillery opened in 2007 and their products are produced entirely in New Richmond, WI. They like to think of their operation as a "full circle" of local production. 45th Parallel Distillery buys their grains from Strate Farm which is only 8 miles down the road and actually located directly on the 45th parallel—they focus on quality rather than purchasing cheap grains. Once they are finished with the grain, it heads back to the farm next door to the Strate's, where Ken Herink uses it as feed for his cattle. This allows for no waste and a highly sustainable local circle.
Our tour began with a short wait in the tasting room with some chit-chat and an option to purchase any drinks to get the day started. We were soon led into the distillery where we learned about the history of the facility and the production process. We got a peek at the aging barrels, fermentation tanks, and bottling operation.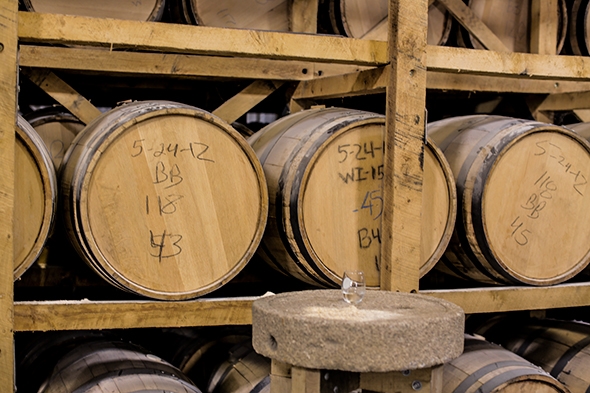 As I said earlier, they focus on quality above all else and therefore, produce smaller batches with a focus on a better end product. Over the years they have had many ups and downs, but thankfully they have had more ups. One unfortunate incident had to do with the barrels they use for the bourbon. The barrels were carefully sourced from a high quality producer, but Jim Beam came in and purchased their entire stock of barrels, leaving 45th Parallel out to dry, and they had to find another option. Oh, the joys of small vs. large business. Thankfully, it seems more and more people are leaning toward locally crafted products these days, so they have seen great success and support. In the next year, the facility will be adding on and creating an almost u-shaped building that houses a courtyard in the center.
Next up was our final stop back at the tasting room. They produce, what is in my opinion, a large variety of liquors for being such a small craft distillery. Many varieties are sold in stores, while some are only offered on site. We sampled quite a few different spirits over the next 20 minutes or so—the tasting consisted of their 45th Parallel Vodka, Midwest Vodka, Midwest Gin, New Richmond Rye, Border Bourbon, the Gamle Ode Aquavit line (Holiday, Celebration and Dill varieties), Referent Horseradish Vodka, and the 1570 Madison Ave Limoncello and Orangecello. Thankfully, since there were so many varieties, the samples were just a small pour—my favorites were the Limoncello and the Orangecello, but they have won numerous awards for many different spirits that they offer.
Over the years, numerous distilleries have popped up in the area, but 45th Parallel was one of the first craft distilleries around. We really enjoyed getting a peek into how the company started and how they produce their products, especially since they are so supportive of the local economy. The tours and tastings are offered Friday and Saturdays and cost $7 per person—plus, you get to keep the tasting glass—a pretty good deal in our book!
Have you ever toured a distillery?