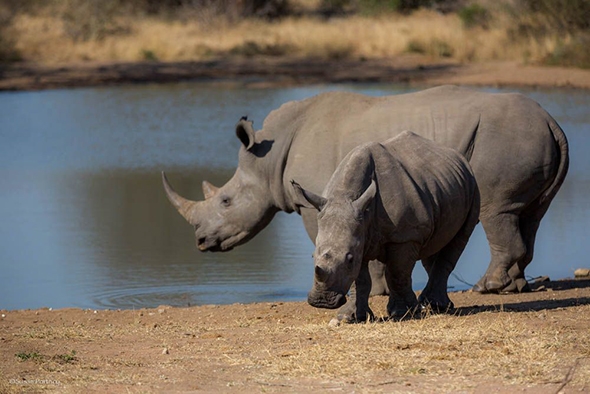 26 Jan

Help Save #JustOneRhino and Enter to Win Prizes!

Within our lifetime, rhinos could become extinct. Completely gone in the wild. Think about it–this magnificent creature could disappear from our planet forever. Rhinos are a critically endangered species: the highest level of endangerment, and they are facing an extremely high risk of extinction.

As we've all seen with many species before, poaching and habitat loss can have a drastic and debilitating effect on a species population. Animals such as the dodo, the passenger pigeon, the atlas bear, the Steller's sea cow, and the great auk were all run to extinction, and that's just the very small tip of the iceberg: the list goes on.

Rhinos are being poached at an alarming rate; in South Africa, an average of one rhino is poached every 7 hours. And, every year the number rises. In 2014, there were a total of 1,020 rhino deaths caused by poachers. This number is up significantly from four years ago; back in 2010 there were 333 poaching deaths, so as you can see, the number has risen sharply. Sadly, if things continue as they are, extinction will come within 20 years. According to the Great Plains Foundation, "We have reached the tipping point where we lose more rhinos to poaching than at which the present population can breed. We have gone into deficit."

One of the main reasons that rhinos are facing such dire circumstances is because their horns are worth a rather insane amount of money (nearly $30,000 per pound). They are sold on the Asian medicinal market for their aphrodisiac and healing properties even though there is no scientific proof to back up their healing powers. The horns are worth more than drugs and the penalties for poaching are far less than those for dealing drugs. Because of this, the number of poachers has risen at an alarming rate, and that needs to change.

Thankfully, there are many active wildlife conservation organizations on their side to help raise awareness for the cause.  Still, the war against poachers continues to intensify, and there is a long way to go if we want to save the "Big 5" in Africa.

If rhinos become extinct, it doesn't just mean the loss of a species. It also shifts their entire ecosystem by putting pressure on various plant communities which can in turn cause a chain reaction in other species, possibly bringing others to extinction, as well. So, instead of falling into similar patterns from our past, let's take a stand as a global community by learning from our mistakes and start making a difference today.

Now that you have some facts, here's one thing you can do to help, if you feel so inclined. We are joining over a hundred other bloggers for the #JustOneRhino campaign; the goal is to raise $45,000 for Rhinos Without Borders with Travelers Building Change and Green Travel Media. The project is focused on protecting rhinos from the rise in poaching by translocating 100 of them from South Africa to Botswana. Rhinos Without Borders is a project that is being led by Derek and Beverly Joubert; they are founders of the Great Plains Foundation, National Geographic Explorers in Residence, conservation advocates and renowned wildlife photographers and filmmakers. Moving rhinos is no easy feat–it costs roughly $45,000 to move just one rhino and takes a team of skilled professionals to get the job done. The goal is to repopulate Botswana's rhinos as they have one of the best antipoaching efforts and lowest corruption rates in Africa.

By donating a minimum of $20 to the cause, you can enter to win some seriously amazing prizes from a wide array of eco-conscious companies, and the more you donate, the more raffle entries you will receive! The prizes range from insanely exciting vacation packages to great tours, merchandise and more. I can tell you that I have my eye on more than a few of them and the choice is not an easy one to make.  Some of the larger prizes offered by the Platinum Sponsors are as follows:
10-day Galapagos Voyage for one with International Expeditions. Valued at $5,298.

9-day South Africa Safari Big 5 Safari in Kruger National Park and KwaZulu-Natal for 2 people from Adventure Life. Valued at more than $6,000.

10 nights' stay at Yemaya Island Hideaway and Spa, Little Corn Island, Nicaragua, for two people from Yemaya Resorts. Valued at $5,241.

7 nights bed and breakfast in a Garden View Suite with Cobblers Cove Hotel, Barbados. Valued at $5,187.

5 vouchers for 3-night stays at various locations around Southeast Asia (Bali, Indonesia, Koh Samui, Thailand, Koh Kong, Cambodia and Palawan, Philippines) from Secret Retreats. Five winners, each for two people. Valued at $900-$1,500 each.
By donating, you will not only be making a difference, but you can also have the chance to win something fantastic while you are at it! Another great thing you can do for the campaign (whether you choose to donate or not), is to help us spread the word by sharing on social media with #JustOneRhino hashtag. This fundraiser runs until March 1st, so head on over to the official campaign page, TravelersBuildingChange.org, for more information, and thanks for your support!