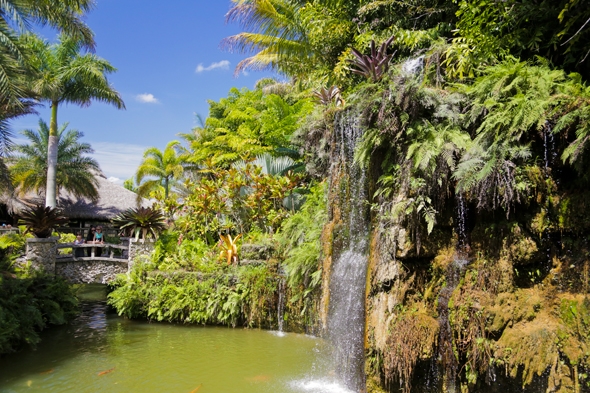 01 May

The Southernmost Winery in the US: Schnebly Redland's Winery

Let me first start off by saying I am neither a wine nor beer connoisseur. That being said, I always love heading out of the busyness of Miami and venturing west to the Redlands for a visit to the Schnebly Redland's Winery and Brewery. After a peaceful drive through the surrounding farmlands (who knew there were miles and miles of farms not far from Miami?!), you will happen upon the beautiful and tropical facility that is home to the popular winery and brewery.
The owners of the winery and brewery, Peter and Denisse, have called Florida their home for over 25 years—they wanted to start an agro-tourism business around their farms in the Redlands, and initially their vision was to provide tours of the farms for their produce company Fresh King, Inc. This idea was changed when their friend, Bill Wagner, came for a visit in 2003; Bill is the owner of a winery in New York and he inspired the Scheblys to start producing wine with the exotic fruit from their farms. Soon, the Schneblys began experimenting with creating fruit wine and in 2004, their winery was officially open for business. After they got their wine production up and running, they decided to start brewing beer as well, and in 2012, the Schneblys opened up the brewery portion of their business. The brewery portion is called Miami Brewing Company and it is Miami's first craft brewery.
Today, when visiting the winery and brewery, visitors have the option of a winery tour (weekends only), wine tasting, beer sampling or attending one of the special evening events that can include music and dancing. A couple of years ago, we participated in the winery tour and wine tasting, and recently we went back for the beer sampling with our friends Heather and Alex from Outside the Den.
The winery tour lasts around 30-40 minutes and brings you behind the scenes to learn all about how their wines are produced from exotic fruits. After learning a bit about the Schnebly family, you will be led through the winery to see the entire wine making process. The wines are produced with fruit from the family's produce company—only the best tasting fruit is used in the wine production, but it's consists of the fruit that isn't pretty enough to make it onto the shelves at the grocery store.
If you want to actually get a taste of the wines, you can purchase either the ultimate tasting or special tasting, which are both currently $9.95 per person. Both tastings provide you with the option to sample 5 different wines and you get to keep the etched wine glass once the tasting is over. The ultimate tasting gives you a choice from their list of unique wines while the special tasting gives you a choice between the dessert and sparkling wines. Also, if you want to come back for additional tastings, bring your glass with and the tasting is only $5!
There are a wide range of exotic fruit wines up for tasting such as mango, guava, carambola, lychee, avocado, passion fruit and many more. My favorites were Sparkling Passion, Lychee Wine and Cat 3 Hurricane, which is a blend of lychee, guava, carambola and citrus. The variety of avocado wines were also fun to try—I love avocado and although avocado wine sounds slightly strange, it was actually pretty good!
As far as the beers go, the brewery is currently not open for tours, but you can sample their four beers with the purchase of a signature pint glass for $14. With the purchase of a pint glass, you receive a beer sampler that is followed by your choice of a pint.
Currently, the beers on offer are Big Rod Coconut Ale, Gator Tail Brown Ale, Shark Bait Wheat Ale, and Vice IPA. I was expecting the beers to be actual fruit beers with more strong fruit flavors, but they were actually created with more subtle hints of fruit. Even though they weren't what I was expecting, they were still tasted fine and I would have to say the Big Rod Coconut Ale was my favorite of the four.
After all the touring and tasting, you might want to relax for a bit, and Schnebly has you covered. The courtyard is gorgeous with its lush landscaping, coral walls, waterfalls and fish pond. A small selection of food is available for purchase, but you are also allowed to bring in your own food for a picnic in the courtyard. If you want to visit during a special event, they are usually held under the tiki hut or in the courtyard—the events consist of musicians, DJ's, BBQ's, karaoke, and art events to name a few.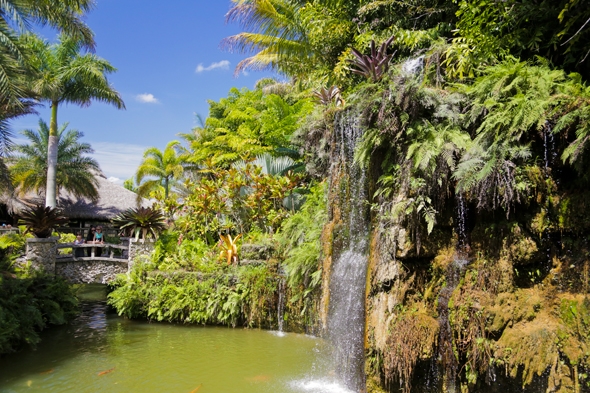 Just relaxing in the beautiful atmosphere is enough to keep me coming back to Schnebly Redland's Winery and Brewery time and time again, and when you add in some fun tastings, it makes for the perfect afternoon!