09 Apr

Art After Dark at the Norton Museum of Art

If you are in South Florida and looking for something slightly different to do on a Thursday evening, head on over to the Norton Museum Of Art in West Palm Beach. Every Thursday, from 5 to 9 p.m., the museum opens its doors for an evening of culture and entertainment at Art After Dark.
In addition to the museum's regular exhibits, there is entertainment such as music, dance, and films. There are also DIY art projects, wine tastings, lectures, tours and more to keep you grooving late into the night. Also, admission to the museum on Thursday is half price–how can you go wrong?!
Fratelli Lyon, the museum's restaurant, serves an a la carte menu until 8:30 p.m. Dishes such as pizza, pasta and small plates grace the menu–if you are hungry, grab a bite to eat while you listen to some tunes.
One of my favorite exhibits was the temporary display, The Polaroid Years. Photographs weren't allowed inside (just as they aren't allowed in any special exhibit), but the collection consisted of art made from Polaroid photos–I love the rawness of instant photographs. Something about them pulls me into a different time, and they all give a sense of place.  Another one of the special exhibits was featuring Andy Warhol; the exhibit is focused on Jane Holzer and her relationship with Andy, and it is called "To Jane, Love Andy: Warhol's First Superstar."  The exhibit runs through May 25, 2014–prior to viewing this collection I did not feel a connection with Warhol's art; however, now, I am intrigued and would like to learn more about his life and relationships.
Throughout the three floors, there is American Art, Chinese Art, Contemporary Art, European Art, and Photography. My favorites are always the Chinese Art and European Art and I was happy to find pieces from some of my favorite artists included in the collection. Spiral stairwells connect the three floors and are lined with light boxes, each displaying quotes from a famous artist.
The European Art collection features artists such as Claude Monet, Henri Matisse, Pablo Picasso and many more. Georga O'Keeffe and Jackson Pollock are two artists that grace the American Art exhibit.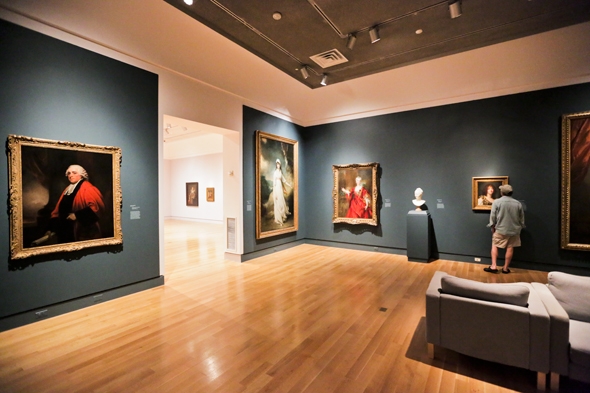 There is also a bright and vibrant glass sculpture in one of the ceilings–this piece of art was created by Dale Chihuly, and it resembles marine life in the ocean.  We had the pleasure of viewing a Chihuly exhibit at the Desert Botanical Garden in Phoenix as well, so it was fun to compare and contrast his various works of art.
The Norton Museum of Art really is a standup museum with a mix of contemporary art and art throughout the ages. There seems to be a lack of quality art museums in South Florida, so visiting the Norton was a welcome treat, and one we definitely hope to taste again soon!
Do you ever visit special events at museums?