11 Apr

Alligator City: Airboat Tours in the Florida Everglades

Gliding across the swampy water, the airboat suddenly slows and comes to a stop beside a ten foot toothy reptile. We peer in awe as the alligator rests nonchalantly without any movement. Our guide explains that there are several alligators who make this vicinity of the Florida Everglades their home. It's best to take an airboat tour though the Everglades after a run of cloudy days, as the alligators will more than likely be soaking up the sun on the water's surface, aka the only place you can catch a glimpse of them on a tour.
Tours can be hit or miss, but not because of the guides–sometimes the alligators just don't want to come out to play. Largely due to the weather, we have been on rides where we've encountered only one alligator, but on other tours we have seen 7 or more. Alligators or not, it's always nice to break away from city life to spend some time in nature. Even though alligators always seem to be the Everglades main draw, there are ample opportunities to view other wildlife as well such as Whooping Cranes, Great Blue Heron, Great Egrets, various types of snakes and more.
There are many options when choosing a company for your airboat tour; depending on your location and how far you would like to drive, you will have an array of choices. I have been on rides with at least four different companies in the past and my favorite continues to be the Sawgrass Recreation Park which is about 25 miles west of Fort Lauderdale. I first visited this park when I was in elementary school, and after visiting twice within the past year, I can say the tour still entertained me 20 years later.
With the purchase of your airboat tour, you will also get admission to the Exotic Wildlife exhibit. Reservations for the ride are not needed and thankfully wait times aren't typically very lengthy. During both tours, our wait time for the next boat ranged between 10-15 minutes, so not too bad.
Also, make sure to keep your ear plugs handy because you will need them! The airboats are extremely loud and they can produce wind comparable to that of a hurricane.
Once you are situated in your seat, the airboat ride begins–you will start skimming around the swamp and gliding along the calm waters in search of wildlife. It's really fascinating to see wild alligators so close up. If you are lucky, your boat will come across several alligators. Some of the gators will stay and relax, while others will get slightly annoyed and head back underwater for some privacy. And, before you know it, your half hour tour is almost over. We learned many interesting facts about the Everglades on our tour, and another plus is that the fun isn't over when your ride is done.
If you are hungry after your exhilarating ride, the Gator Grill Food Shop has you covered. They serve gator, sandwiches, and tacos.
After checking out the menu and possibly ordering a bite to eat, head over to the Exotic Wildlife exhibit. The mammals in the exhibit were all adopted and rescued from facilities that lost their licenses or individuals who owned the animals illegally. You can find panthers, leopards and bobcats, among other species.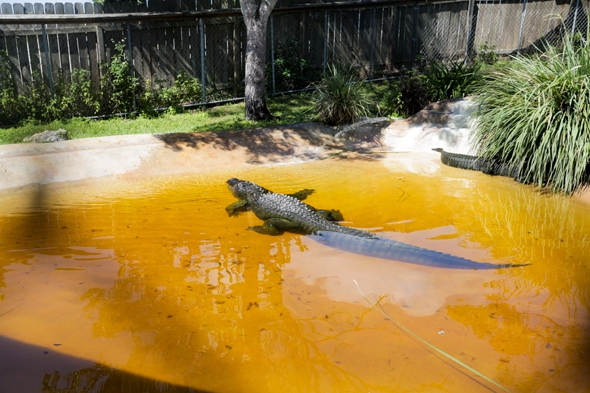 If you are really adventurous, camping and fishing are available in the park as well. Or, you can try one of the evening airboat rides for a different perspective of the Everglades. Whichever adventure you choose, it is sure to be an exciting one!