25 Mar

Red Rocks and Vortexes in Sedona
Walking up towards the mound, I was expecting to feel a rush of energy, or a burst of joyfulness. Instead, what I found was a little less exciting: calmness. There was a sense of peace and stillness that I absorbed while starring out towards the seemingly endless Red Rock formations. Several spots around Sedona are claimed to be vortexes. The vortexes of Sedona are said to have a special energy and spiritual connectedness. I'm not sure if what I was feeling was an awe for the beauty of the nature surrounding me, if it was truly the vortex magic, or maybe a little of both. Whichever you believe, you are sure to find sweeping panoramic views that will carve out a space in your memory for years to come.
A vortex is a spot where energy is concentrated, and in Sedona it is described as a spot where spiritual energy can be felt the strongest. There are different types of vortexes; upflow vortexes are typically found around places such as mountains or mesas and they make people feel rejuvenated, exhilarated and positive. On the other side of the spectrum, there are inflow vortexes which are around spots like valleys or canyons. These inflow vortexes help with introspection and problem solving in a spiritual nature. Most of the Sedona area is an inflow area as it lies in a valley, but everyone is different in their experiences with a vortex. Many people visit the vortexes for meditation, contemplation or to connect with their spiritual side, but the vortex areas also make great hiking spots.
The most recognized vortexes in Sedona are Airport Mesa, Bell Rock, Boynton Canyon, and Cathedral Rock. Other vortexes that are also said to be strong are The Chapel of the Holy Cross, Amitabha Stupa, and Schnebly Hill. We visited 5 of these sites, and they were all unique in their own way. The Chapel of the Holy Cross is a church that was built directly into and on top of a red rock and vortex. Rising out of the top of the rock, this church is beautiful with its towering cross and stunning windows–the chapel is Roman Catholic and it is open to visitors 9-5 daily except for Thanksgiving, Christmas, Good Friday and Easter.
Airport Mesa is a vortex that is located right in the middle of town–you drive up a hill towards the city airport, and the vortex is on the way up so it is super easy to get to. There are numerous trails around this site, and you can hike up on top of the mounds for great views of the city or the surrounding rock formations.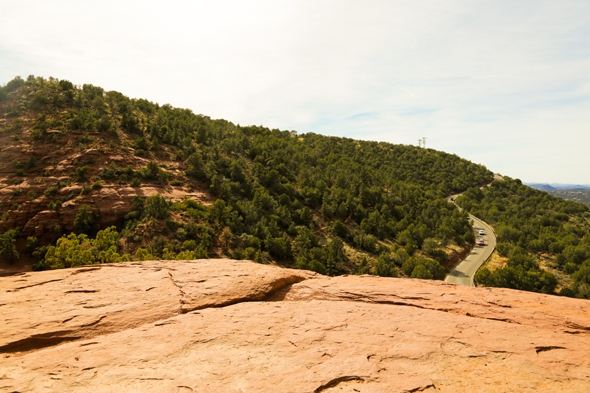 Bell Rock is a beautiful rock formation a few miles out of Sedona, near the Village of Oak Creek. The formation has such a unique shape and some New Age thinkers believe this rock is a portal into another dimension. There are numerous trails around this rock formation as well–you can even hike up to the top. We only hiked around the base, but it looks as though it would be a fairly strenuous hike with little to no shade, so hiking in the morning might be a good bet! It is also right next to Courthouse Butte, which is another beautiful rock formation.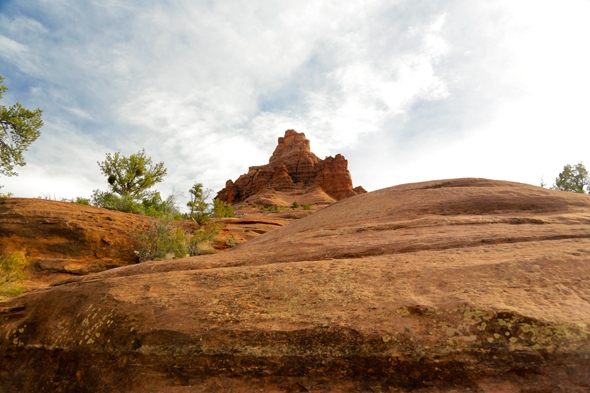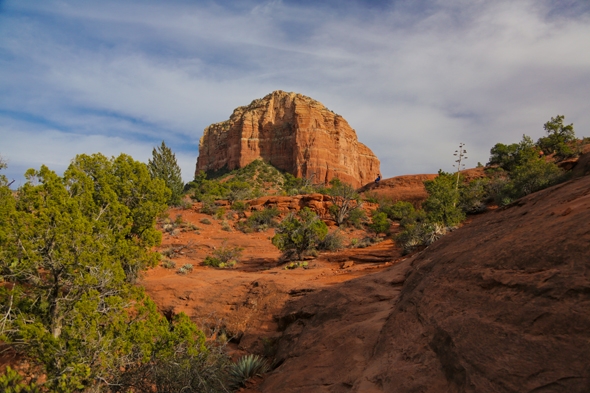 Cathedral Rock is a formation located a short distance from Bell Rock, and although we would have liked to hike it, we were too exhausted from our busy day to make the trip. Instead, we settled for a quick stop and a few photographs, but there are great looking trails around this site. You can climb around the gaps in the middle of the formation, and I'm sure you will find amazing views there, too.
Amitabha Stupa is the last vortex we visited–some people say this vortex is Sedona's newest vortex. The Stupa is situated in the Red Rocks and is surrounded by juniper trees–it is Buddhist and a place for meditation and reflection. I love the look of the statues and the prayer flags that are scattered about the site.
We didn't get a chance to visit any of the other vortexes, but it was fun to do some exploring and encounter the vortexes for ourselves. Even though I'm not convinced I gained energy or a spiritual connection through the vortexes, I am convinced that the views are exceptionally beautiful.
What are your thoughts about the Vortexes of Sedona?