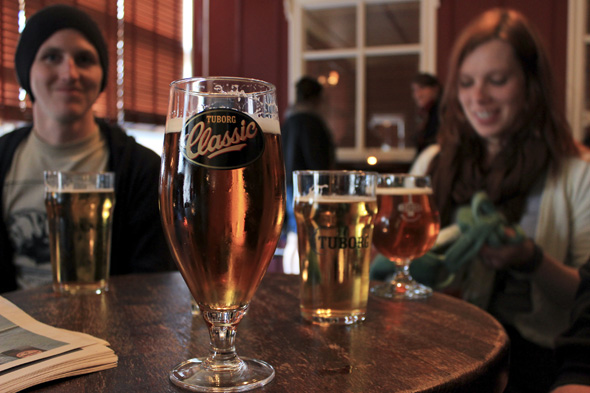 09 Aug

Iceland Travel Tips From A Local & Traveler

Tiny Iceland and I collaborated to bring you some great, useful tips for planing your trip to Iceland (or should I say we just added a few of our ideas to Tiny's awesome list).  So, read up, and start booking your trip already!

In this post, you will find helpful information for travelers in Iceland—both basic travel tips and good links to have when planning your trip here. If there is something you want to know about Iceland or you have a hard time finding information online, don't hesitate to contact Tiny Iceland on any social media such as Twitter or Facebook or leave a comment below the post.
Weather  
Icelandic Met Office is a good website where you can find info about the weather in all of Iceland as well as weather predictions.  The Norwegian website Yr.no is great as well.
Pack so you can wear layers! Don't bring big bulky items that take up too much room in your suitcase– the weather can change quickly, so it's easiest to put on or take off a layer accordingly.  You will be more comfortable and can pack lighter which is a win-win, right?
Budgeting For Food
Bónus is the cheapest Icelandic supermarket. There are 24 stores around the country. They offer the lowest product price so if you need to buy a lot of food, we recommend stocking up here, especially for a road trip.
If you are on the road and find you need a snack (because you want something different or didn't stop to buy groceries), the N1 stations are great for a bite to eat as well.
If you are looking for supermarkets that are open around the clock we recommend Hagkaup & 10/11. Hagkaup has three stores that are open 24 hours and they are in residential suburbs: Garðabær, Skeifan and Seltjarnarnes. All the 10/11 stores are open 24 hours.
In some of the smaller towns in the countryside the stores and gas stations don't always open early in the morning–just be aware that you might encounter towns were not much is open until 9 or 10.
Estimation of food costs: Hamburger and fries from 1200 ISK, hot meal of the day from 1,100 ISK, appetizer from 700-800 ISK, main course from 1,500-2000 ISK, coffee from 300 ISK, beer from 800 ISK (can often find good deals during happy hour!) and tap water is free…and it's the best in the world!

These are just estimated prices, but if you do your research beforehand, Iceland can be done on a budget.
Alcohol- Custom's Regulation
Read the custom's regulation before your arrival. 

Tip: Alcohol is expensive so if you want to check out Reykjavík's nightlife or have a beer while camping around Iceland, we recommend buying alcohol at either the Duty Free when you arrive or in Vínbúðin (the only Icelandic liquor store). Alcohol is not sold in supermarkets. Don't be fooled if you see an alcoholic beer on the shelf, it only has 2% alcohol. Also, make sure you are aware of the opening hours for Vínbúðin and here are their locations.
Café/Bar/Club – Nightlife in Reykjavík
Cafés:

Tíu Dropar is a little cozy place on Laugavegur 27 and it's a perfect spot to lounge with your computer, recharge while traveling or just people-watch. For reviews check out their Tripadvisor.
Laundromat Café is a bit livelier. Many Icelanders go there and it is a place to do your laundry as well. Who doesn't love sipping on coffee while waiting for your laundry? They have great brunches, but FYI their prices are a bit high compared to other café's.
Bars:

Lebowski Bar is a great mainstream bar where you can meet fellow travelers and have a drink with locals. It's a 50's style diner with oldies music, and it's a great place to go have a beer or try their famous White Russians
Den Danske Kro is a bar with a Danish theme. There is live music every night, happy hour every day from 4-7pm and during winter there is often a pub-quiz or beer bingo. It's fun, cozy, often filled with Icelanders hanging around with their friends. A perfect spot to chat with a local!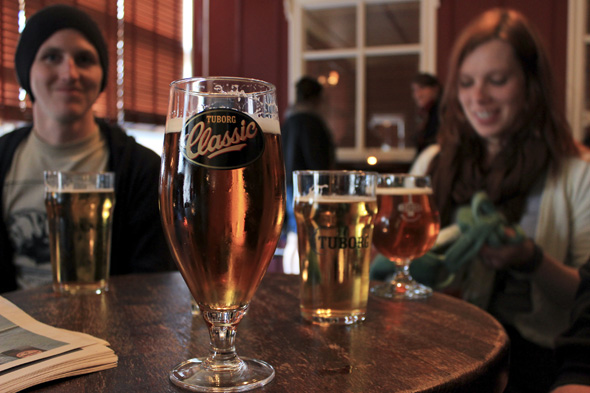 Wifi
Free wifi is usually offered at café shops – There are several ways to go online in Reykjavík. It's fairly common for cafés and hotels to offer free wireless internet. Depending on the hotel, most have free wi-fi in the lobby, but you might have to pay a small fee for wifi in the room.
Driving in Iceland
A few tips about driving here:

Renting a car to get out of town is a great idea. Reykjavik is a fun city, but the stunningly unique landscapes outside of town steal the show. Also, if you have a couple people with you, it may actually be cheaper than taking tours to see the same places.

If you are renting a car, I would recommend buying the gravel insurance especially if you are planning on driving off the Ring Road (which I'm sure you will at some point).  Gravel, sand and small rocks can often fly up and hit the car/windshield. Also, note you MUST have a 4 x 4 to drive on some roads. There are strict rules that your car rental agency will advise you on.
If you are traveling in the summer and don't plan on driving off the Ring Road and on the smaller roads, a regular car should work just fine (a.k.a., you won't need a Super Jeep).
A general driving tip, most roads in Iceland are very narrow and people drive closer to the middle of the road when there is no car on the other side.
In the summer, sheep have the right-of-way on the roads, so either you have to stop or honk the horn to make them scatter.
Many of the bridges along the Ring Road are one lane–the car who got to the bridge first has the right-away.
There is public transportation in Iceland, but don't expect there to be a metro or trains! You can also find local companies that will drive you around if you don't want to rent a car.
 If you don't have a credit card with a pin and you are renting a car, make sure to buy a gas card. There are prepaid cards that you can use directly in the gas pump. Many of the gas stations are just pumps without an attendant or actual store attached, and the pump requires you to enter your pin when using a credit card.  You may run into issues at some point if you just plan on using your credit card without a pin.

Iceland emergency service: The Official app for Icelands emergency service 112 is a must app for travelers in Iceland. Available for Android & Iphone.
Driving the Ring Road: For those who want to drive around the country check out these pages.
Other Random Tips & Websites: